Though the official first day of summer was a few days away, on Thursday evening in downtown Edgartown, the annual Taste of the Vineyard stroll to benefit the Martha's Vineyard Preservation Trust was a way to mark the true start of the season.
This year's event was a milestone; it was the 30th anniversary of the benefit that supports the preservation of 20 landmarks across the Island. They include the Flying Horses Carousel in Oak Bluffs, Alley's General Store in West Tisbury, the Grange Hall in West Tisbury, and the Old Whaling Church in Edgartown. "The landmarks are actively used throughout the season which is what we want, but they are very expensive to maintain," said Chris Scott, longtime executive director of the preservation trust. "I think many people buy tickets to the Taste and consider it their annual contribution to the trust."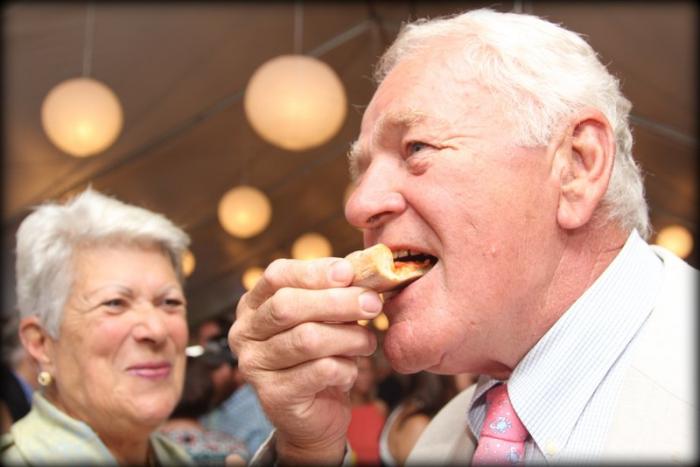 The Taste of the Vineyard is always a hot ticket, but it proved to be even more so in its anniversary year. "It was a little bit like being involved in a Rolling Stones concert," Mr. Scott said. "Tickets sold in 12 hours. There is generally a period when we sell tickets to our members and then open sales up to the general public, but all tickets were spoken for by our members this year."
And everyone who bought a ticket showed up, or so it seemed on a cool, clear Thursday evening as the sun sank low in the sky. They sampled local eats and drinks and danced to tunes by the Sultans of Swing under a packed tent on the Dr. Daniel Fisher House lawn in Edgartown.
Soigné of Edgartown celebrated a 30-year run at the Taste, as did Chilmark Chocolates and Murdick's Fudge. They were among the 30 vendors who participated in the first event in 1985. It has since grown to offer samplings from 100 participating restaurants, bakeries, caterers, breweries and more. While Murdick's celebrated 30 years at the Taste, its blue apron clad representatives, Antonia Kaunova and Svetlana Yakovalaava, both from Bulgaria, enjoyed their first season on the Island and at the Taste. "Murdick's has been here every year but it's our first time," said Ms. Kaunova. Edgartown restaurant Lucky Hank's and Fishers Island Lemonade, a vodka, whiskey, lemon and honey flavored cocktail, were among the newer brands with a presence at the event.
Many vendors participate to support historic preservation, while others seek to promote fledgling food and drink brands. Still others attend simply for the fun of the event. "It's a fun way to support historic preservation," said Chilmark Chocolates co-owner Allison Burger. And for the rest of the crowd, the draw is not only the food, drink and music, but the people, too. Katama native Taylor Pierce attended the Taste for the eighth time this year. "I get no more enjoyment than I do speaking to anyone else who is local or who enjoys what the Vineyard has to offer," he said. "I love seeing local vendors get together and help each other out. I also see a lot of people I grew up with here, and it's way better than a high school reunion," he added.
True to form, the night was one of Edgartown's busiest evenings of the year; throngs of partygoers spilled out of the tent, onto Main street and into the town's watering holes for more reveling.
Mr. Scott hopes to keep the event running for many more years to come, though it is unlikely to grow in size. "Thirty years is an unusually long run for a nonprofit event," he said. "Typically these things have a shelf life but this one doesn't seem to be waning — in fact just the opposite. We could probably sell even more tickets but this is as big as it's going to get. It has reached its physical limit for our property."
Funds raised at Thursday evening's gourmet stroll were coupled with proceeds from a patron's dinner dance and auction on Saturday from 6 to 10 p.m. that raised an additional $368,000. A Ray Ellis painting went for $115,000, a portrait to be painted by Margot Datz earned $44,000, and tickets to a Taylor Swift concert at Gillette Stadium raised $11,500.