Terry Crimmen has painted many traditional Martha's Vineyard sites, such as landscapes and seascapes, boats and bathers. And for a time, he was really into cows.
"I have literally painted hundreds of cows," he said. "Mr. Packer [of R.M. Packer Company] keeps his cows at a couple different places around the Island and they are easy to get to and photograph."
Mr. Crimmen was first introduced to Martha's Vineyard by his brother, who was visiting a friend on the Island when he suggested that Mr. Crimmen visit too.
"He said, 'you have got to see this place,' and I was only here for four days and ended up staying 22 years."
That was Columbus Day 1993. Since then Mr. Crimmen has built up a decorative house painting business that continues to keep him busy when he's not working on his own creations.
"I do fancy schmancy decorative painting," he said. "I do a lot of glaze work, wood graining, and trompe l'oeil. I get to do crazy, creative stuff."
He has a full roster of clients who keep him busy year round, and for whom he also takes on more traditional house painting work. He has since grown his business to include a crew that helps him with the labor. Mr. Crimmen started painting canvasses about five years ago. The building that his studio now occupies, next to Seaworthy Gallery, had been vacated by Century 21 real estate.
Mr. Crimmen's friend and owner of Seaworthy Gallery, Jeff Serusa, suggested that he move into the empty space. He recalls Mr. Serusa saying, "get a bunch of your hippie friends together and rent this place next door."
The result became The Workshop, a collaborative studio and gallery on Beach Road in Vineyard Haven that Mr. Crimmen shares with artists Dan VanLandingham, Lauren Coggins-Tuttle and Tommy May. Together they form a hub for their community.
"All of our friends are painters and it's fun," Mr. Crimmen said. "We have musician friends who get to come play, and friends who are part-time artists who get to show their work, and we have people drop by all the time."
Mr. Crimmen almost always paints from photographs. "I do a little life painting, but I prefer photographs," he said. "I know very few people who don't."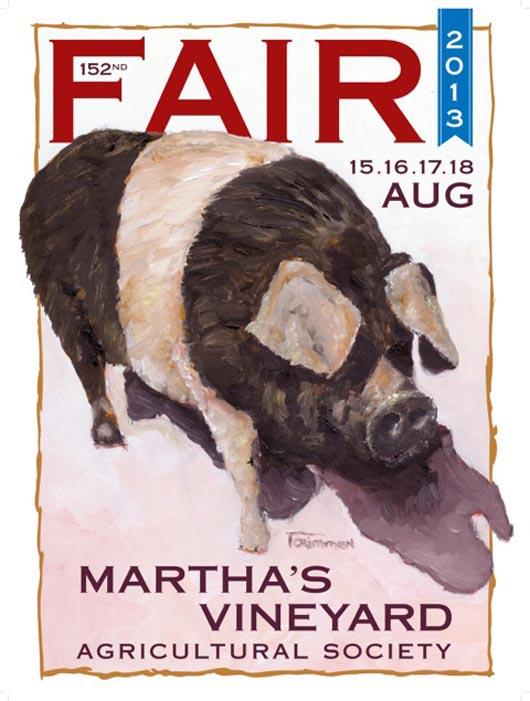 A visit to his studio reveals his source material. Photographs and magazine clippings are taped to a wall in front of an easel. One image depicts a young boy jumping off a bridge into a lake, which served as inspiration for his most popular painting yet.
"I come up with a color scheme first and then I work the image into my color scheme," Mr. Crimmen said in describing his process. "The colors and the photographs don't match at all. I just did 16 paintings because I bought a new green. It comes down to color for me."
He also takes creative liberties when painting his subjects' faces. "Very rarely will the same head be on the same person's body from the photograph. Sometimes the faces are made up, and sometimes I use other faces over and over again."
His subjects need not take offense, it's just the way he paints. "I don't care if it's my sister," he said.
Mr. Crimmen doesn't have a website and he advertises his work only by word of mouth. He maintains a personal Facebook page where some of his work can be seen, as does The Workshop. But nowhere online can you find his complete body of work.
"I am horrible about those things. Instead of using my business cards as I should, I use them as paintbrushes." He points to a portrait of Audrey Hepburn. "I did everything on that with a business card. I only came back with a brush for little details."
His canvases are durable. Often they are buried under layers upon layers of paint. He works over landscape paintings he's dissatisfied with, in essence recycling his canvases. He likes to flick them with a finger. "I really like to build everything durable," he said.
Mr. Crimmen recently discovered some photographs that have inspired a new painting series based on unique viewpoints of different beaches. The first painting in the series is based on an aerial photograph of a beach scene from a 1930s National Geographic magazine. The rest of the aerial beach scene series will be based on a collection of photographs from his family.
"My aunt has the most unbelievable photographs from her balcony from when she lived in Miami," said Mr. Crimmen. The series will consist of canvases in all different shapes and sizes.
Despite Mr. Crimmen's success with his own artwork, he won't be giving up his day job anytime soon.
"I love what I do during the day. We have the best customers, and I built most of their houses. They require an unbelievable amount of maintenance so I stay busy just keeping them up."
And then after he finishes his day job, he heads to The Workshop.
"Today I pulled into here at four. Then I start painting until 11. And I do that every day."