Martha's Vineyard Basketball: How a Resort League Defied Notions of Race and Class. Bijan C. Bayne. Rowman & Littlefield. 213 pages, paperback, sold in bookstores and online.
"If there is one thing that brings Vineyarders together, male and female, rich and not-so rich, across ethnic and social lines, it is and has been basketball. That is Martha's Vineyard's best-kept secret."
So concludes Bijan C. Bayne in this valuable contribution to our understanding of the Island. We have long known about tolerant race relations here. Now we have the chance to understand basketball's contribution to Vineyard culture, and also its long history here.
Basketball inventor James Naismith was a student at the Martha's Vineyard Summer Institute in 1891, several months before he organized the first game of hoops at the Springfield Y. Did he get the idea here? Mr. Naismith and his new bride later sailed by the Vineyard, causing Mr. Bayne to wonder, "How could Naismith have imagined . . . that his sport would bring together the descendants of indigenous peoples, seventeenth-century Massachusetts settlers, Cape Verdean stevedores, Portuguese immigrants, and the black hairstylists and laundresses of wealthy Bostonians?"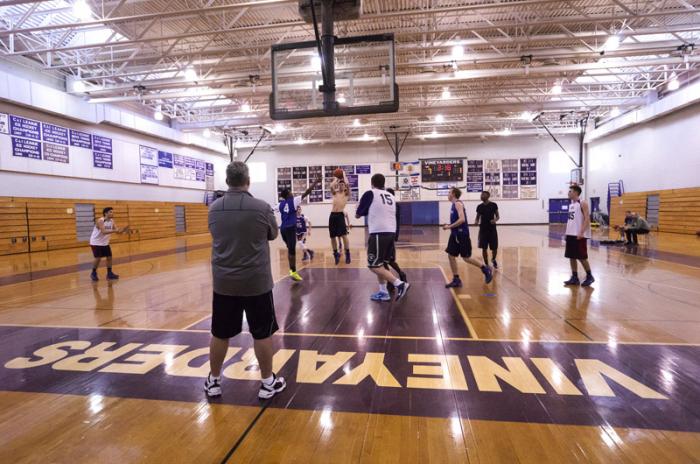 The Tisbury High School fielded the first organized Vineyard team in 1906. By 1918, Tisbury and Oak Bluffs were playing each other and some off-Island teams. Home games were staged in places like a town hall and the room above a firehouse.
Blacks soon enough contributed to the quintessentially American game and its Vineyard variety. Why not? They'd been here for centuries. In 1763, a Wampanoag named Elisha Amos left land to Rebecca Amos, a native of Guinea, West Africa who may have been the Island's first black settler. In the 19th century wealthy Bostonians arrived at summer homes with black staff in tow. Later these employees bought cottages from their employers, and founded a formidable colony around the old Baptist Temple in the Oak Bluffs Highlands. Thus began one of 10 communities that will be recognized by the National Museum of African American History and Culture, due to open later this year on Washington, D.C.'s National Mall.
But as the book shows, if there's a highlight decade for basketball on the Vineyard, it was the 1970s. In the winter of 1969-1970, the late Dan McCarthy, a former math teacher and coach at the old Oak Bluffs high school, the late Peter Williamson, police chief in Oak Bluffs, and Jay Schofield, the Vineyard high school's boys' basketball coach from 1969-1985, created an Oak Bluffs summer league. It had four divisions: college (ages 8 to 11), semi-pro (12 to 14) and ABA (15 to 17), all of which played in the morning. NBA (18 and up) played at night. Afternoons were free for pick-up games.
Games were played at what everyone called The Courts, actually one court near the Oak Bluffs Council on Aging. Author Bayne sometimes would bicycle down there to watch or play games three times a day.
"Once the lights above The Courts came on, the place was incendiary," he writes. Fans would pack the stands and attach themselves to the chain-link fence around the facility. People seated in cars would honk their horns at outtasight play. A colorful lingo grew up around the games. "Oh, snap" referred to an easy shot gone awry. "He took a doughnut" meant someone had gone scoreless. A player with a weird jump shot was called No-Form Norm.
Before cell phones, videos, personal computers and a growing hockey culture distracted Islanders, people gravitated to basketball. By 1972-1973 there was a boys' club league, an Oak Bluffs recreational league with 28 10-player teams, and a youth league. Sociological stereotypes stood on their heads; it was not unusual to see blacks from well-to-do off-Island families playing blue-collar kids from the Vineyard. The cover of Martha's Vineyard Basketball shows three youngsters, two of them white, posing with their African-American coaches, high school heroes Rory Moreis (of Cape Verdean ancestry) and Johnny Rogers.
Jimmy Jette, who later became a high-scoring collegiate at Salem State, recalls: "The Courts were the epicenter, the mecca, for all of us during the summers . . . . Additionally, it served as a social network and inspiration for the youth. For many, like me, it was more than basketball. It was a safe haven and something positive to do midafternoon and evenings."
You could see people like the old Boston Celtic Glen (Big Baby) Davis or staffers from the 1974 filming of Jaws competing on The Courts. In part because females were welcome on The Courts and played against males, flexible Bob Nute's girls teams at the high school won two state championships and went 293-83 in 1970-1991. Players like Ann Mallory, Pat Leighton and Lynn Pachico were as celebrated as Moreis, Rogers and Ronnie Brown.
Martha's Vineyard Basketball strays far from The Courts while running about 90,000 words, and you could be forgiven for thinking Mr. Bayne wants to credit everyone who played or coached good basketball on the Vineyard and some other locales. There are occasional grammatical lapses and the text could have used better editing, proofreading and indexing. These are trivial complaints. Everyone involved in Vineyard basketball should read the book. You just might find your name in it.
Jim Kaplan is the Gazette's bridge columnist; he lives in Oak Bluffs and Northampton.