More than 100 people gathered in the West Tisbury Grange Hall on Tuesday to hear Pulitzer Prize-winning author David McCullough talk about his new book, The Wright Brothers. Tickets sold for $100, with all profits going to the West Tisbury Library.
At around 7 p.m., with overhead fans providing some relief to the evening heat, Mr. McCullough emerged from behind a black curtain on the stage, wearing a blazer, khakis and a bow tie. He carried a copy of his book, which tells the story of the two bicycle mechanics from Ohio who changed the world with their achievement of mechanical flight.
Since the book's release in May, Mr. McCullough has spoken to thousands of people around the country about the project. "Rarely have we ever known anyone," he said Tuesday, to a standing-room-only crowd that included friends and family.
"Surely one of the most obvious lessons in history is that almost nothing is ever done alone," he said, speaking deliberately and without notes. "It's a joint effort." He noted the many people who made the book possible, including his wife Rosalee, who was also in attendance. Mr. and Mrs. McCullough have lived in West Tisbury since the 1960s.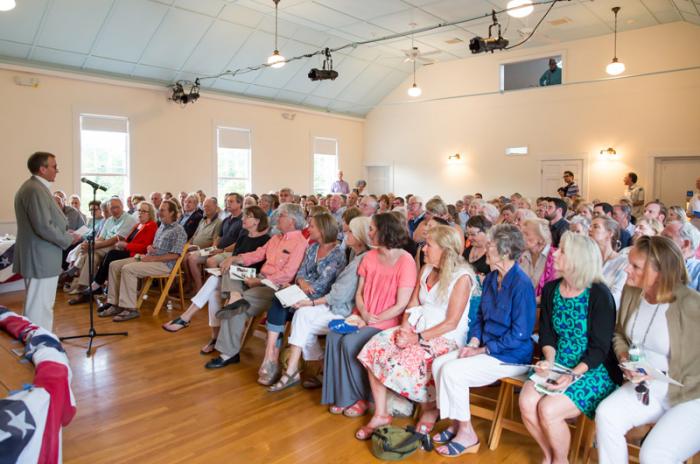 The Wright family home in Dayton could easily have fit in the upstairs of the Grange Hall, Mr. McCullough said, still in awe at the brothers' modest upbringing. Neither Wilbur (the elder) nor Orville had finished high school or gone to college. The house had no running water or electricity. "But what it did have was books," Mr. McCullough said. And the boys' father, an itinerant minister, insisted that they read as much as possible.
"Those young people received a full liberal arts education, in everything," Mr. McCullough said. "There is a lesson there. We must not dismiss liberal arts from education in our country."
Unlike others who have documented the Wright brothers, Mr. McCullough looks intimately at the brothers' family and personal lives, relying on thousands of family and professional letters that are preserved in the Library of Congress.
"Their letters will take you down several pegs because they are brilliant," he said. "And funny and wise and revealing." He was grateful for the chance to truly understand the Wright family and what they thought. But he worried about future generations.
"We are going to leave nothing for future historians," he said. "We don't write letters. We don't keep diaries. Nobody in public life would dare keep a diary." For the Wright brothers, he said, writing was a way to refine their thoughts. It also revealed their determination and humanity.
Like others who had pursued mechanical flight, the brothers were often ridiculed. But they saw the challenge as a higher purpose, and refused to give up — a quality that Mr. McCullough believes they learned from their father.
Repeated failures were met with constant improvement, something we should all take to heart, Mr. McCullough said. "It's the old 19th century engineer's line: 'All right boys, let's start it up and see why it doesn't work.'"
In most books on the topic, the Wright sister, Katharine, plays only a minor role in the achievement of flight, something Mr. McCullough knew from the letters was not the case. "One of my pleasures in the work that I've been doing the last four years is to bring her down front and center stage," he said. "Because she was extremely important. And besides, she is a very colorful, winsome character."
Throughout the many experiments and test flights, and later when the brothers became global celebrities, Katharine offered unwavering support to the family, at one point spending weeks nursing Orville back to health after a serious crash.
The actor Tom Hanks is working on an HBO miniseries based on the book. "I can't wait to see who he casts for Katharine," Mr. McCullough said.
The brothers relied on each other and their family, but the city of Dayton itself, a hotbed of invention at the turn of the 19th century, also helped propel their efforts. The city had more patents per capita than any other place in the country, Mr. McCullough said, and the climate was ripe for invention.
The Henry Ford Museum in Dearborn, Mich. now houses the original Wright Cycle Shop, where the brothers did much of their engineering and research. With its small rooms and simple equipment, Mr. McCullough said everyone should see it at least once. "It is humbling," he said. "It's a reminder of how amazing many of our forebears were."
"History should never, ever be made boring," he added. "It isn't. It's about people. And these people are entirely human. And the way we know that is through their letters."
Mr. McCullough has never undertaken a topic he already knows much about. "The discovery that goes with it, the learning process, is the whole," he said. "The joy is in the work." He added that he has never failed to discover something new about his subjects.
In closing, Mr. McCullough recounted an exchange in which someone once asked Wilbur if he had any suggestions for young people about how to succeed. "Yes," Mr. Wright had said. "Pick out a good mother and father and grow up in Ohio."
The Wright Brothers is available at Bunch of Grapes Bookstore and Edgartown Books.