(Excerpted from The Beetlebung Farm cookbook.)
I had been growing food on a small plot in the corner of the farm for a couple of summer when my Aunt Marie told me she was ready to call it quits. She'd always lived in Vermont but drove down every summer to work on Beetlebung with Poppy. After thirty-five years she was tired. She saw my interest and thought it might be time to pass the torch. She asked me if I would step in, and I did. I wasn't prepared and I knew it. Although I had always helped out and had been trying to get serious the last several years, I had a lot to learn about farming, I was hesitant, but I decided that this was the push I needed. So I dove in and started trying to figure out how to coax the best from our beautiful but slightly eccentric five-acre plot — something Poppy and Marie had spent their lives at.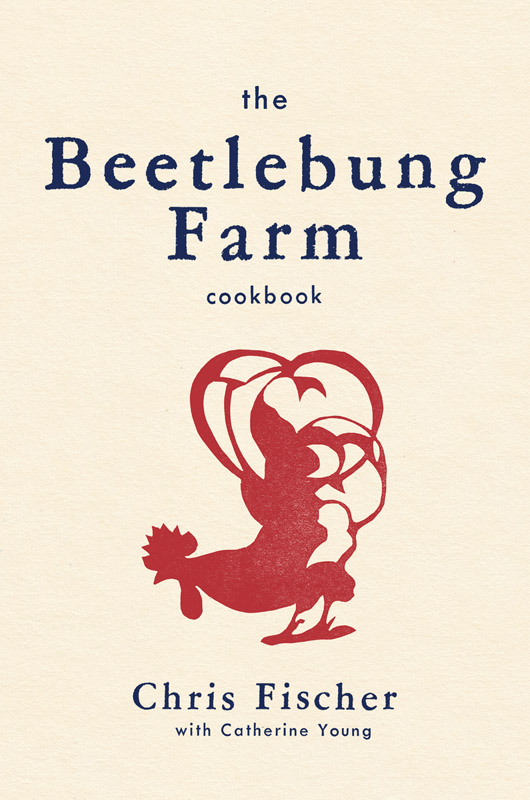 I knew enough to know the fences needed to be strengthened (the deer population seems to increase annually) and the irrigation improved, so that winter I set to world on the essentials: reinforcing broken stakes and mending hose links. And I built a greenhouse — really a hoop house — from lumber I found on the beach, reused hoops from another farm, plastic sheeting salvaged from a large operation's waste pile, and old doors Poppy had stacked in the barn God knows how long ago.
In the spring we started seeds in the tempered climate, beginning with leafy greens. I worked hard and got help from friends. By Memorial Day we were in shape with radishes, pea greens, baby kale, and lots of young tender chard.
The goal was straightforward: to have the food we produced reach people's kitchens in a state of utter freshness. We harvested lettuces at dawn and never told anything at the stand more than 12 hours after it was picked. The stand was first-come, first-served. At the beginning we wrote the prices on a chalkboard, but after drizzles and downpours we took to using permanent marker on shingle scraps. We couldn't afford the time away from the crops or other work to wait on customers, so we left a cash box for making change and relied on the honor system; it worked.
I got up early but still cooked late in well-appointed homes across the island, making money as a private chef to pay for the farm. I cooked our vegetables along with fish and meat my friends caught and raised. I relied on the skills I'd acquired in my twenties working in restaurants in New York, California, and Europe. I had learned to meticulously manipulate ingredients into delicious meals. My forearms were scarred in those years off-island, burned on oven doors and racks. In restaurants these scars represented a badge of shared experience and honor, reminders of the price of creativity. I felt pride and pressure as I worked in renowned kitchens, preparing intricate dinners for paying customers who themselves worked hard to afford them. But that summer things began to change. I started cooking what I grew, and the cooking became easy.
I found I could show up for a dinner party an hour before it was scheduled with a truck filled with beautiful ingredients and the meal seemed to cook itself. The food was so remarkable that each vegetable and every piece of fish seemed to declare what should be done with it, mostly arguing in favor of not very much. Meals began with crudo or crostini topped with whatever was perfectly ripe; then came salads — fresh, dressed simply, and served; fish followed — fluke or bluefish or bass caught that morning; or meat —pasture-raised lamb or beef or Berkshire pork, grilled or roasted and served with whatever was best in the garden. The preparations were not complicated. But because the ingredients were so fine the dishes were elegant.
On my nights off I would cook with friends at the farm. We were inclined to be a little playful and we fire-roasted venison (often road kill, sadly), or made pasta dough and rolled it with wine bottles, then boiled the noodles in a banged-up pot on a jerry-rigged grill. Or we feasted on raw fish, lots and lots of it. Chilmark I realized that summer, had the perfect balance for me. I could be outside, know my meat, and meet those who caught the fish as it arrived on the docks. I could compose menus when I was done picking the last bush beans and still have time to cook everything perfectly. I realized it was a lot of fun feeding people who knew (or wanted to learn) how delicious farm ingredients are. And it was gratifying to express — with each dish I served to friend, farmer, fisherman, or hunter — how special the food here is.
Halfway through the season, I had an idea. I decided to turn my night-off, farm cookouts into the "restaurant" I'd always wanted. The set-up was simple. We built a table — it needed to be wide enough to hold all the platters of food plus bouquets of Poppy's flowers, and long enough that everyone could sit together. My brother is a skilled carpenter and he helped me put the legs on planks we found washed ashore.
We put the word out. That first night we spit-roasted a goat over wood we burned to embers. We served the meat with potatoes from Poppy's garden. We also served Great Pond oysters, greens harvested hours earlier, along with field tomatoes and grilled sea bass. We sat together those of us who'd grown and cooked the food along with our friends and their friends, and we all picked the bones clean. We ate in the hoop house because threatening clouds hid the moon. Slightly dirty fingers and manicured nails alike were dressed in the flow of the lights hung from the roof, powered by extension chords, and transformed into "chandeliers" made of rusty colanders. Toward the end of our meal, when I thought everyone might want one last bite before moving to dessert, I grabbed a headlamp and walked outside and harvested an apron-full of baby carrots. We rinsed them quickly and ate them like candy.
It was at once so familiar, so special, and so nice. In some ways the being was not so different from what my family had always done in the summer on the farm and in some ways it was like the impromptu farm dinners we'd been patching together. But in other ways it was different — it was more thought out and we were sharing what we loved beyond our circle. It was, I knew then, a place to begin.