The artists were all different. Cynthia de Silva prefers the Island in the summer, James Gage prefers the Island in the winter. Melanie Lyttle takes huge photos of microscopic insects, and Christine Alesch uses only "objects from the sea" to craft sweeping scenes on structures no larger than Christmas ornaments. One can enter his or her work beginning at age 16, but Dorothy Burnham still enters her collages at age 101.
Every summer since 1958, the Tabernacle in Oak Bluffs has been the proud host of the All Island Art Show. Artists are on hand to explain what inspires them, what they look for and how long they've been creating to anyone who wants to talk, even the young kids racing about the Camp Ground on bicycles and scooters.
Volunteer judges evaluate each piece of art, and by the end of the day the best from each of 11 categories is chosen. The categories included everything from acrylic to pastel, media to sculpture.
Ms. Alesch said she finds it vital to always hold the idea of art in her back pocket. She switched from pastels a few years ago when the work became tedious. She moved to Maine for inspiration and began to paint there, but found painting "too flat." After discovering so much seaglass on Maine's rocky coasts, she started created 3-D images of the sea and its life, using only the natural resources from the ocean.
Bob Hayden is another regular beachcomber. Two years ago, he decided to turn his discoveries into art. By lugging his canvas bag across Gay Head beaches, gathering the best beach stones and gluing them together, he creates what he calls "Beach Stone Art." He was inspired by Scottish and Irish cairns; small rock structures that were used as gravestones. By using only varnish and Monster Glue, Mr. Hayden captures the Vineyard's beauty with delightful simplicity. He connects the stones carefully, "so that no one stone outshines another."
Photographer and painter Debra Gaines is concerned with the internet in relation to art, and works to educate those who ask of her photos, "what app did you use?" Such apps are problematic, she thinks, because they teach a person to take a photograph of an unspecial scene, then edit it to make it look beautiful. And worse, social media and apps tends to put blinders on those who otherwise would have been gifted with an eye for light and beauty.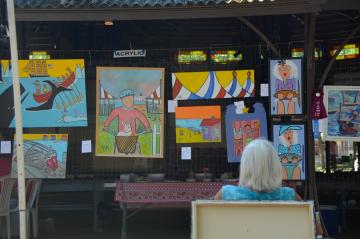 Brian Kirkpatrick's work is vibrant. Very vibrant. He paints with huge colors, and is his paintings are bold. One of Mr. Kirkpatrick's paintings showed a yellow sky with a blue sea, and a whaling schooner in pursuit of a black sperm whale. Brian's wife, Stephanie Flor, said that when he was out on their porch working on the painting, a little boy walked by with his mother. The boy marched on to the porch, peered at Brian's painting and burst into tears.
"Why is he making the men kill a whale?" he asked of his mother.
Mr. Kirkpatrick told the boy to wait a second. A few minutes later the whaler on the bow of the boat no longer held a harpoon, but a violin. The boy's tears stopped.
Best in Show: Warren Gaines.
Most Popular: Patti Roberts.
Acrylic Award, first place Douglas Peckham; second place Jack Yuen.
Oil, first place June Shoppe; second place Donna Blackburn.
Pastel, first place Warren Gaines; second place Lowely Finnerty.
Watercolor, first place Ned Read; second place Marietta Cleasby.
Photography (landscapes), first place Patti Roberts; second place Nancy Noble Gardner.
Photography (people), first place Heather Robbins Capece; second place Heather Robbins Capece.
Photography (all other), first place Michael Noonan; second place Melanie Lyttle.
Collage, first place Taylor Stone; second place Martha Mae Jones.
Drawing & Graphics, first place Brenda Watson; second place Robert Schaefer.
Mixed Media, first place Donna Allen; second place Bricque Garber.
Sculpture, first place Bob Hayden.