The All-Island Art Show returned to the Tabernacle Monday, continuing a decades-long tradition that draws local artists from all over the Island.
Artists exhibited across a wide range of visual media including photography, painting, mixed media and pastel. Pieces entered into the show hung on a fence surrounding the Tabernacle — out of the day's light drizzle — while many artists offered postcards and prints of their work from small booths on the Camp Ground green.
The art show highlights the ingenuity of local artists: seaweed from local beaches became the primary material for a series of collages by Kathy Poehler, and photographer Liz Dolan-Durkee turned the minute details of the Camp Ground's gingerbread cottages into vibrant, geometric, almost abstract observations.
For many artists, the all-Island art show is an annual tradition and a fixture of the summer. Painter Warren Gaines, who has been co-exhibiting with his wife Deborah Gaines for more than a decade, told the Gazette that the show is his annual opportunity to bring his work down-Island. Usually, he exhibits only at the Artisan's Fair and Chilmark Flea Market.
Awards for first place ($50) and second place ($25) were given in each of the competition's 11 categories. Among the winners was painter and photographer Elizabeth Luce, whose portrait of a long-haired cow won first prize for mixed media. She said that the show is really a social tradition.
"The show is awesome because you get to see and meet people," Ms. Luce said. She added that since sales go directly to exhibitors, the show is "very supportive of local artists."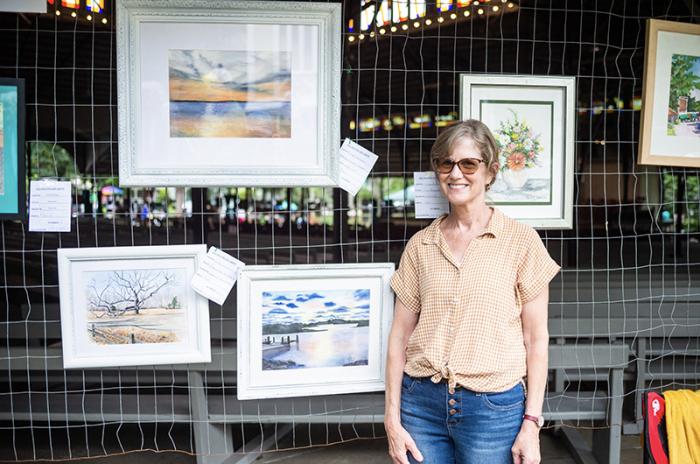 Painter Ned Reade, who sits on the committee that organizes the show, told the Gazette that he has been exhibiting his work for more than 40 years.
"It's fun to see all the other artists and friends I wouldn't see if they didn't wander by," Mr. Reade said. He added that after so many decades' worth of experience, there is not much that the organizing committee has to do. Usually they just debrief after the show and figure out what can be improved next time, he said.
"But after all these years, we've pretty much figured out how to make it work," Mr. Reade said.