President Barack Obama stepped off Marine One at 6:26 p.m. at the Martha's Vineyard Airport, to begin a 16-day vacation on the Island.
Accompanying the president were First Lady Michelle Obama and their daughter Sasha.
After stepping out of Marine One, the President and First Lady strode purposefully to a barrier set up at the edge of the tarmac, where they greeted a crowd of about 30 invited VIPs and well wishers. The first couple shook hands, smiled, and chatted briefly with the crowd. The airport arrival was otherwise closed to the public.
Also making the trip were National Security Adviser Susan Rice, and senior adviser Valerie Jarrett. The Obama family's Portuguese water dogs, Sunny and Bo, also traveled to Martha's Vineyard, but did not make an appearance at the airport.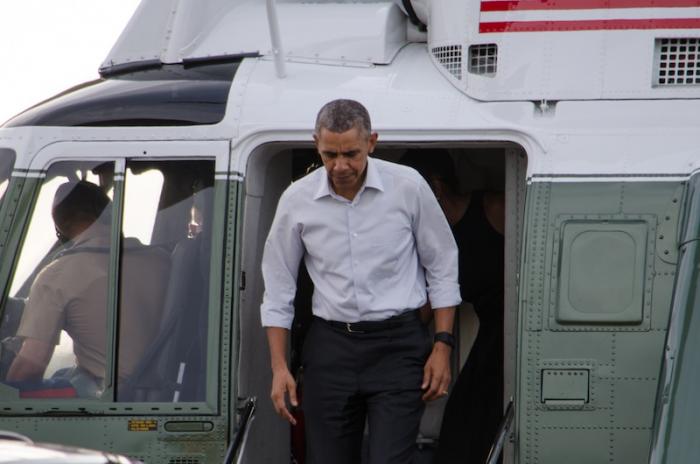 Earlier, Air Force One touched down at U.S. Coast Guard Air Station Cape Cod at 5:50 p.m. U.S. Rep. Bill Keating and members of the Coast Guard and military were on hand to greet the President on the Cape.
The presidential party and traveling reporters boarded helicopters for the short ride to Martha's Vineyard.
After greeting the well-wishers, the President and Mrs. Obama then climbed into a large black SUV, and traveled along with a motorcade of security and communications vehicles to Chilmark, where they arrived at their vacation home about 6:55 p.m. According to the White House, they will settle in for the night.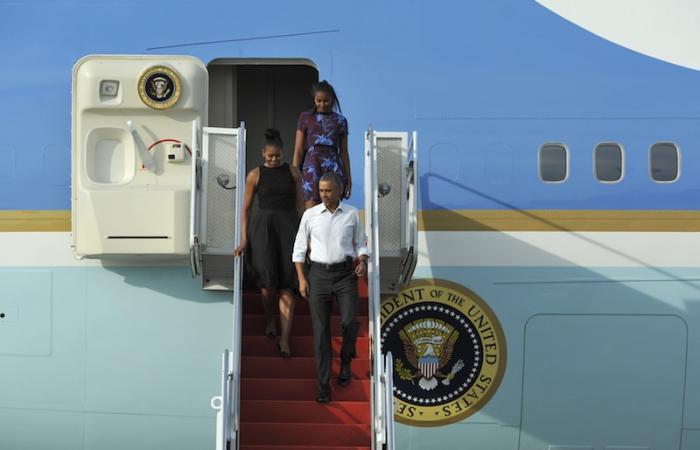 The first family, as they did last year, will stay at a private home off North Road.
Mr. Obama, a frequent visitor to Martha's Vineyard before he was elected to the White House, has visited as president every year since 2009, with the exception of the summer of 2012 when he was locked in a reelection campaign.
If past vacations are any indication, Mr. Obama will keep a low profile during his time on the Island. No public events are scheduled. The White House has advised reporters that there are no public events scheduled during the Obamas' vacation on Martha's Vineyard.
They are expected to depart the Island on August 23.