President Obama and his family wrap up a 17-day vacation on the Vineyard this weekend. The Obamas are scheduled to depart the Island sometime on Sunday; at press time Thursday the time had not been announced by the White House.
The President, First Lady Michelle Obama and daughter Sasha arrived on the Vineyard on August 7, a day earlier than planned. Daughter Malia joined the family separately. This marks the sixth time the Obamas have vacationed on the Vineyard during his presidency.
For the second year the Obamas have been staying in a rented house off North Road in Chilmark owned by summer resident Joanne Hubschman. The vacation this year has included near-daily golf outings by the President along with a handful of beach and dinner outings.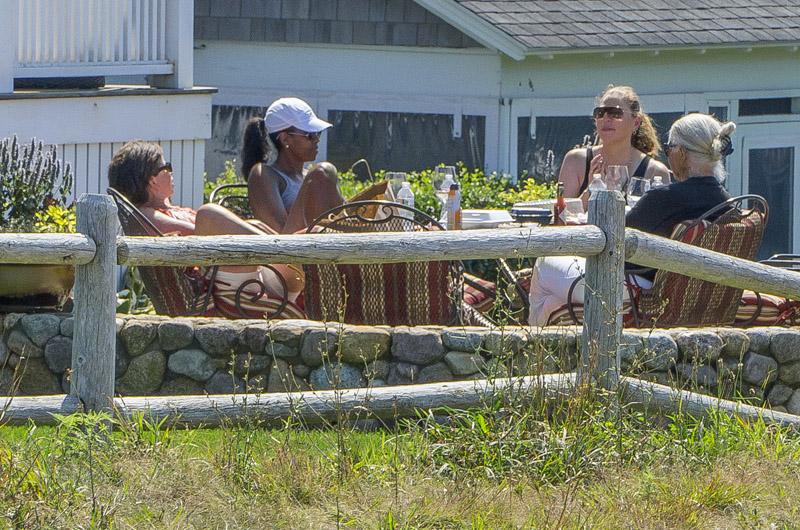 Farm Neck and the Vineyard Golf Club were the President's place of choice to play golf this year, while dining out included old and new spots: State Road restaurant in West Tisbury, Alchemy in Edgartown and Beach Road in Vineyard Haven, the new restaurant owned by Jackson and Mary Kenworth who also own State Road. Mrs. Obama and her daughters had lunch one rainy day at the Atlantic Chop and Fish House on the Edgartown harbor.
The President and First Lady also joined former President Bill Clinton, former Secretary of State Hillary Clinton and other guests at Farm Neck last weekend to celebrate the 80th birthday of Democratic adviser and civil rights activist Vernon Jordan. The evening included dinner, dancing and toasts. Mr. Jordan's birthday party was part of a weekend of high political wattage on the Vineyard. Earlier Saturday, the former President joined the current President on the links at Farm Neck. Later in the weekend there was a private fundraiser Sunday for Mrs. Clinton, a Democratic candidate for president.
On Thursday this week the Obamas had a day at the beach with Japan ambassador Caroline Kennedy at Red Gate Farm, her Atlantic-facing waterfront estate in Aquinnah.
But for the most part the First Family has stayed well below the radar at their own secluded compound in Chilmark where there are walking trails and sweeping north shore views of the Elizabeth islands. The White House released reading lists and Spotify music playlists for the President.
Also in a departure from recent years, as of late this week there had been no national press briefings by the President.