The Obama family's 16-day Vineyard vacation came to a close Sunday. The President, First Lady Michelle Obama, daughters Malia and Sasha and advisor Valerie Jarrett departed from Martha's Vineyard Airport aboard Marine One at about 5:05 p.m. Sunday.
After the short trip to Cape Cod, the First Family boarded Air Force One for the journey home.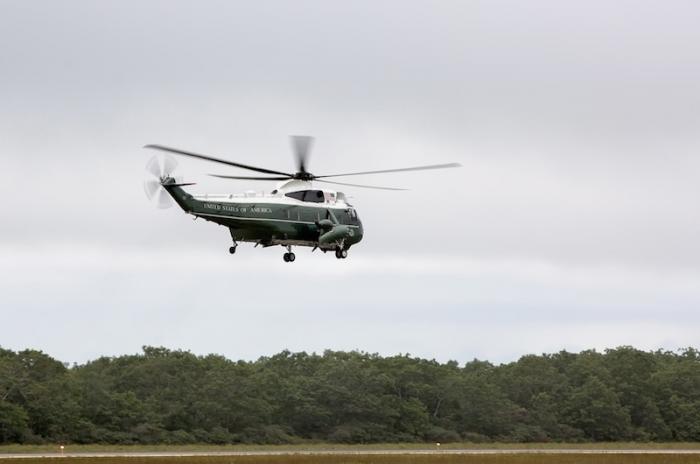 The departure from the Vineyard Sunday, a misty, gray day giving way to occasional peeks of hot sun, was as low-key as the rest of the vacation, the Obamas' sixth trip to the Island while in the White House. The family's Portuguese water dogs, Sunny and Bo, were walked prior to departure on a grassy area and then placed in a holding van near the tarmac.
A small crowd gathered along a fence lining the airport, but was asked to leave before the departure. The full Martha's Vineyard Tactical Response team was present at the airport. Three Bell-Boeing V-22 Osprey helicopters were on hand to transport press and other personnel.
The presidential motorcade arrived at about 4:58 p.m. and the President quickly boarded Marine One, just behind Mrs. Obama, their daughters and Ms. Jarrett, who wore a tan Black Dog hat. Shortly afterward Marine One departed.
The President's Vineyard trip was especially quiet this year, with lots of time spent at their secluded Chilmark rental home. There were no press briefings. The President and First Lady spent a few evenings out with friends, and the Obamas, like thousands on the Vineyard, were in Oak Bluffs Friday night to watch the annual fireworks display. The family took a short bike outing in the State Forest on Saturday.
The President spent hours on the golf course, playing golf nine times at Vineyard courses. His golf foursome frequently included the basketball players Alonzo Mourning and Ray Allen. One day the President played with former President Bill Clinton and Democratic advisor Vernon Jordan.
He played at both Farm Neck Golf Club in Oak Bluffs and the Vineyard Golf Club in Edgartown. Mr. Obama squeezed in one last game Sunday, heading back to Farm Neck for a seventh time this trip.
He was joined on the links by seasonal Vineyard resident Glenn Hutchins, former UBS president Robert Wolf, and friend Cyrus Walker. Mr. Walker, a cousin of Ms. Jarrett, is also a frequent golf partner of Mr. Obama.