A break in at the Island Alpaca Farm in Oak Bluffs last week left one alpaca injured and several fences damaged, the farm's owner said on Tuesday.
Barbara Ronchetti said that last Thursday staff noticed breaks in the fencing. There was a 16-foot panel on the ground and another 16-foot fence board "that would require some serious pushing," Ms. Ronchetti said. The entire female group of alpacas, about 35 of them, escaped from their pasture and entered a pasture closer to the road.
"Alpacas could do it but they're not motivated in any way. The males could do it but they were far away," Ms. Ronchetti said. "Fences just don't fall like that."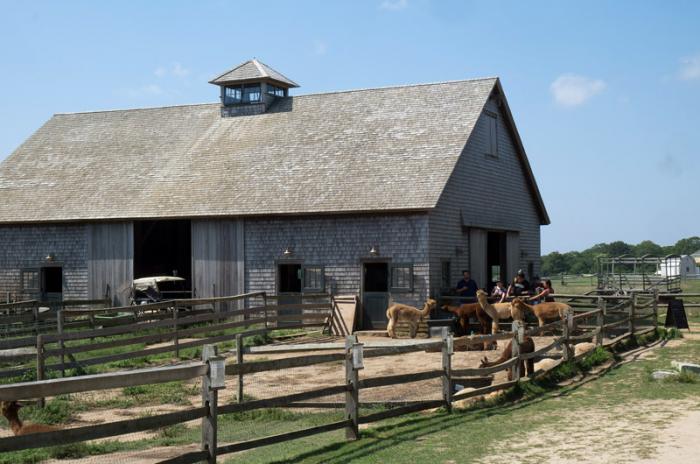 There was also a smaller paddock within the fenced in area, about 10 square feet, where Purl, a nursing mom, and baby Paloma were located. Paloma had injured her leg the previous week and they were keeping the two in close quarters to limit her movement. Ms. Ronchetti said the gate on the small paddock was designed with a two-prong pivot that closes on the post of the gate.
"Alpacas wouldn't logically think to put their nose under it and lift it up to get out, they're just not that savvy," she said.
Ms. Ronchetti said they noticed Purl resting in the shade on Thursday, and on Friday they had a closer look after she wasn't getting up to nurse Paloma. Ms. Ronchetti said "she was swollen in the behind" and walking "gingerly on her back legs, like tippy toeing."
Veterinarian Dr. David Tuminaro evaluated Purl and determined there had been "some kind of blunt" trauma to her rear area.
"I can't imagine that someone would kick her," Ms. Ronchetti said. "But she was the only one injured and it was suspicious too because she was the only one who was captive and could be grabbed. The others were in the big pasture and their defense mechanism is to run."
"It concerns me obviously, they're innocent creatures," she added.
Oak Bluffs Lieut. Timothy Williamson said several officers responded to the incident on Thursday morning, when the owner reported suspicious activity. Lieutenant Williamson said there have not been any other incidents in the neighborhood but he had stepped up patrol in the area at night.
Purl is now recovering, Ms. Ronchetti said.
"We're having to nudge her belly to stand to nurse, but we don't want her moving a lot," she said. "A vet friend of mine in Ohio who is an alpaca specialist said she should stay in a quiet, small paddock in case her pelvis is fractured."
Ms. Ronchetti said she's still reviewing security footage and is offering a reward for anyone with any information.
"If anyone notices anything that's suspicious we'd appreciate any notification," she said. "It's a wonderful community we live in and we have to keep our eyes open for each other."