Some 18 months after abandoning plans to expand its Vineyard Haven store, Stop & Shop unveiled preliminary plans this week for a huge expansion of its grocery store on Upper Main street in Edgartown that would include a major redesign of the parking lots and entrances from the main road corridor.
Appearing before the Edgartown planning board Tuesday night, spokesmen for the grocery chain presented a conceptual plan for an 11,320-square-foot addition. The current store is just over 25,000 square feet in size, with about 18,000 square feet of retail space. The last major expansion of the store was in 1989.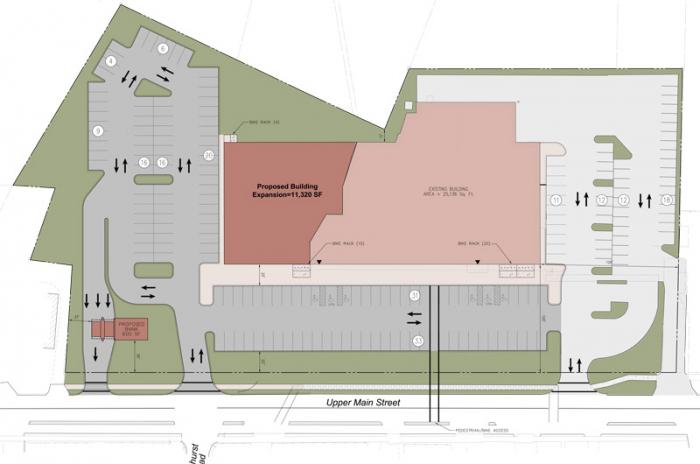 Stop & Shop project manager Lisa Davis said the store has outgrown its current space.
"There's a lack of retail sales space," she said. "That limits the variety and diversity of products Stop & Shop can offer. There is only one functional entrance. There is only one rest room. The parking lot does not function ideally and there are some issues with ingress and egress."
Stop & Shop has retained the engineering and design firm Vanasse Hangen Brustlin (VHB) to oversee the Edgartown expansion, the same firm that worked on the failed Vineyard Haven expansion project. That project was abruptly withdrawn by Stop & Shop in May 2014 after a controversial 10-month review process before the town and the Martha's Vineyard Commission.
Company spokesman Greg O'Brien said this week that the grocery chain has not dropped plans to expand the Vineyard Haven store. "It's in the conceptual stage," he said. "Any proposal in Vineyard Haven would be for a much smaller store than originally proposed."
On Tuesday in Edgartown, spokesmen for VHB emphasized that the plans are also conceptual, and that no engineering or architectural work has begun.
Significant changes are contemplated for the parking lots around the store and also the traffic flow.
Angled parking would change to 90-degree parking, with wider travel lanes between the parking spaces. A total of 46 parking spaces would be added to the current 142 spaces, including four standard spaces for people with disabilities and two spaces that can accommodate larger handicap vans.
Currently the most heavily-used parking spaces are directly in front of the store, where there are three rows of angled parking. Under the new plan, there would be two rows of parking, one abutting the front of the store, and another abutting open space next to Upper Main street. A 30-foot travel lane would divide the two rows of parking.
VHB transportation planner Randy Hart said the wider travel lane would make it safer for drivers backing out of parking spaces and easier for pedestrians with shopping carts to navigate to and from the store entrance.
"We think there's a real opportunity here to make some adjustments that will have a positive influence," he said. "Most of the parking that is being added is in the area where you really want it, close to the door. We're trying to put it where it will be better utilized."
The plan also envisions new traffic circulation patterns.
The company recently acquired land abutting the northeastern side of the store. Preliminary plans call for the neighboring Edgartown National Bank branch to be relocated further from the store to make way for a new entrance.
The current entrance on the western end would be moved about 100 feet to align with Pinehurst Road. The eastern entrance, closest to downtown Edgartown, would remain where it is.
David Taglianetti, director of land development for VHB, said he had surveyed the site with zoning issues in mind, including open space, parking, bike storage, setbacks, and landscaping.
"The plan we're presenting tonight meets all of those zoning requirements," he said.
He also said he sees no insurmountable issues with water, sewer, wetlands, archeological or health regulations.
"I'm confident we'll be able to satisfy those concerns," he said.
Stop & Shop hopes to begin construction next fall, and open in the spring of 2017. Ms. Davis said the store would remain open during construction.
Planning board members received the early plans with upbeat remarks.
"I don't know what experience you've had with other planning boards," said board member Robert Sparks. "I assure you we're going to be open minded, and we're going to look forward to working with you."
Board member Michael McCourt concurred. "I think it's a great project. I think it's going to be a great asset to our community," he said."Of course when you have this large expansion, food prices will go down," he said with a wry smile.
The plan will trigger an automatic review by the MVC as a development of regional impact, but in a somewhat unorthodox move, the planning board intends to hold hearings before referring the project to the commission.
Stop & Shop operates 375 stores throughout New England, New York, and New Jersey. In May, the grocery chain opened a new 36,000-square-foot facility on Nantucket.