More than 100 people gathered at The Seafood Shanty Saturday night. They enjoyed drinks, a buffet, live music, a silent auction and a raffle, but they really came to support Olivia Hart, a 22-year-old Islander in need of a new heart. Every dollar spent Saturday at the Shanty, including bartenders' tips, went to support Olivia as she waits for a heart transplant.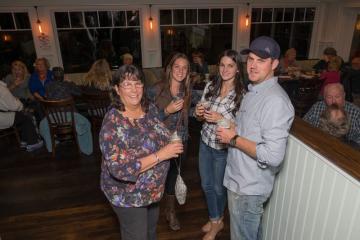 As of early Monday afternoon the event had rasied more than $38,000, though donations were still being tallied.
On Oct. 9 Olivia was transported to Massachusetts General Hospital and diagnosed with cardiomyopathy, a disease of the heart muscle. On Friday she underwent surgery for a left ventricular assist device, which will help her heart to function while she waits for a transplant.
During this time, the Hart family did not ask for help, but the community rose up anyway. Olivia, a 2011 graduate of Martha's Vineyard Regional High School and recent University of Vermont graduate, worked for two seasons as a waitress at The Seafood Shanty in downtown Edgartown.
"I don't want to sound corny, but when you work at The Shanty you become family," said Shanty owner Denise Page. "And Olivia is a very special person."
Mrs. Page and her husband Scott put the fundraiser together to support Olivia, their employees volunteered their time, and local businesses donated raffle and silent auction items.
"I've always known we're an awesome Island, but to see the outpouring of support is just ... " Ms. Page was unable to finish the sentence, and just shook her head. "But I'm happy to do it for such an amazing person."
At the entrance to the Shanty, Olivia's younger sister Julia and her friend Madison Moreis greeted guests next to a donation box, one of the many ways attendees could donate.
Sofia Hart, Olivia's twin sister, said she set up a Go Fund Me page after calls came in wanting to help support her sister. As of Monday, the webpage had raised more than $23,000.
"Our family wasn't seeking money support, just support for Olivia," Sofia said. "The response is insane. We're speechless."
Tammy Csapo, a longtime family friend, said she had spoken with the family matriarch, Salli Hart, who couldn't be at the fundraiser. "She just called me and said, 'Take pictures, take pictures, I want a blow by blow!'" Ms. Csapo said. "She's sharing it all with Olivia."
Attendees spanning generations milled about the Shanty, some that knew Olivia personally and others who just wanted to lend their support. People perused the raffle items, which ranged from two months' worth of fresh eggs and six cubic yards of compost to handmade jewelry and baby quilts.
Tricia Bergeron's son and Olivia's brother, Jake Hart, were close friends growing up. The fundraiser is another example of the supportive community on the Vineyard, Ms. Bergeron said.
"You don't want to live anywhere else when something happens," she said. "The community never stops giving."
Olivia's close friend Greyson Brown recently visited her in the hospital. 
"She's the very last room in the ICU, and she is like the light at the end of the tunnel," Ms. Brown said. "I was choking up when walking down the hall but by the time I saw her I stopped crying. She was so full of positivity and so normal, it was like she was at the hospital for a cold."
Ms. Brown said she was impressed by the turnout, which included those who did not know Olivia.
"This is all going to this young, strong, badass person," she said.
Holding back tears, Rebecca Douglas read aloud a letter from Olivia that thanked the attendees. She said it was from them she drew her strength, bravery and positivity.
"You are all those qualities you see in me," she wrote. She signed off with "I'll be seeing you soon, Liv."
Raising her glass, Sofia Hart said "A toast, cheers to Olivia and her new heart!"
In about two weeks, after recovery from her recent surgery, Olivia will come home and wait for her new heart on the Island.