The Felix Neck Fall Festival is nothing to quack about; the 35-year-old tradition is back again with a duck theme and a new silent auction.
On the Friday following Thanksgiving, crowds of people will gather at Felix Neck to "Duck into Nature" for a celebration of wildlife, autumn and community.
"Originally it was an end of the season get together," said director Suzan Bellincampi. "It's grown incredibly, but it's still the place where you see your friends and neighbors."
In years past, they have hosted anywhere from 350 to 900 attendees.
There will be wreath making, hayrides, birds of prey, seven awkward teenage ducks, food, and music by the Flying Elbows. Island artists and businesses donated duck-themed items to the silent auction where bidders can win anything from a pair of knit duck-feet booties to hot sauce to douse your duck dinner, to a stay at the Duck Inn in Aquinnah. L&W Tree Farm donated a live tree that the organizers plan to add at least one duck ornament to before the auction. All of the money raised will go to funding Felix Neck's conservation and education efforts.
"We're kind of obsessed with ducks at the moment," said Josey Kirkland, education coordinator at Felix Neck. "Also there are waterfowl around this time of year." In the craft corner, kids and kids-at-heart can make duck puppets and duck masks with noise makers, along with bird feeders and milkweed seed packs.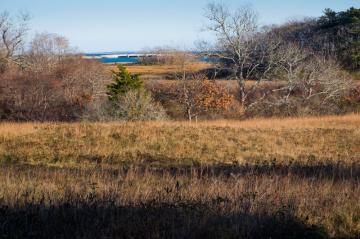 "It's wicked cute to see kids running around in masks," Ms. Kirkland said, though she admitted the noise makers may not be the parents' favorite addition.
The trails will be open along with the play structures around the grounds. For the early birds, Robert Culbert will be leading a bird walk at 9 a.m. prior to the main festivities that begin at 11 a.m.
"The key is you want to get outside, it's just a way to spend the day outside," said Ms. Bellincampi. "We do the work, you show up."
With a forecast of 60 degrees, the organizers are predicting a perfect fall day to spend time in nature. They may even get a visit by an osprey, weather permitting. Marla Isaac of New England Reptile and Raptor Exhibits brings birds of prey every year to the festival. In the past, a variety of owls and hawks have come to the Island to educate visitors.
From dancing to crafts to chowder to critters, the festival is really about bringing the Island together.
"It's an old school community gathering," said Ms. Bellincampi. "You, your family and friends, some ducks, and the outdoors."
And with donations and volunteers it's a festival by the Island for the Island. Ms. Bellincampi credited the whole community with making the festival happen.
To make the most of the festival, Ms. Kirkland has some advice: "Come early and stay all day."
The Fall Festival is on Friday, Nov. 27 from 11 a.m. to 3 p.m. The rain date is Saturday, Nov. 28. Tickets are $5 for members, $8 for nonmembers; sold at the event. Those interested in volunteering should call Felix Neck at 508-627-4850.