Chilmark voters elected Carol (Candy) Shweder to the library board of trustees in the only contested race on the ballot for Wednesday's annual town election.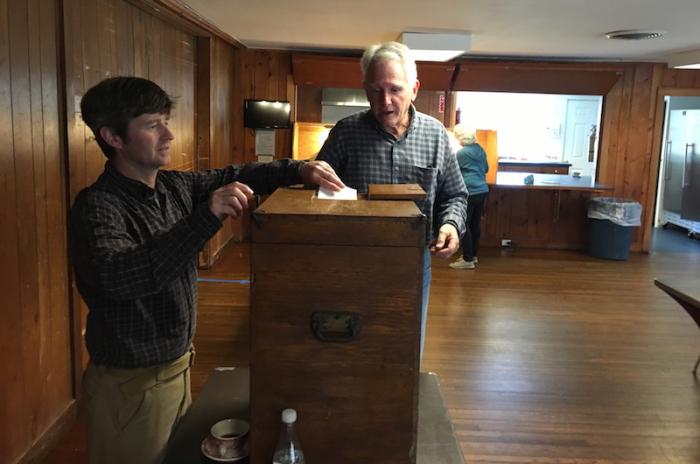 About 30 per cent of registered voters, 285 out of 933, came to cast ballots at the Chilmark Community Center on a mild, sunny day. Ms. Shweder, a potter and the vice-chairman of the town conservation commission, was elected to the library board with 172 votes. Zoe P. Thompson received 105 votes.
Ms. Shweder held campaign signs outside the community center as the first voters came by in the early afternoon. Next door at the Chilmark School, students practiced their May Day maypole dance.
James M. Malkin, running unopposed, was elected to a seat on the board of selectmen with 229 votes. He will replace Jonathan Mayhew, who did not seek re-election after serving a total of 15 years as a town selectman.
Moderator Everett H. Poole was re-elected with 254 votes, making him the top vote-getter of the day.
Elected without contest were Clarissa Margaret Allen, board of assessors, 252 votes; Katherine Lees Carroll, board of health, 240; Susan B. Murphy, finance committee, 241; Clarissa Margaret Allen, site review committee, 243; Mitchell Posin, planning board, 245; Peter B. Cook, planning board, 189; Christopher Martin Macleod, planning board, 190; Melanie D. Becker, treasurer, 247; Sarah S. Cook, cemetery commissioner, 227; and Keith L. Emin, tree warden, 250.
Several elected positions had no candidates listed on the ballot and were filled with write-in votes.
Incumbent Sam Feldman, who was running a write-in campaign, received 37 votes for fence viewer. Twenty-three people received write-in votes for fence viewer, most with one vote apiece.
The write-in race for surveyor of wood, lumber, and bark was another crowded field, with 21 people receiving votes. Keith Emin received the most write-ins with nine ballots.
Incumbent Linda Coutinho received three write-in votes for a second seat on the finance committee.
Heather Hamacek contributed reporting.