Media Voices for Children works out of a basement office in Vineyard Haven; the home of Len and Georgia Morris. According to producer and director Len Morris, they spend 60 hours a week holed up in that basement, editing and compiling hundreds of thousands of hours of footage in front of computers and television screens.
But they travel a lot too.
The team, comprised of Mr. Morris, co-director Georgia Morris, co-producer Petra Lent and editor Chris Mara, has filmed, photographed, and talked to children in crisis from around the globe, the result of which has been three documentaries over a 20 year period: Stolen Childhoods, Rescuing Emmanuel and, more recently, The Same Heart, which screens on Sunday, July 24, at the Strand Theatre in Oak Bluffs.
The film crew began with Stolen Childhoods, released in 1996, which was a journalism piece for the U.S. Department of Labor to give to Congress about the child labor crisis. The project took seven years. Mr. Morris remembered trying to harness an endless supply of footage.
"We would film kids picking tobacco in Nayarit, Mexico for 14 hours, come back, clean the cameras, eat something and go back out until five in the morning filming street children," he said during a conversation that included his production team. "What happens is this work takes you over."
Everyone nodded in agreement.
Saving Emmanuel came as a follow up to Stolen Childhoods. It focused on the life of the urban poor youth. After finishing that film, spending over decade studying and documenting the crisis, the team realized they needed to make an additional film.
"We live in a world where every other child, one billion children, are living without either proper food, sanitation, shelter, basic security, healthcare," Mr. Morris said. "Five million babies are HIV positive and a half a million are receiving HRV drugs. It all comes back to poverty."
For The Same Heart, the production team travelled to 11 different countries and six U.S. states, talking with and filming people on the front lines, including Geoffrey Bakhuya, an educational organizer in Kenya. Mr. Bakhuya worked to fix his village's schooling system from the bottom-up, finding a way to provide food for the children.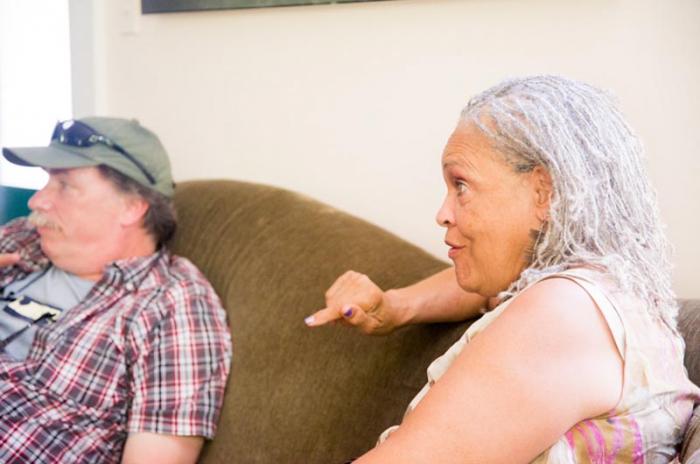 But the team was not satisfied. They wanted systemic change.
"This sort of formulated itself around the same time that the financial crisis in 2008 took the world economy to the brink and pushed another billion to hunger," Mr. Morris explained. "We started asking the question 'where are we going to get this money?' when we've got a few hundred people with the wealth of a third of the world's population."
The crew interviewed ethicists and economists and discovered a potential solution in the Financial Transaction Tax, which is illustrated in the documentary. It is a basic concept that dates back to 18th century England, where a specific set of monetary transactions are taxed, and the funds are used to educate, feed and provide care for the world's youth.
Mr. Morris said that finding a solution should not be a political process.
"It's not a Republican idea, it's not a Democratic idea. It's a tool," he said. "I don't really think it's about class warfare. I think it's about taking our money and using it and investing it in our communities and our future."
He believes in the concept passionately, and has proposed a children's Care Act to countless senators.
"We can't have a country so divided in economics that we have a permanent underclass consisting of people that we victimized entirely. After 20 years of doing this, I am not going to be silent and told that a country with an 18 trillion year economy can't afford to properly feed, house and care for its children. You're just not going to be able to win me with that argument," he said.
Vineyarder Charlayne Hunter-Gault narrates the Same Heart. Ms. Hunter-Gault has spent her career as an award-winning journalist covering many of the issues covered in the film. On Monday morning, she sat with the production crew in Mr. Morris's living room.
Ms. Gault explained that the future of the world's children is more than just a matter of charity, because they decide the world's fate. She cited examples of crime, terrorism and environmental footprint, which are all actions of people who were once children.
"Either children in poverty are going to die early or they're going to end up involved in some antisocial thing that is of no benefit to anybody, because they have no other options," she said.
"Whether those children are in Africa or Gary, Ind., Atlanta, Georgia or even New York, if those young people aren't prepared for leadership, whether it's in their home or their community or their town or their state or the country or the world, we are all going to Hell," she added. "Just to put it perfectly bluntly. It's not let's pity the poor African children, it's let's pity all of our children and do something about it."
The Same Heart will play at the Strand Theatre in Oak Bluffs on Sunday, July 24, at 8:30 p.m. For more information, visit mediavoicesforchildren.org. There is also an opportunity to donate money to help distribute the film at generosity.com/community-fundraising/the-same-heart-advocacy-screenings--3.