It was sweltering last Saturday, even at sunrise. Bob Daniels, who is 91, got his harvest together early in the morning and was driving over to the old Ag Hall when the truck in front of his unexpectedly slowed, then began turning. Bob said he nearly rear-ended the guy. When Bob got to the farmers' market he couldn't shake the thought of what almost happened. He imagined all his hand-nurtured Austrian crescent potatoes and Vidalia onions tumbled onto the Edgartown Road as he arranged them safely on his table. He also set out bunches of oregano blossoms. Oregano is a grande dame of flavoring which has slipped out of fashion. It is delicious with tomatoes, squash, beans, fish and with chicken. Shiso is a rising star among herbs.
Also known as perilla, shiso is a member of the mint family. It is popular in China, Korea, Viet Nam, Laos, India and Japan. In this country, the leaf of a smallish green variety is ubiquitously used as a garnish with sushi and sashimi. In Japan though, shiso is eaten a great many ways. It is the red shiso added to tsukune — skewers of minced chicken cooked over coals and served at yakitori houses — that makes them taste especially good. The bright, peppery flavor of the herb has made the grilled chicken meatball a beloved part of the Japanese canon. Throughout Asia both green and red shiso leaves, buds, and seeds are used and appreciated for their flavor and medicinal qualities as well as for their nutritional value (perilla is rich in vitamins A and C and riboflavin). Bob Daniels isn't growing shiso. If you were looking for it at the market last Saturday you could find it at Morning Glory's stand or Lisa Fisher's.
The heat only got worse as the morning went on. Meg Athearn organized a bucket of cold water to stand in while she rang up all the people eager for fresh corn. That's the kind of innovative thinking you'd expect from Morning Glory where they are growing an American cultivar related to the broad leafed Vietnamese perilla. It is green on one side and red on the other. Does Meg cook with shiso? She was too swamped to say.
Lisa Fisher and Nancy Weaver were also plenty busy and very hot. They were, as usual, standing on either side of the Stannard Farm's pickup which was filled with perfect tiny haricot verts, an assortment of impeccable summer squash and a profusion of herbs and greens bunched and separated by type, all artfully arranged. Nancy, who was wearing an ingeniously-designed cooling hat (it has a fan in the crown) pointed out the small container of shiso nestled almost out of sight. They carry red and green Japanese varieties.
Nancy remembers that Lisa, who owns Stannard Farm, started growing red, curly-leafed shiso in 2007. Last year a regular customer suggested that the green was even tastier, so Lisa planted some and they now have both. The fact is shiso is easy to grow. Because it is pretty you'll find it in non-food producing gardens across the Island. Like nettles and lamb's quarters, it is not picky, it will reseed and grow steadily all summer. Perilla is a plant that is not much stressed by the hot dry month of August. The leaves are delicious but try tasting the fresh (as opposed to dried) seeds — they offer a concentrated burst of flavor.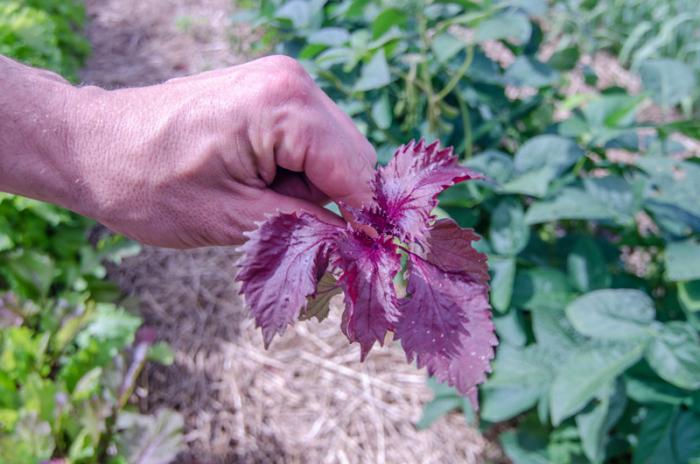 Nancy likes to engage with customers. She and Lisa both like the support they feel and they say they never quite know what to expect and that keeps things interesting. They both agree on a favorite exchange: the time Nancy asked a woman (she thinks she was from Korea) how she used all the shiso she was buying. The woman replied simply: "It is very good with dog." The two farmers recall being almost too shocked to finish the transaction. They did of course — they are professionals.
It was blistering again on Sunday. The humidity was so high that up-Island, painted wooden floors were sweating. Lisa had planned to harvest potatoes and had to stick with her schedule. She said it was brutal in the field. Nancy, who was working with her, agrees but it had to be done. Nancy tried to keep cool by thinking happy thoughts. As the harvesting went on, her mind turned to shiso and she said she started imaging eating a cucumber-shiso popsicle. That, we agree, sounds delicious!
Yakitori Tsukune (Chicken Meatballs).
Makes 8 meatballs (or 4 larger patties)
These are a great change up from traditional burgers. The yakitori sauce is itself a wonderful recipe, something to keep in the refrigerator to use on chicken and pork whenever you grill — it's so good you might want to make a double batch. Just remember to re-boil it between uses if you dip (rather than brush) your poultry or meat.
For the yakitori sauce:
1/2 cup Japanese soy sauce
3 tablespoons dark soy sauce (Japanese or Chinese)
1/2 cup mirin
1/2 cup chicken broth
1/2 cup sake
1 tablespoon dark brown sugar
Half a hot chili, such as serrano
For the tsukune:
1 to 2 tablespoons neutral oil, such as canola
1/4 cup minced leek white (1 small leek)
2 scallions minced
2-inch piece ginger, peeled and minced
1/2 teaspoon salt
One pound ground dark meat chicken (have your butcher do this or use a food processor)
1/2 cup julienned red Japanese or Vietnamese shiso
1 egg yolk
2 tablespoons panko bread crumbs
Combine the soy sauces, mirin, broth, sake, brown sugar and chili in a small pot and bring to a boil over high heat. Reduce the heat slightly and simmer actively until the sauce has reduced by two-thirds and is a little syrupy, about 12 minutes. Set aside to cool.
Heat a skim of oil in a small skillet over medium-low heat. Add the leeks and scallions and sweat until they are soft, stirring occasionally, about 8 minutes. Take the pan off the heat and add the ginger and salt, then set aside to cool.
Put the chicken in a bowl. Add the shiso, cooled leek mixture, the egg yolk, the panko and 2 tablespoons of the yakitori sauce. Mix very well with your hands. Form the mixture into balls (or patties), then grill over medium-high heat, brushing with additional sauce if you like, until browned on both sides and cooked through, about 5 minutes in all for meatballs (longer for larger patties. Serve immediately with rice if desired.
Chris Fischer is chef at The Covington restaurant in Edgartown. His 2015 Beetlebung Farm Cookbook won a James Beard award for American cooking. Catherine Young collaborates with him on writing and recipes.