Finn Simpkins walked down the ninth fairway at Farm Neck Golf Club on a cold, blustery Tuesday afternoon, hoping to chip in for his first birdie of the day. The long par three hole was especially tough with the wind screaming off Sengekontacket Pond, which guards the right side of the hole. Not exactly conducive to low scores.
It hadn't been the best of days for the Martha's Vineyard Regional High School senior. Certainly not like the day earlier this fall when he put a 34 on his scorecard for nine holes while playing for the high school golf team. Certainly not like the day two years ago on the same hole when he recorded the first and only ace, just three years after his dad introduced him to golf.
"The ninth hole was where I got my first hole in one," he said. "Eight iron, right in the cup. Pretty cool."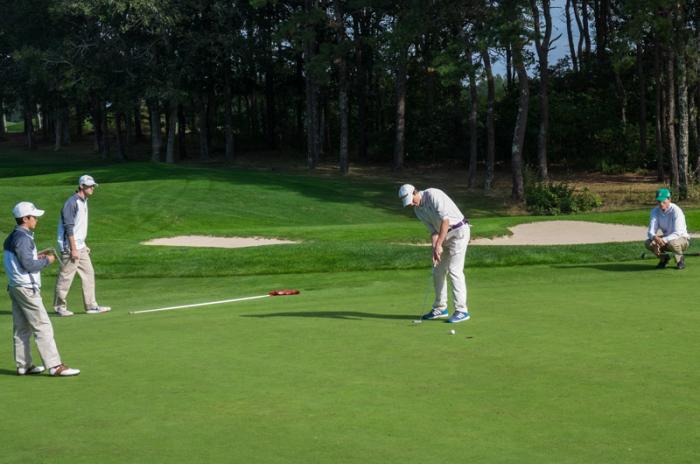 On Tuesday Simpkins carded a 39, three over par, and two strokes over his season average for nine holes. It was second best on the team, however, and contributed to a sweet win over a team that handed the Vineyarders their only league loss earlier this year.
"This is kind of our rival, Bishop Feehan," he said. "The team was pretty fired up, especially the seniors, because this is our last chance to beat them."
The team has already clinched a spot in post-season play, as they have in each of the four years Simpkins has started for the golf team.
In last year's state tournament, he finished second in individual play, propelling his team to second place in the team competition. The team bowed to Weston High School in a hard-fought state final match.
"I work very hard on my golf game," Simpkins said. "I usual put about four hours a day in. That's either playing or practicing or lessons."
You would think bombing a drive 280 yards, or sticking an eight iron close to the flag from 175 yards out, would make him a superstar at the high school. Not so, he said.
"The golf team isn't the most popular team at school. You have the big football guys and stuff."
Simpkins moved to Martha's Vineyard with his parents in 2012, from Charlotte, Vt., where he concentrated much more on skiing than golf.
He is one of the nation's elite high school skiers. For the first three years of high school, he split his academic year between the Island and the Mount Mansfield Winter Academy in Stowe, Vt. The school combines intensive race training with academics. Students compete in ski competitions nationwide, and the school counts collegiate champions and Olympians among its graduates.
You get the impression that he would be good at just about anything he put his mind to, but pursuing two sports at top levels is a big assignment.
"Last year was my last year competitively skiing, just because I want to focus more on golf," he said. "Ski racing has been a big part of my life. I think it has actually helped me a lot with golf. Ski racing is such a tough sport, the mental challenges you have to overcome."
Doug DeBettencourt, who coaches the golf team, rates Simpkins highly among all the players he has seen come through the high school golf program.
"I've coached 14 years, and he's probably one of the top two players I've had," Mr. DeBettencourt said. "I'm also his math teacher, and I can tell you he's a good student. I hope he continues his career at the next level. I think he can."
Simpkins credits Mr. DeBettencourt and Farm Neck teaching professional Alasdair Watt for helping him improve his game.
"He's got a good work ethic," Mr. Watt said. "He's a pretty good athlete, so that helps. I think he's pretty mature for someone his age. If he works really hard right now, in the next few years he could play in college."
Several college golf programs have shown interest in Simpkins, and he's narrowing down his choices. But golf is not the only thing on his mind as he prepares for college.
"I'm very excited to play collegiate golf, if I get the opportunity," he said. "Right now my top choices are Colgate and Middlebury. For me, academics come first, so I want to go to a very good academic school. If I can also play collegiate golf that would be a huge bonus."
He intends to study the social sciences, and political science, in college.
Then what? Can he continue his golf career in the high pressure, high stakes world of professional golf? So much of golf is mental at the professional level, and that's where his foundation is strongest, according to his coaches.
"I think I do have it in me," he said.