Mocha Mott's in Oak Bluffs was bustling on Halloween morning when it opened up again for the first time in nine months, after a burst pipe closed it down last February. A line steadily built near the door, curling in on itself so patrons could stay out of the cold.
"Here we are, the place to be, back in action," one man said upon entering the shop.
The coffee shop felt both new and familiar, having undergone a major overhaul that also aimed to keep things just the way they were. The pastry case was full, the back shelf filled with coffee bean dispensers, menu boards hung above the counter announcing in thick chalk letters the specials, and two corkboards still offered ample room for community flyers. Photographs by Island photographer Timothy Johnson decorated the walls.
But for the experienced eye, there were differences. Two women waiting for their food examined an unstocked wooden newspaper stand under a plastic business card holder.
"It used to be a wire one," said one.
Behind the counter Scott Hershowitz, Leo Convery, Kevin Medeiros and Meredith Aldrich struck a rhythm of taking, filling and calling out orders. In the spirit of celebration, the staff wore wigs and hats, and balloons and Halloween decorations filled the shop.
"It's so nice in here," a women exclaimed before ordering an espresso.
Every customer was offered a free "I survived the summer of 2016" T-shirt. A spilled drink was dubbed a christening and the warm din of conversation was a welcome refuge from the morning bluster outside. Soon every table was filled and most seats taken as Mott's reclaimed its status as a hub of activity on an otherwise empty street. Justine Paradis from Nantucket was there, with her coffee, bagel and book, proving that even off-Islanders knew where to go.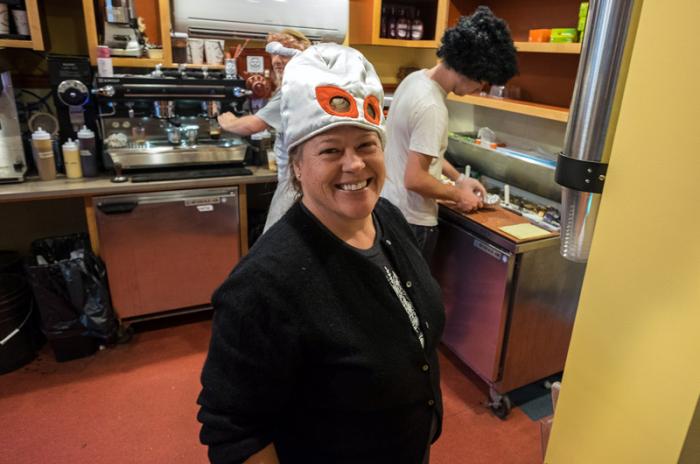 "I was told this was the place to be this morning," she said.
A trail of "thank you's" and "welcome backs" followed patrons out the shop.
"We're so happy," co-owner Meredith Aldrich said, moving a bouquet of balloons from one side of the room to another.
Even the illuminated grinning Mott's logo on the side of the counter seemed relieved.
Behind the coffee bar, Mr. Medeiros said the place had been humming since the sun came up. "Except right at the beginning," he said. "Who wants to be up at 6 a.m."
Ms. Aldrich agreed.
"I did not miss that part," she said. But by mid-morning there seemed to be no indication of business slowing.
"Alright, see you tomorrow," a man announced, heading out the door, already wearing his "I survived" T-shirt.