Vineyard voters will join their counterparts across the country at the polls Tuesday in a presidential election year that is expected to go down in history for unprecedented rancor and divisiveness, and an electorate on edge.
Polls are open in every Island town from 7 a.m. to 8 p.m. Town clerks are preparing for possible record turnouts. Voter registration is up countywide.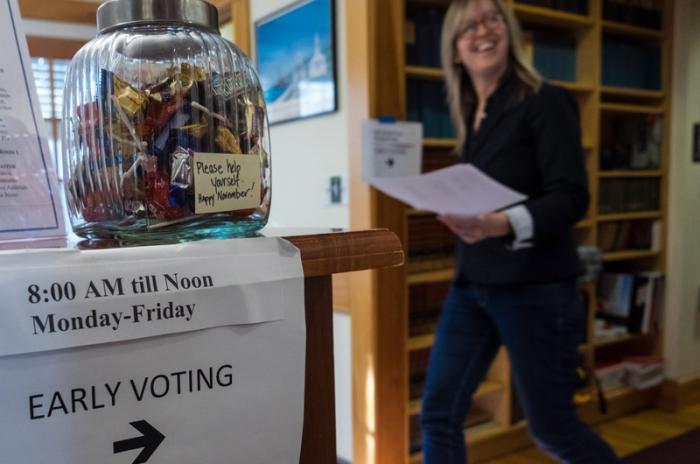 "We're in good shape and getting ready for Tuesday," said town Oak Bluffs town clerk Laura Johnston this week.
Four years ago, Dukes County saw a turnout of 80.5 per cent for the presidential election.
By the time polls open Tuesday morning, several thousand Island voters will have already cast ballots through early and absentee voting. Early voting was available for the first time this year in Massachusetts during the two weeks running up to the election. It ends Friday; polling hours vary by town.
As of Wednesday morning, nearly 2,000 early ballots had been cast in Dukes County, according to information provided by town clerks.
West Tisbury town clerk Tara Whiting predicted about a 20 per cent turnout in her town before election day dawns. While some voted early out of convenience or because they will be out of town, Ms. Whiting said there is a clear sentiment among others of just wanting to get it over with. "Most just want to be able to shut their TVs off now," she said.
Slightly more than 15,000 people are registered to vote in Dukes County, an increase of about 10 per cent over four years ago. More than half (52 per cent) are unenrolled, while 37 per cent are registered Democrats and nine per cent registered Republicans. There are 58 registered with the United Independent Party and 32 Green-Rainbow voters.
Early voting has been active. In Oak Bluffs, 688 voters had cast early ballots as of Wednesday this week, about 17 per cent of the registered voters. In Edgartown, town clerk Wanda Williams said more than 400 people had cast ballots, about 11 per cent of those registered. The rest of the towns are as follows: Aquinnah, about 20 (9 per cent); Chilmark, 92 (11 per cent); Tisbury, 425 (12 per cent); West Tisbury, 362 (14 per cent). In Gosnold, the seventh town in Dukes County and smallest in the commonwealth, town clerk Lisa Wright said five voters had cast early ballots, about four per cent of the 130 registered.
And while the national spotlight centers on the presidential race, when voters enter their town polling places Tuesday, they will find a two-page ballot heavy on contested state and county races. There also are four ballot questions relating to statewide initiatives, including one that seeks to legalize marijuana for recreational use.
There is a crowded field in the biennial election for the Martha's Vineyard Commission, with 14 candidates vying for nine spots on the regional planning agency. And eight people are in the running for seven seats on the Dukes County Commission. Candidate interviews in those races appear on Pages Four, Six and Seven in today's edition.
Upcoming retirements have opened seats for county office as well as in the state house. There are two-way races for county sheriff, Register of Deeds, Cape and Islands state senator and state representative.
Ninth district U.S. Rep. Bill Keating, a Democrat from Bourne, faces four opponents as he runs for a fourth term in the House of Representatives. They include Mark C. Alliegro, a Republican from Falmouth, Brown University professor, Falmouth town meeting member and former senior scientist at the Marine Biological Laboratory in Woods Hole. Three independent candidates are also on the ballot. Anna Grace Raduc of Halifax is a merchandiser and former social worker. Chris Cataldo of Norwell is a banker. Paul Harrison of Chatham is an author, former business executive and attorney.
The four ballot questions are all by petition.
Question one would allow the state gaming commission to issue one additional license for a gaming facility adjacent to a race track.
Question two asks voters whether to remove the current cap on charter schools in the state, allowing up to 12 new schools, or expansions of existing schools, each year.
Question three would ban the practice of confining farm animals, including pigs, calves and laying hens, in crates or cages that do not allow them to move freely.
Question four seeks to legalize the recreational sale, use and cultivation marijuana for people 21 and older. In what is being called a pivotal year for American drug policies, Massachusetts is one of five states considering the legalization of pot for recreational use. Alaska, Colorado, Oregon and Washington have already legalized recreational marijuana. Medical marijuana has been legal in Massachusetts since 2012. (A provisional license has been issued to a Vineyard businessman to open a dispensary in West Tisbury, although all hurdles have not been cleared yet.)
Polling places on the Island are as follows: Aquinnah old town hall, Chilmark Community Center, Edgartown town hall, Oak Bluffs library, Vineyard Haven emergency services building, and West Tisbury public safety building.