During his first visit to the Vineyard, chef Randy Rucker had something of a religious experience on a pier in Menemsha.
"They were unloading a 350-pound bluefin tuna which was pretty rad, I was shaking with excitement," he said.
Mr. Rucker, a 37-year-old Texas native, was on a three-day tour of the Island before becoming the new chef at State Road restaurant, taking the reins from former chef Austin Racine. He grew up in Tomball, Tex., where family gatherings always centered around food.
"It would be after church on Sundays, or Christmas or holidays or Thanksgiving or Easter, whatever it may of been, funerals, wakes, it didn't really matter. As long as people were together, there would be food there," he said in a recent interview in the kitchen of the popular West Tisbury restaurant owned by Jackson and Mary Kenworth.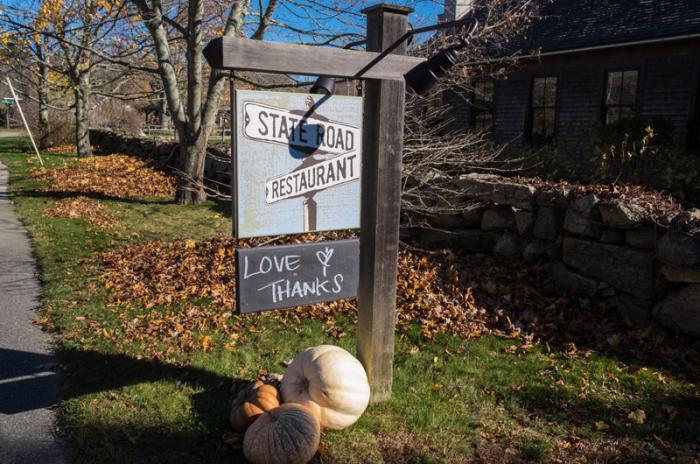 Back in Texas, he said every aunt, uncle and cousin was sure they had the best barbecue recipe.
Although he learned early on about the connection between food and happiness, both at the table and while hunting for game, including deer and wild pig, his road to the kitchen wasn't clear cut. It began with a spontaneous decision. After high school Mr. Rucker took a trip to visit his mother in Massachusetts. During the visit he drove past Johnson & Wales University in Rhode Island, stopped in, and asked what would it take to become a culinary student. They said just pay tuition. He immediately dropped out of college in Texas and three days later enrolled in the culinary school.
After graduating from Johnson & Wales, Mr. Rucker headed to California, to kitchens in Big Sur and Napa Valley.
"I learned the mentality of a good cook in California," he said. "You learn standing up straight, have your cutting boards all lined up equally, the cleanliness factor, professionalism."
He also learned the importance of fresh ingredients. Mushroom foragers would walk up to the kitchen door, their hands full of fungi. Artichokes were so fresh that bees flew out of them. And he saw how a chef is nothing without his entire support staff.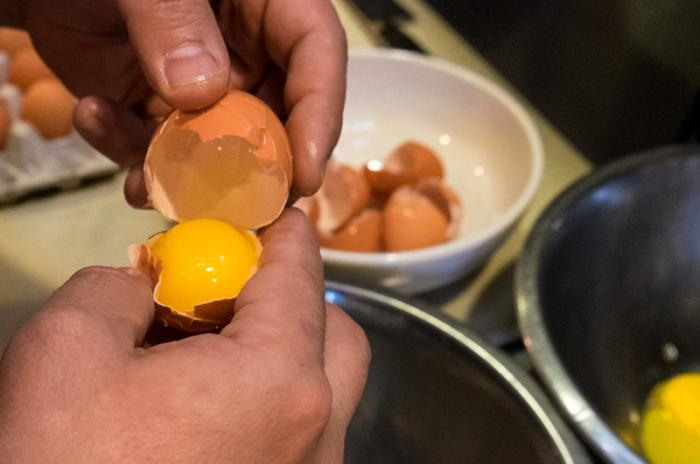 "Those guys that I was blown away by can't make this beautiful food unless the guy who is washing the dish cleans it properly and stores it correctly," he said.
After California, Mr. Rucker returned to his home state, working in various restaurants. Then at the age of 25, he opened his first restaurant, Laidback Manor. After selling Laidback Manor, he went to work at the Rainbow Lodge, a Houston landmark known for wild game. Under his care, Rainbow Lodge earned four stars from the Houston Chronicle, the first four-star review in nine years.
He then opened his second restaurant, Bootsie's, with his mom, Belinda (Bootsie) Nicol.
"My mom is my hero," he said.
After Bootsie's, a hip place with a tasting menu that served 52 guests a night, he opened Bramble, a lunch and dinner spot with a big bar scene.
"It was loud and fun and funky," he said. "Still using the same philosophy but a little more approachable."
At all his restaurants, Mr. Rucker said he operated under a no-waste philosophy. He also feels a sense of place should be reflected in a meal.
"You can have good meals and great meals, but I think great meals have a distinctive place and time," he said. "When you sit down in a restaurant and you take the first bite of food, you should be able to recognize where you are."
After 12 years cooking in Texas, Mr. Rucker decided it was time for a change. He began to look for something out of state that would get him back in the kitchen full-time. He found opportunities on the Vineyard, in Colorado and Boston. When he visited the Island, he was sold.
"It's a special place, any chef would be happy to be here," he said. "I still haven't slept, put it that way."