In a word: dry. The year 2016 saw widespread drought conditions over the second half of the year on Martha's Vineyard, not good for local farmers, but maybe not bad for a resort Island that depends on good beach days.
The drought was probably the most remarkable feature of the year in weather. The Vineyard dodged all tropical storms and hurricanes, and snowfall was about average for the season.
The winter of 2016 really got underway in January, when the Island was hit with blizzard conditions and a pile of snow — 10 inches in Edgartown and more than a foot in West Tisbury. Wind gusts topped at 59 miles per hour, and the lights went out for more than 2,000 customers in Edgartown, Aquinnah and Oak Bluffs. The Steamship Authority cancelled ferries and the Chappaquiddick Ferry called it quits except for emergencies.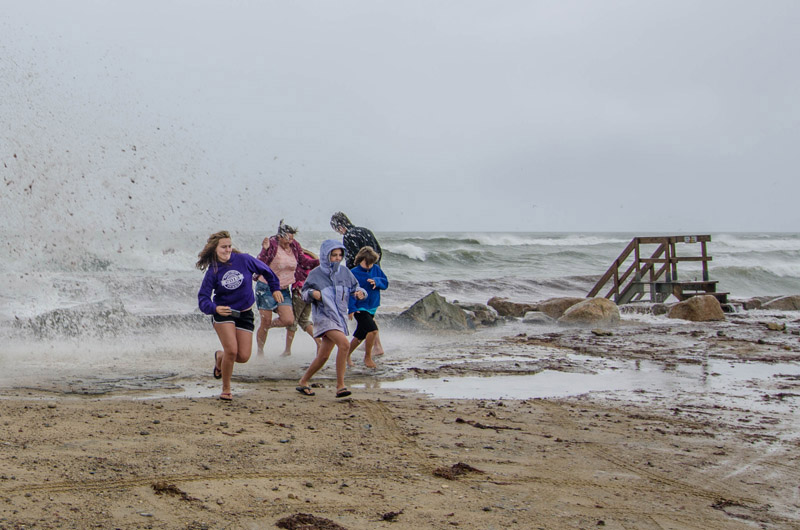 The storm hit about a week after National Weather Service meteorologist Glenn Field issued a fate-tempting statement: He said if an early winter snow drought continued, the season had a chance to measure the lowest snowfall on record.
"It was factually correct," Mr. Field said with a laugh this week. "If it continued. It was a normal winter, as opposed to the year before that."
The next bout of winter hit on Saturday, Feb. 6, which careful weather watchers will recall as the anniversary of the Great Blizzard of '78. The Island recorded 11 inches of snow over the next three days. Schools, government offices and many businesses were closed on Monday. Highway crews struggled with flooded roadways and fallen trees, triggered by an astronomical high tide and gale force winds.
After that, precipitation was in the neighborhood of normal through the April showers and May flowers season, but June saw less than half an inch of rain for the entire month. July had a usual amount of rain, but August was another extremely dry month, with barely an inch of rain recorded at the National Weather Service cooperative weather station in Edgartown.
In early August moderate drought conditions were declared for the region. In mid-September that designation was upgraded to severe drought.
The dry weather affected feed crops such as hay and alfalfa, forcing Island farmers to buy more hay and feed than usual from off-Island. Early season vegetable and flower crops were also affected.
Because of a quirk of geography that keeps Cape and Island aquifers full even in dry weather, the drought was not as devastating as it was in much of the state. Northeastern and central Massachusetts were under extreme drought conditions for most of the summer and fall seasons. In other areas, water conservation and ruined crops were part of the story.
As of this month, the Vineyard was classified as abnormally dry.
The Island once again got through tropical storm and hurricane season mostly unscathed.
In late August, Hurricane Hermine formed in the Gulf of Mexico, crossed over Florida and skirted the southeast coast, before losing strength and stalling southeast of the Vineyard as a tropical storm.
"It was never actually forecast to make landfall, but it was tricky," said Mr. Field. "It got people on edge when you have it that close. It's there but it's not coming."
Wind gusts peaked above 50 miles per hour with heavy rain, making the Labor Day weekend a washout.
In late September, Hurricane Matthew spun its way into a Category 5 storm with winds as high as 160 miles per hour. Matthew ripped through the Caribbean and southeastern U.S., causing at least 1,600 deaths and billions in property damage. Again, the Island was on high alert as many meteorological models forecast the storm to make a direct hit on southern New England. But at just about the time Island emergency management directors began to mobilize, the forecasts all converged on a path that took the long-lasting storm out to sea. It didn't even brush the Island.
Hurricane Bob, a category two storm, was the last hurricane to make landfall in Massachusetts, 25 years ago. The average time between hurricanes is 18 years. Hurricane Carol, a category three storm, was the last major hurricane to hit New England, 62 years ago. The average time between major hurricanes is 59 years.
"You have to be concerned," Mr. Field said.
"Our mantra is, it only takes one."