Sitting before a rainbow array of pastels spread on her desk Anna (Lowely) Finnerty examined a photograph of bright sunlight spilling over a dirt road. She selected a brown pastel and scraped it across the sanded paper on the easel before her.
"Too dark," she said, selecting a lighter pastel and rubbing it across the paper. Her hand moved in swift sweeps, leaving a curved rectangle of pigment. Ms. Finnerty was working on the under-painting, a broad color wash smoothed together with brushed-on alcohol. It provides a roadmap for the painting in basic colors of oranges, purples, yellows and browns.
At a bay window-turned-art studio in her Vineyard Haven living room, Ms. Finnerty explained that the toothy sanded paper grabs the pigment from the soft pastels and allows for layering colors, something that was nearly impossible in pastels 25 years ago.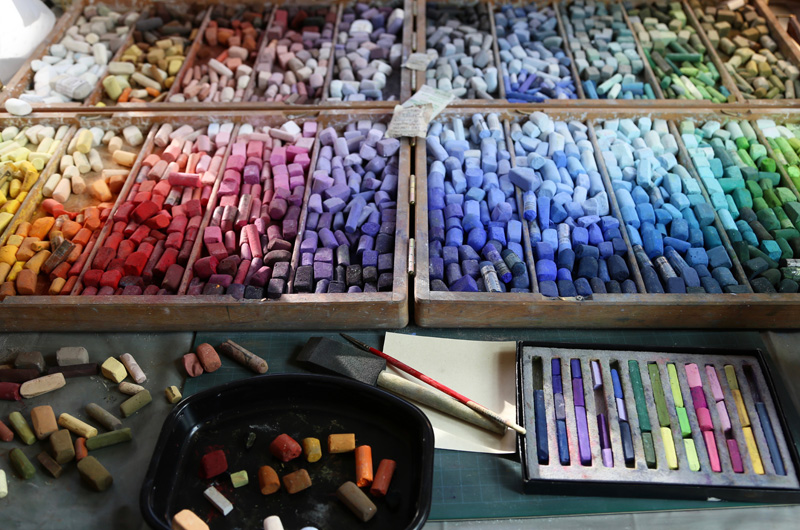 Ms. Finnerty has been a serious pastel artist for nearly four years now. A selection of her off-season, off-Island paintings is on display at the West Tisbury library until the end of the month.
Paintings of snow-covered Tashmoo, a river in Vermont, trees in Yosemite and cliffs in Ireland hang around the library conference room. Ms. Finnerty delights in the colors brought out in snow and says winter is her favorite season to paint.
"Snow is reflective of light, depending on the time of day and what's going on with the sun you can have pinks and purples and blues and you actually have a lot more fun color than green, green, greens of summer," she said.
She discovered pastels at Featherstone in 2002, but has been artistic since a young age. She spent her childhood painting on a roll of newsprint that her mother, also an artist, kept underneath a piano in a bedroom.
"She would encourage us to come paint whenever we wanted to," Ms. Finnerty recalled. "She'd roll it like a scroll so you'd paint some, roll it up, paint some, roll it up." Every weekend they would go to a different museum and have a conversation about art.
When she was 17, her first job was at the Metropolitan Museum of Art in New York city. At Hampshire college, she studied art and photography. But believing she needed a more practical career, she pursued a master's degree in education and taught elementary school.
"Then married, then children and everything got derailed for about 20 years," she said with a laugh. "And then I picked up."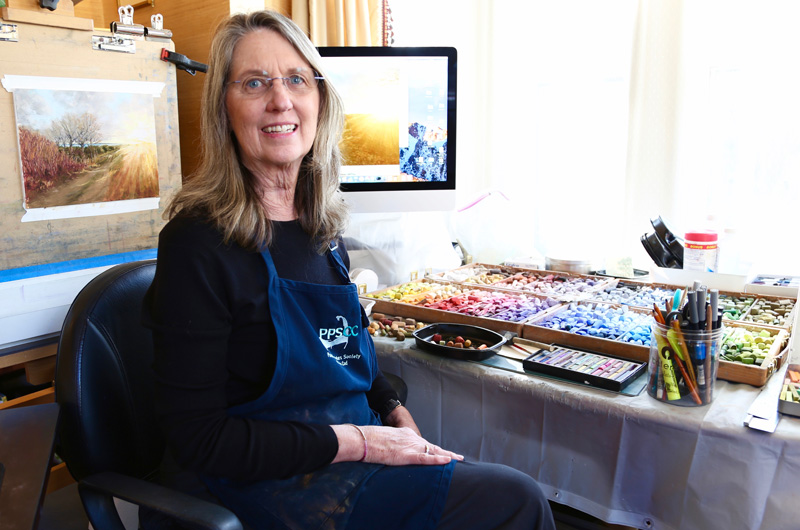 Her children were grown, she had some extra time and Ellen McCluskey was offering a class on pastels at Featherstone. Ms. Finnerty signed up.
"It just one hundred per cent resonated for me because of the immediacy of it," she said. "You can just take it and put it in your hands. There's no paint brush between your fingers and the surface, it's almost child-like, like finger painting, you really are involved."
But the biggest draw for Ms. Finnerty was the color. The same natural and synthetic pigments are used to make most media — what is mixed with the pigment makes it a watercolor, an acrylic or oil.
"With pastel, you have compressed pigment in these sticks," Ms. Finnerty said. "There is very little in there besides pure pigment." The crystalline structure of the pastel reflects light, making the pigment even more vibrant. This is also why it is ill-advised to rub pastels.
"In general the more you rub it down, you rub down those sharp edges of crystals and it can dull down the final look," Ms. Finnerty said.
Since pastels can't mix like other paints, it's best to have a pastel for every hue imaginable. It has taken Ms. Finnerty years to build up her collection and it's still growing. She works in soft pastels (which actually vary in firmness) as opposed to oil pastels.
The key to building a pastel painting is in the layering, she explained. "You layer and you layer and you layer."
Pastels are both the medium and the tool. The side of the pastel is best for sweeping gestures and wide swaths of color, while the edge of the pastel is used for detailed lines and darkly pigmented areas. Though the usual practice is harder pastels on bottom, softer on top, a hard pastel can be used to scrape away softer pastel, revealing the color underneath.
Ms. Finnerty's deep delve into working with pastels coincided with her 60th birthday. As she reckoned with the notion of leaving her 50s behind, she spoke with friend and fellow artist Margo Datz about what the years ahead might hold for her — as an artist and a person. She decided to devote time to something she had once left behind.
"What can you do with your life that you've always wanted to do, but you haven't done because you were busy with children and career and all the other things that occupy life," she said. "I've always wanted to pursue art."
As a birthday present, friends and family pooled their funds to send her off-Island to pastel painting workshops.
"That was when things really exploded for me," she said. "It gave me the permission to really dive in. It's been three and a half years of just the most amazing process."
Now she has studied with some of the best pastel painters in the country, was juried in as a member of the Pastel Society of America, and joined the Pastel Painters Society of Cape Cod. As a member of the Martha's Vineyard Art Association she shows at the Old Sculpin Gallery. Ms. Finnerty is also in a plein air group, but she said her box has toppled over one too many times, spilling hundreds of dollars worth of pastels onto the ground, for her to continue painting outside. Now she relies on her photography skills to capture the natural world, later to be translated with pastels in the safety of her home.
"It's a jumping off point," she said of the way she works with images. "I'm not necessarily a slave to the photograph."
She, along with other pastel artists are working to elevate the standing of pastel paintings in the art world. Since pastels are done on paper, not canvas or board, the medium is often placed in the realm of drawing instead of painting. But a pastel painting done on sanded paper, mounted on an archival board and framed with anti-reflective glass can be every bit as valuable as a fine oil painting, Ms. Finnerty said.
But for her, the real value lies in simply working with pastels.
"There is nothing that makes me happier than to be at my easel where I go into this Zen mode and forget about everything else," she said. "The fact that people enjoy looking at my work is the second reward. The first reward is that I get to do it."