A public safety rivalry between police officers and firefighters heated up the ice at Martha's Vineyard Arena Saturday for the first annual Guns and Hoses hockey game, which raised $3,000 for Martha's Vineyard Youth Hockey.
About 300 people braved bitterly cold temperatures, and the cold of the ice arena, to watch red versus blue. Game play was dominated 7-0 by the heavily-favored police team, but team fire came through with the only goal during a shootout that ended the game.
Youth hockey players took to the ice before the game and during a skirmish in between periods. When Oak Bluffs police officer Tim Millerick first approached fellow officer Max Sherman and Oak Bluffs paramedic Trulayna Rose about getting police and fire together for a game, it quickly turned into a fundraising event.
"We know how expensive it was to play hockey growing up, so we thought it was a good idea to raise money for youth hockey," Officer Millerick said.
"If we can get even $100 bucks for one extra kid to play hockey that's another kid that might not be using substances or making bad choices," added Officer Sherman.
About 200 Island children are involved with youth hockey right now, organization president Joe Mikos said, though he expects the number of kids involved "in all things skating" to increase after arena renovations this summer.
"We have huge transportation costs, boat costs and instructional costs. Some teams travel every other weekend to Rhode Island or the Cape, and farther for tournaments," Mr. Mikos said. "All of this will go to help offset some of that."
Admission to the game was free, with money raised through selling T-shirts, raffle tickets, and food. Members of the police and fire departments, some in uniform, lined the rink to cheer on their teams, while spectators of all ages filled the stands.
Before the game began, Hoses goalie Katy Smith of Tri-Town EMS taped protective pads to West Tisbury Animal Control officer Prudence Fischer's arms as they prepared for the face off. Both Ms. Smith and Ms. Fischer played hockey in high school. But while most of the Guns team members play hockey regularly in the men's league, many of the Hoses players were skating for the first time in years.
"I'm so nervous...they play all the time," said Ms. Smith. "The game's been hyped up a lot in their favor. We'll see what happens."
The firefighters and EMS in red and police in blue took the ice. After Joanne and Samantha Cassidy sang the national anthem, the puck dropped.
The Guns came out strong, with Oak Bluffs officer Coleman Lenane of Oak Bluffs and West Tisbury Lieut. Matt Mincone scoring two goals in the first period. As the Hoses fought hard to protect their zone, more goals by Edgartown Lieut. Chris Dolby, West Tisbury officer Dan Gouldrop, and Edgartown police officer Zach Townes brought the score to a 7-0 shutout by the end of the third period.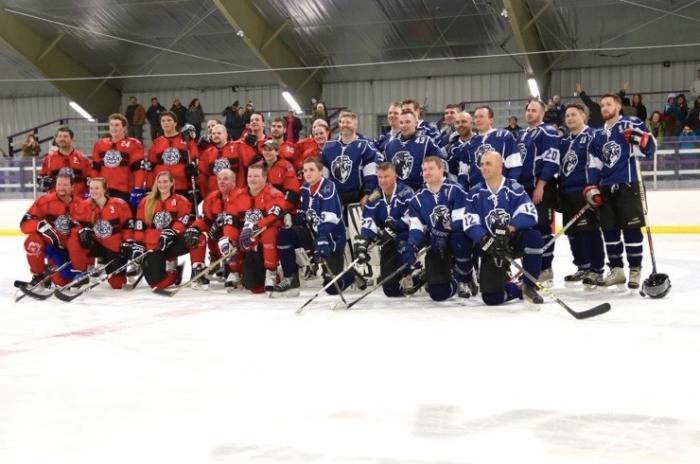 But in the last few seconds of the game the scoreboard magically changed to 6-6 and a three-on-three shootout would determine the winner. In the end, John Dore of the Edgartown Fire Department scored the winning goal on Guns goalie Mike Trance.
Members of the public safety departments said they hoped Saturday night's game was just the beginning of the Guns and Hoses rivalry.
"I think there will definitely be a rematch," Oak Bluffs fire chief John Rose said.
"We want to make this annual event," Mr. Sherman said. "In terms of fundraising we can change who we fundraise for depending on the needs of the Island. A lot the stuff we do as police officers is somewhat reactive, where this is something we can do that is proactive."