Hal and Erin Ryerson work well together. It's how they met 10 years ago working at the Outermost Inn (he in the kitchen, she as a waitress) and it's how they plan to run The Sweet Life Cafe, which they purchased in January. The husband and wife team bought the popular Oak Bluffs dining spot from Kevin and Suzanna Crowell, who also own Detente.
This is the fourth time Sweet Life has changed hands. Opened in 1996 by Jackson and Mary Kenworth, now owners of State Road and Beach Road, Sweet Life has been a staple of modern American fare on Circuit avenue. Sweet Life will reopen in May.
The Ryersons are both familiar faces on the Vineyard restaurant circuit. Mr. Ryerson grew up coming to the Vineyard each summer, staying at his family's Chilmark home. He's worked at the Outermost Inn, Zephrus and with the Crowells at Detente.
Mrs. Ryerson came to the Vineyard after high school for a summer job. She moved here year-round after college, waitressing at the Park Corner Bistro, Zephrus and the Outermost Inn. A few years ago, the Ryersons moved off-Island, living in New York city and Boston.
During a sort-of-honeymoon on the Island, they picked up shifts at Sweet Life.
"We both knew the layout of the restaurant and really liked it," Erin said.
During a winter visit to the Island, the Ryersons stayed with the Crowells and the opportunity to take over Sweet Life came up casually.
"[Kevin Crowell] kind of just nonchalantly mentioned they were thinking of selling, we didn't really bite at first," Hal said. After all, they had a life in Boston. Hal was working at Puritan & Company in Inman square, Erin was doing a lot of writing, and their daughter Loretta was a little over a year old. Though they'd always thought about having their own restaurant, they hadn't been looking. But the seed was planted, and the Ryersons began to discuss what taking over Sweet Life would mean for them.
For one thing, it would mean they'd be working together again.
"We got back in touch with Kevin and asked him to tell me, start talking to me, tell me what's up," Hal said. They found a year-round rental in Oak Bluffs, packed up their small family, and moved back to the Island. Then Hal began thinking about the menu.
Under Dan Sauer (at Outermost), Kevin Crowell (at Detente) and Will Gilson (at Puritan & Company), Hal had developed his skills for crafting a menu. While he was allowed to be creative at the other restaurants, he looks forward to being the last stop in the kitchen chain of command.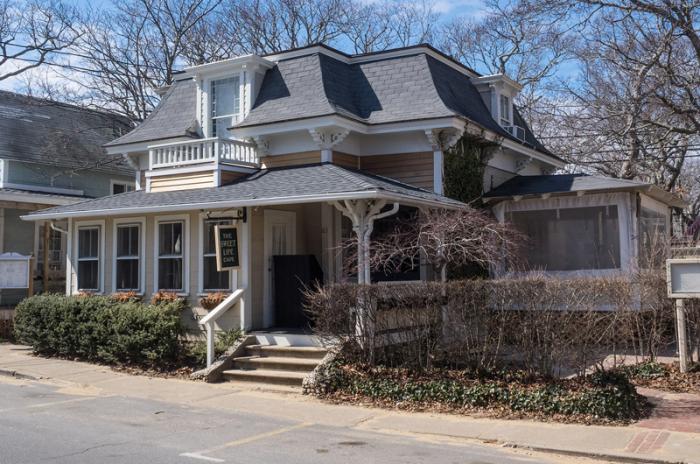 "Before there was always someone else who was the final say," he said. "Now I'm the final say."
He wants to add new touches, but in keeping with the restaurant's established style.
"I'd like to do a little more homemade pasta than they've had before, and I thoroughly enjoy seafood, so some local seafood additions," he said.
They plan to offer a bar menu, a regular dinner menu and perhaps a Sunday brunch.
"That patio is just meant for brunch," Erin said.
Hal agreed. "Nobody else has a patio like this on Island," he said. "During the day it's a great space. I feel like Sunday outdoor brunch in the summer would be killer. And into the fall and spring and everything."
Before opening, Sweet Life will receive a fresh coat of paint, but little else in the interior will change for now. Erin said the history of the restaurant is important to them. "Sweet Life is such a part of the Oak Bluffs restaurant scene, we want to put our own mark on it, but we also want to maintain what it's been."
One thing it has been is a favorite of President Obama when he vacations on the Vineyard. Erin remembers meeting Mr. and Mrs. Obama at the restaurant once before.
"The hoopla is exciting," she said. On the prospect of them returning?
"Oh, we hope," she said.