Capping weeks of debate in Vineyard Haven, a controversial question about whether to allow the sale of hard liquor along with beer and wine in restaurants won easy approval at the Tisbury annual town election this week.
The referendum ballot question that had divided town business districts and residential neighborhoods passed 769 to 475.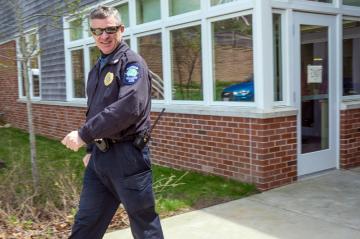 "The townspeople have spoken, and their voice was clear," said JB Blau, a town businessman and restaurant owner who backed the initiative. "We feel confident the town can make the transition responsibly," he said.
The ballot question and two contested races drew a steady stream of voters to the polls at the town emergency services building Tuesday. A total of 1,260 voters turned out, about 37 per cent of the 3,434 registered voters. Interim town clerk Karen Medeiros said the day had been "very busy, very busy."
Incumbent selectman Melinda Loberg was elected to a second term over challenger Jame Rogers, an electrician and firefighter, 687 to 519.
After the votes were counted Mrs. Loberg acknowledged it had been a tough race.
"One thing brought out here is that a lot of people feel they have no voice and that they are not heard in town," she said. "I'm taking that to heart and will try to represent everybody and listen to everybody."
Mr. Rogers thanked the voters who turned out to the polls Tuesday. "I just want to thank all the people who worked very hard on my campaign," he said. "We gave it the best shot we could."
In the other contest on the ballot, incumbent town clerk Hillary Conklin prevailed over challenger Joe McCarthy 864 to 475.
Town leaders said Thursday they are beginning to grapple with the next steps for the town to allow hard alcohol sales at restaurants. Some kind of amended rules will be needed and possibly a public hearing.
"Skeletally, we have to go back into our regulations and revise them so they can reflect the new information," Mrs. Loberg said. "Once that is done by us, then the current license holders would reapply for a new license with the current regulations being part of it," she added.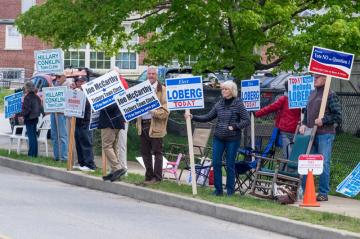 Town administrator John (Jay) Grande said the matter will be a topic for discussion at the Tisbury selectmen's meeting Tuesday. Mr. Grande he has been consulting with town counsel.
There are currently eight year-round beer and wine licenses (Tisbury calls them wine and malt) and no seasonal licenses. Mr. Grande said it is unclear whether the selectmen will amend the licenses or whether restaurants will have to reapply for a new license once updated regulations go into effect.
Selectman Tristan Israel said he believes the process could take a few weeks or longer.
"I don't know how long the process is," Mr. Israel said. "If we open up the regulations, I'd hope we'd have a public hearing, maybe that's a month, then it's approved, then the process with the ABCC, and then do we issue new licenses or amend the current licenses?"
On the ballot Tuesday, town moderator Deborah Medders was the top vote getter, re-elected with 1,024 votes. Also elected without contest were:
Roy Cutrer, assessor (three years), 963; Cynthia Richard, assessor (one year), 913; Jeffrey Pratt, board of health, 950; Dawn Bellante-Holand, planning board, 917; Carolyn Henderson, library trustee, 823; Akeyah Lucas, library trustee, 814; Sandra Johnson-Pratt, library trustee, 848; Janet Packer, school committee, 971; David Schwab, water commissioner, 993; Jynell Kristal, finance and advisory committee, 822; Mary Ellen Larsen, finance and advisory committee, 931; Pamela Brock, finance and advisory committee, 817; and John A (Tony) Nevin, Martha's Vineyard Land Bank Commission, 904.
Voters supported a nonbinding proposal to create a housing bank, 857 to 346. Another nonbinding proposal that calls for eliminating moped rentals on the Island was approved 1,068 to 162.
A Proposition 2 1/2 debt exemption question for a $1.8 million project to bury utilities along Beach Road passed 743 to 419, but the question was moot after the project failed on the town meeting floor three weeks ago.
On a sunny, brisk Tuesday afternoon campaigners and candidates waved signs outside as voters streamed to the polls. The hard liquor question saw predictably mixed opinions.
"I want to keep the spirit alive in Tisbury," said voter Bud Raymond after casting his ballot. He also voted to eliminate rental mopeds in a nonbinding question that appears on the ballot.
"No need for them," he said.
Jonathan Burke said he didn't feel strongly about the inclusion of hard liquor, but he did vote for it.
"I'm not for bars, but if people want to have a drink with dinner . . . " he said.
Meredith Aldrich, co-owner of Mocha Motts, also said she felt ambivalent about the alcohol question.
"I don't feel like it would affect me," she said. "I think I've had one legal beer in Tisbury. I feel like Vineyard Haven is Vineyard Haven. It's charming. I don't feel like alcohol in particular will change that."