The newest liquor store in Edgartown focuses on craft beer, select wines and high end liquor. Opened in the former Port Supply location on Main street, Rosewater Wine & Spirits is the sister shop to Rosewater Market & Takeaway.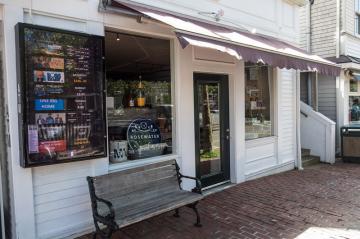 Owner Julia Celeste said they worked to create a balanced selection of familiar favorites and new discoveries.
"It's nice to have brands people know and ones they don't know. Let someone discover a new favorite drink," she said.
The shop is small in space but wide in selection. Shelves of wines were chosen with the help of Atria's wine director, Sam Decker. Zach Tarka handled the beer selection.
"About three-quarters of it is craft beer," said Mr. Tarka. "It's a mix of the known and the not yet known."
In the coming weeks, Mr. Tarka plans to institute a build-your-own six pack. He's fleshing out the single bottles selections.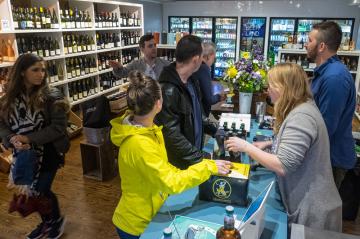 Rosewater Wine & Spirits is scheduling regular tastings to acquaint customers with new selections, from cider to rosé to mescal and mint juleps.
Since the store has only a seasonal liquor license, it shutters between October and April. Last winter, it was briefly transformed into a Christmas pop-up shop that stocked chocolate advent calendars, cards and gifts. Ms. Celeste said she will probably do something similar to the pop up for Christmas in Edgartown.
Along with a small refrigerated charcuterie and cheese selection, there are copper mugs for Moscow mules, strainers, shakers, mixers, flasks and assorted high-end coolers. Two black Labrador retrievers, Millie and Tuna, also help out by enthusiastically greeting customers.
"You can walk in here and leave with everything you need to make the drink you want," Ms. Celeste said.