There's a new gallery on the scene in Oak Bluffs. Hosted by the Martha's Vineyard Center for the Visual Arts, the Art Gallery Cooperative was borne out of a characteristic touch of artistic ingenuity.
The center for visual arts typically supports Island artists through grants. This year, however, they were short on cash. They had planned to skip the grants and focus on fundraising for the year.
But Renee Balter — real estate broker by day, artist by night — had a plan. She had just handled the sale of 99 Dukes County avenue in Oak Bluffs this past November. The space formerly housed Pik-Nik Art and Apparel, a gallery and retail space owned and operated by Michael Hunter. Mrs. Balter suggested that the center rent the space from the new owner for a co-operative gallery.
It was an elegant solution to a tough challenge. The center would offer a space for artists to hang their work and hopefully make sales. The 13 artists who share the space will take turns sitting at the gallery, managing its online presence and orchestrating other advertising efforts.
The move marks a return to an earlier mainstay of the organization when it operated Firehouse Gallery on Dukes County avenue. In 2006 the group rented and subsequently sold the former firehouse to Alison Shaw and Sue Dawson who now run their photography art gallery there.
Holly Alaimo, president of the visual arts center, said she was excited to provide what artists most need. "A place to hang their work," she said.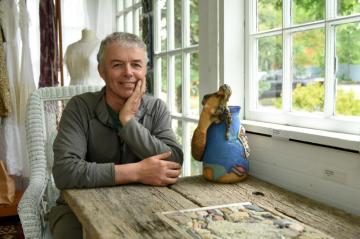 Ms. Alaimo began coordinating efforts for the gallery in earnest this March. She reached out to 13 artists who she knew and thought highly of: Mrs. Balter, Marston Clough, Nancy Shaw Cramer, Anna Finnerty, Janice Frame, Heather Goff, Genevieve Jacobs, Bill O'Callaghan, Elizabeth Lockhart Taft, Janet Woodcock, Peggy Turner Zablotny, and the design team of Randi Sylvia and Marlene DiStefano of the clothing line Kenworthy.
"A lot of the artists here have received grants from the MVCVA before," she said.
In preparation for opening, the gallery got a makeover. It's now light and airy, with white walls, gray wood floors and long mirrors throughout which open the space further.
The walls feature a dense display of paintings and prints. Furniture, sculpture, ceramics and textiles are also shown in the space.
Anna Finnerty, whose pastel paintings are on view, said: "One of the things that I really like about the group that Holly pulled together is the diversity of talents here, because there's really no overlap. If you look around at the work here, each of us is really unique from each other."
Ms. Finnerty added that the show was "not just all Cape Cod water scenes."
Liz Lockhart Taft's small oil landscapes offer an intimate look at beloved Vineyard tableaux with impressionistic blurs. Ms. Taft describes herself as "kind of a plein air purist. I believe in being true to the place, I'm fastidious about that."
On the more expressionistic side of landscapes, Marston Clough paints skies. But "none of mine depict what's in front of me," he said. Mr. Clough works mainly in the studio and says color is his biggest inspiration.
The former high school chemistry teacher goes for the evocative. "I don't like a lot of detail, I like atmosphere," he said.
By contrast, Renee Balter's acrylic paintings — mostly streetscapes of Oak Bluffs — are a little Hopperesque. Self taught (like many other artists in the gallery), she works from vintage photographs as well as current snapshots.
Bill O'Callaghan works with ceramics and more recently has begun making whimsical furniture using found objects from the beach. "I learn as I go. I'm having fun with it," he said.
The MVCVA Art Gallery Cooperative opens for the season on May 26 at noon. An opening reception will be held on May 27 from 4 to 7 p.m.