New bands, new vendors and no dogs. It's farmers' market season and the 43-year-old West Tisbury Farmers' Market is under new management. The Slip Away Farm team Lily Walter, 31 and Collins Heavener, 30, have taken over the management of the market from Rusty Gordon and Wendy Oliver.
"We're just young and stupid enough to put in the work," said Mr. Heavener, on a recent afternoon as he and Ms. Walter took a break from working their Chappaquiddick farm to eat lunch. "I say that a lot about our farm too."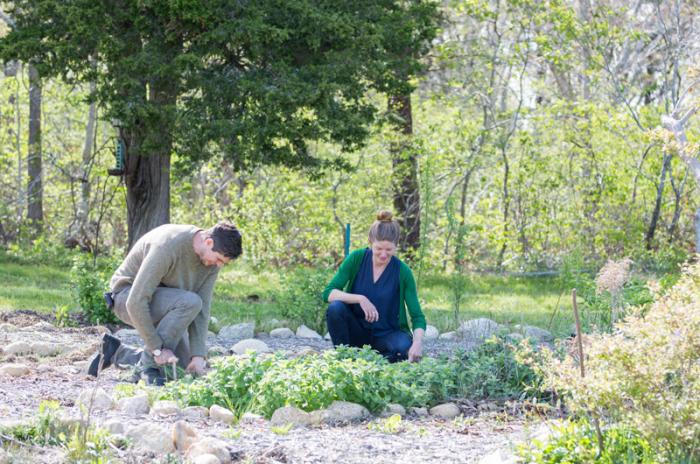 Ms. Walter, the farm owner, created Slip Away farm in her mid-20s with the help of Mr. Heavener. They built a vegetable and flower farm on a piece of preserved land owned jointly by the Martha's Vineyard Preservation Trust and the Martha's Vineyard Land Bank. Ms. Walter, who grew up in Atlanta and studied anthropology and women's studies in college, had always been drawn to outdoor jobs. She spent time working on farms, before meeting Mr. Heavener at Morning Glory Farm. He grew up in Vermont and developed an interest in carpentry before moving to the Vineyard and falling into farming. Together, they embarked on creating Slip Away Farm on Chappaquiddick.
When the market needed new managers this fall, they were slow to volunteer. It's a tricky position to fill, a time consuming volunteer position managing a large group of people.
"Eventually, I started nudging Collins after Rusty kept going, please, anyone, someone, please, and I was looking at Collins and Collins was looking down... and I was finally like, we'll do it, and we got voted in," Ms. Walter said. As representatives of the next generation of farmers on the Island, they thought it was time to take a leadership role and share some fresh ideas.
And they have a lot of ideas. Top of the list is to increase the accessibility of the market. While a robust summer crowd visits regularly, Ms. Walter and Mr. Heavener see the market as a place for year-round residents. The market already accepts SNAP benefits, and Morning Glory and Slip Away have been approved to work with the HIP benefit program. They are also working to get vendors signed on to accept senior food assistance coupons and WIC coupons.
"We'd love to see more Islanders coming to the market, and I think part of it is there's a good chunk of the Island that would benefit from being able to use SNAP and being able to use their EBT there," said Mr. Heavener. "We don't want to just cater to the wealthy."
They also want to compile data. A survey placed at the welcome booth will help give the new managers numbers and information about market visitors.
The music scene will increase as well. After the move off Island of market regular Kevin Keady of the Cattle Drivers, the team decided to reach out to numerous musicians. There will be new food vendors too, including Head High Kombucha, Wandering farm, Pasture Prime, Acorn Farm. Cinnamon Starship will be at the market on Saturdays as well as Wednesdays.
Big decisions, like the one to ban pets from the market, are made by vendor vote. But some things, like the placement of stalls and the ratio of farmers to value-added vendors (two-thirds to one-third) will never change.
"We talked with as many market managers as possible, about seven maybe," said Mr. Heavener. "Each one always said don't ever mess with anybody's location. Lily and I, we recognize and try to respect the difference between being a vendor and being the market manager."
Slip Away has had a stall at the market for six years and the duo appreciate the time spent engaging with the community and other farmers.
"It's the only time we see the other farmers during the summer because we all return to our little dirt holes," said Mr. Heavener. They hope the market is a launching point to embolden people to visit farm stands at the individual farms on non market day, while also providing a platform for farmers who do not have stands at their farm.
While the cold and rain have been a boon for hay farmers, Ms. Walter said, it's made things a little difficult for vegetable and flower farmers. At the market this weekend, she recommends looking for kale, different greens, radishes, spring garlic and overwintered leeks.
"It's greens season," said Mr. Heavener.
The West Tisbury Farmers' Market opens on Saturday, June 10 from 9 a.m. to noon. It runs through Oct. 7. Wednesday markets begin June 21 and run through August 30. Visit the website at wtfmarket.org.