Maggie Mae came to the Best of the Vineyard party with the best representation a hairstylist could assemble; seven young stylists, all expertly coiffed. Hair flowed behind the women as they filed through the tent to claim their award. Maggie's Salon won the best hair salon award for the ninth year in a row.
The contest is sponsored by the Martha's Vineyard Magazine and over 60,000 votes were tallied for 85 categories. The winners were announced at Thursday's event which was held at the Farm Neck Golf Club in Oak Bluffs. Attendance exceeded 325 guests. Both DJ Shizz and Good Night Louise helped fill the dance floor.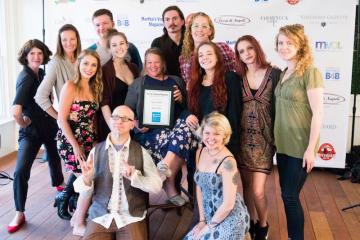 Besides the honor of recognition, Maggie said the award was a boon for business. "It's a huge draw for our brides," she said. "Plus it solidifies that I have an amazing staff."
Maggie's Salon wasn't the only Island business to extend its streak. Alchemy earned its fourth straight win for best cocktail, Morning Glory Farm won its seventh award for best farmstand, State Road Restaurant won best fine dining for the eight year in a row, and Offshore Ale won best bar for the ninth time.
But Bunch of Grapes beat them all, winning best bookstore 17 years in a row. "Plus, they won our first award ever in 1996," said Paul Schneider, editor of Martha's Vineyard Magazine and emcee for the night.
Other excitement included multiple wins for new kid on the block The Back Porch Larder, big applause for Chilmark Chocolates whose staff was in the crowd, and the fourth-straight award for Cronig's Market as it celebrates the store's 100th anniversary.
With all 85 categories announced, winners filed into a photo booth. With plaque (or plaques) in hand and bright lights beaming down, the Island's favorite service providers posed for pictures. The gleam in the eyes of the recipients, especially those who had worked in their family business for decades, was a mixture of pride and nerves. These are people who spend many hours behind the counter but don't always spend time in front of the camera or under the spotlight.
The Best of the Vineyard edition of Martha's Vineyard Magazine, filled with all of the winners and runner-ups, is in stores now.