Lily Morris has a history of slashing her canvasses. Luckily, all the paintings included in her new show at A Gallery survived.
The A Gallery is located in Oak Bluffs and is run by director Tanya Augoustinos. At a reception on Saturday, over 70 people stopped in to see Ms. Morris' paintings throughout the course of a warm evening. "I've been following her work for a long time," Ms. Augoustinos said.
Ms. Morris grew up on the Vineyard and her first show at A Gallery was five years ago. "In 2012, she came across as someone with a lot to say and now there's a certain clarity," Ms. Augoustinos added.
The current exhibit is called American Dream. It includes 10 large-scale oil paintings, and will be on view through July 18. The pieces skillfully depict scenes of contemporary life that tilt towards the surreal. The new paintings often feature constructed fantasies of fame and wealth, with high society women and men struggling against a variety of forces, including boredom.
The artist first started painting as a child on her bedroom walls. But on Saturday night she was surrounded by a flood of family and friends. Red dot stickers, signifying sold paintings, were a common sight.
"She's someone to watch," said painter Cindy Kane. "She is really someone who knows her subject well."
Some pieces are quite clear in their interpretation of the American Dream. In others, the content is open to interpretation. In Lost, a 55' X 34' oil on linen, a deer has slipped through an open door and drinks from the house's indoor pool.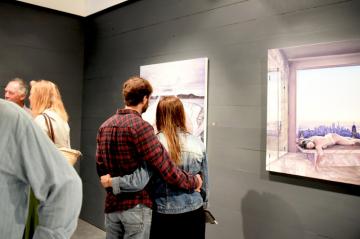 "That piece is my favorite," Ms. Morris said. "It's more subtle and less heavy-handed. In that world, the desire to build the house there is innocent and the desire to penetrate it is innocent too."
For the show, Ms. Morris has created several invaded spaces. The Kiss reveals an intimate moment viewed from an inch away. In Country Home, the deer has returned but has drowned in the pool of another house. Ms. Morris cites social media and it's illusion of intimacy as a major source of inspiration.
The artist's experiences of Martha's Vineyard have also fueled her curiosity into the meaning of fame, something suggested in the gallery statement written by Ms. Augoustinos: "Questions longheld while growing up on-Island are explored: the meaning of place defined by notions of opulence, exclusivity and status, all intrinsic to the identity of Martha's Vineyard."
Ms. Morris said that she doesn't intend for her series to cast any judgment, though. "I'm not condemning any way of life," Ms. Morris said to a group of people at the show. "What do I know about the world?"
A Gallery is located at 8 Uncas Avenue in Oak Bluffs and is open from 10:30 a.m. to 6 p.m. Wednesday to Monday and Tuesday by appointment.