This summer's Water Tasting by the Sea fundraiser for Vineyard House, the Island's only sober living community, will vary slightly from previous years. In addition to a fundraiser, the event will serve as celebration for the organization's 20th anniversary.
Vineyard House was founded in 1997 with the donation of a single antique home in Oak Bluffs. In 2014, the organization moved into its new campus in Vineyard Haven where it can house 18 men and seven women in separate residences. Created by and for Islanders, Vineyard House welcomes many residents straight from detox facilities off-Island and offers them a way to transition back into the community surrounded by support and the ability to live near their families.
Kate Desrosiers is the Vineyard House's operations manager and the organizing force behind the Water Tasting, which takes place on July 20. On Wednesday, Ms. Desrosiers was collecting donations for the event's silent auction. She explained that the event would be a chance to acknowledge the significance of the work that happens at the campus.
This year, the Water Tasting will feature two former residents who will talk about their journeys. "Their lives have been changed," Ms. Desrosiers said of the speakers. "It will help people to realize what they're supporting."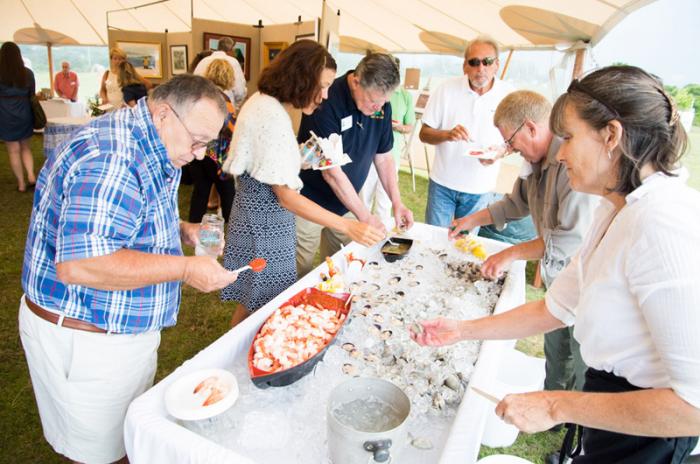 Testimonials can also be found on Vineyard House's website, such as one from a resident identified as Sally: "Vineyard House is providing me a safe and clean environment, something I never have had before."
The silent auction will be art-centric this year, with over 30 items donated from Island artists. Works by Kenneth Vincent, Wendy Weldon and Linda Thompson will be on display, as well as a painting by Allen Whiting. There will also be five large raffle items.
Once again, the event will take place at Richard Friedman's Oyster Pond property and be catered by Jan Burman from Kitchen Porch. Still and sparkling waters will be flowing.
"To my knowledge, it's one of the only summer events that does not serve alcohol," Ms. Desrosiers said. "I think that makes it very special. If you're in recovery and you're not drinking or if you come with someone who is in recovery, nobody is missing anything. We have an obligation to have events like that."
Providing a safe space is at the core of Vineyard House's mission. Current board chairman Brian Mackey and former chairman Mark Jenkins said their new residential campus in Vineyard Haven has helped make this possible. The two talked about the evolution of Vineyard House in a conference call on Wednesday. In addition to providing housing for residents, the campus has a public meeting space, the Hazel Teagan room, for community support groups and other recovery-related activities.
"We would both agree, it's working out better than anyone would've anticipated," Mr. Mackey said of the new campus. "Even though we were doing well before, we're doing very well now. The concentration of all activities, the ability to serve the recovering community, AA and NA meetings . . . "
Mr. Jenkins picked up where Mr. Mackey left off. "Our highest hopes have come true as to how the facilities are working out."
Taking a conservative approach to the organization's finances has allowed Vineyard House to run smoothly, Mr. Mackey added. About one-third of the organization's annual budget comes from residents' rents and the rest must be raised from donations and grants. "We've resisted the temptations to overstep our bounds. We operate in the black, we work within our means," he said.
The group running Vineyard House consists of many volunteers, including an all-volunteer board. The chairman and former chairman reiterated how thankful they are to the many donors and volunteers that enable Vineyard House's continued success.
"The Vineyard House started as a small mom and pop operation," said Mr. Jenkins. "We now find ourselves as a major player in the recovery community. It is important that we as an organization have been able to help this community for 20 years. We're in a strong position to be able to continue that for another 20 years and beyond."
Mr. Mackey echoed the sentiment. "The Vineyard House house unfortunately will continue to be needed. But it will fortunately continue to be there."
The Water Tasting by the Sea will take place on Thursday July 20, from 5 to 7 p.m. at the Friedman Estate, Oyster Pond, Edgartown. Tickets are $125 and will be available at the door and online at vineyardhouse.org or by calling 508-693-8580.