Elizabeth Whelan's voice was hoarse. Her seven-hour marathon art opening on Saturday was about halfway through and already she had done a lot of talking.
Every 15 minutes on the dot, she made her way over to one of the 24 artist displays in the Grange Hall and spoke about the work. Then she unveiled a portrait she had painted of the artist.
"I was an illustrator and graphic designer, and when I switched over to fine art, I didn't have a clue," Ms. Whelan said. "I decided I wanted to come up with a way to thank them, but helping to promote them too."
So Artists in Art was born.
The exhibition was aptly named — as much as it was a showcase for two dozen Island artists, it was also a look into the process of making fine art. In nearly all of Ms. Whelan's acrylic portraits, the artists are depicted at work in their studios. Within a painted canvas, Marie-Louise Rouff holds in her hands a painted canvas, taking in her work. Paint does double duty: at once a medium for illusionism and at the same time simply paint.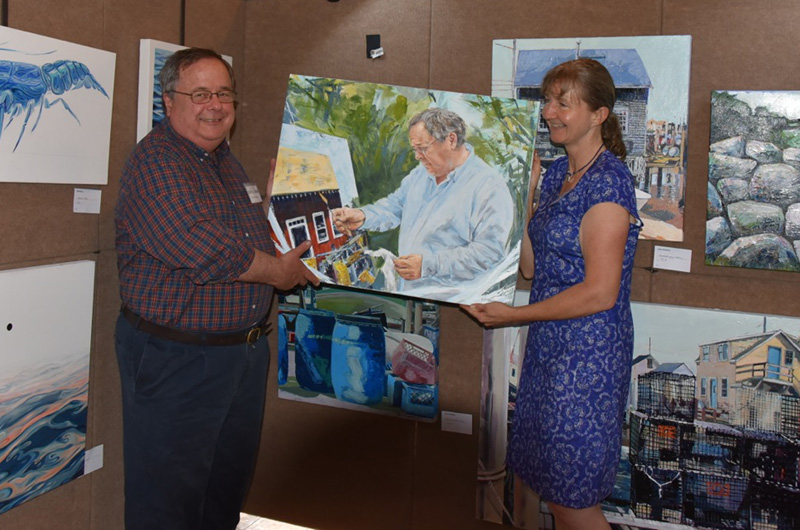 Gallery goers milled about, admiring the expansive exhibition, which was also a fundraiser for 105.5 WYOB FM and the Martha's Vineyard Center for the Visual Arts. Works ranged from plein air oil landscapes to abstract compositions to still lives.
Jack Yuen's paintings mesmerized with aqueous fluidity and keyed-up color. Deborah T. Colter's abstract works, built up with acrylic paint and mixed media, were harmonious and balanced from afar while offering endless detail up close.
Ms. Whelan's portraits grounded the diverse range on display, and were a significant draw in themselves.
"It gives people a reason to stay and see the next one," she said. "Often you go to an art gallery show and they're fun, but after you've seen the paintings you go, and so I tried to come up with something that would get people to stick around so they could absorb the art a little bit more."
Stephen Power said he stayed at the Grange for a couple of hours, fascinated by the periodic unveilings. "I'm really interested in seeing what her impressions are," he said. "What is amazing is her portraits capture the essence of the person."
Carol Klein agreed. She enjoyed everything on view, but said she especially liked the unveilings. "I loved his face when she unveiled his painting," she said of Terry Crimmen's reaction to his portrait. "His face lit up with emotion, it was really cool. You don't get that often. And it's artists' recognition that they could go 100 years without, so it's really nice."