When Alyssa Mastromonaco visited the Vineyard as acting chief of staff for President Obama, the beach had to wait. Work didn't stop for the White House team, even when the President was on vacation, and Ms. Mastromonaco was on the job, dialing into senior staff calls in Washington D.C. from her Edgartown hotel.
"You call in, have your meetings, do some work, and then usually around 4 p.m. you could hit the beach for a bit," she said.
South Beach, she noted, does not have good cell phone coverage — a key takeaway from a senior White House staffer.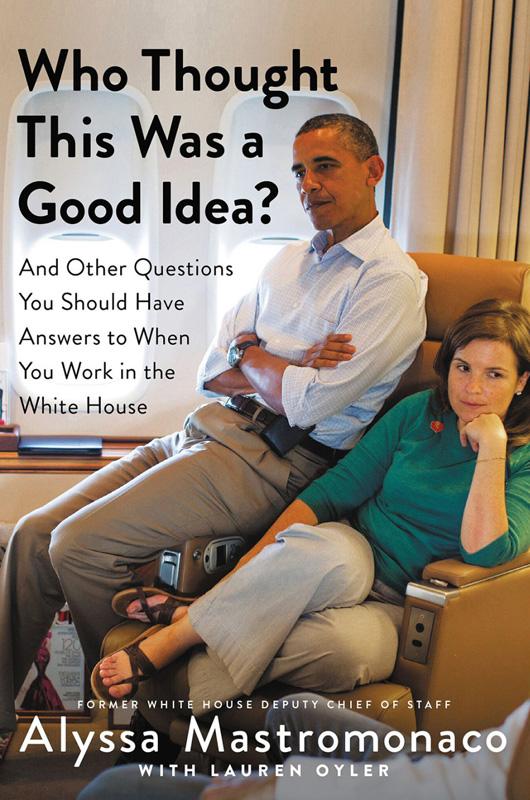 Ms. Mastromonaco's new book, Who Thought This Was a Good Idea? And Other Questions You Should Have Answers to When You Work in the White House tells her story of more than a decade of working for President Obama, starting when he was a senator and into his time in the White House. As assistant to the president and director of scheduling and advance, and later as deputy chief of staff for operations, Ms. Mastromonaco coordinated everything from campaign events to the president's daily schedule, trips to Iraq, and the response to Hurricane Sandy.
She also tells her story of how she came to work at the White House, and the personal side of the job, from battles with stress and burnout to close friendships formed with co-workers and yes, even the President.
Her target audience is younger women who might not think about working in government, she said.
"I wanted a book for me, between the ages of like 15 and 30," she said, including teenagers who, like her once, don't know that the deputy chief of staff to the president existed. "It is written in my voice, I didn't try to be esoteric or use bigger words or sound important."
"If I had tried to be anybody but me I wouldn't have ended up in the White House," she added. "The whole reason I ended up there, I was myself, I worked for somebody I believed in."
Ms. Mastromonaco's time in the White House began with missing inaugural balls in lieu of planning the president's first public schedule. She left in 2014, exhausted. At one point she went to the White House Medical Unit, prompted by a co-worker who noticed that the words she was typing on her computer screen weren't words at all. The doctor said she had extreme exhaustion because of lack of sleep.
The book is told through stories related to traits that Ms. Mastromonaco says are important, from preparedness to confidence and humility. One throughline is the kindness and humanity shared among her co-workers in the White House, including when President Obama called her from Air Force One to send condolences after the death of her beloved cat, Shrummie.
"You just convey a certain level of unapproachability as president just because [you] are president," she said. "The one thing people have always said to me is, is he as great as he seems? The point of the book was yes, he was. I wanted people to know the things, like he called me about Shrummie. I think that's unexpected."
These days Ms. Mastromonaco lives in Brooklyn with her husband and their two cats, Petey and Bunny. She is an executive at A&E Networks, and her book has been optioned for a television series by Mindy Kaling.
Looking back at the White House, Ms. Mastromonaco said she misses her co-workers, who are like family, and the job itself. "I miss...the daily sense of mission," she said. While every job has a mission, "there is something to be said for public service, you are getting up every day to take care of people."
And she still thinks about the behind the scenes planning and protocols when it comes to the White House and public service. Like her first visits to the Vineyard, when she helped find vacation homes for the Obamas that were off the beaten path, passed muster with Secret Service, didn't affect traffic and had access to the assembled press.
Looking at the current administration, Ms. Mastromonaco said her concerns go beyond politics. "I think the Trump administration fundamentally does not understand public service," she said. "I can't turn my brain off. When I see things, when I hear about there not being [an American translator] at a meeting, all of those things are things that . . . you learn about and you need."
Every White House changes some things, she said, but "most of the time you found yourself in a situation where you're like, I get why they do it this way. Safeguards. Administration after administration, there are certain things that don't, won't, and shouldn't change."
Alyssa Mastromonaco will speak on Saturday at 2:05 p.m. at the Harbor View Hotel, and on Sunday at 11:45 a.m. at the Chilmark Community Center.