In her kitchen, Jenifer Strachan never breaks a dish. Every day, meals are eaten on antique china free from cracks or chips. But down in her studio there are piles of cracked and chipped plates, cups, saucers and bowls, dating from 1790 to the 1940s. They live in stacks and get crunched into pieces to begin a new life as mosaics.
Ms. Strachan works in the pique assiette tradition, translating loosely to "stolen from dishes."
An ornate curlicue floating on the edge of a plate is a cat's whisker or a butterfly's antenna. An inscription on an old plate becomes a cat's name, Marmalade or Jewel. A blue and white illustration of a ship is placed in the tumultuous swell of a wave.
The shards may be found half buried in the sand on the beach, in tubs of donated dishes on the shelves of Chicken Alley, or stacked at yard sales held on the weekends.
"Almost every day of my life, someone will give me a dish they loved," said Ms. Strachan. But she doesn't work with just any dish. Ms. Strachan prefers to work with English china.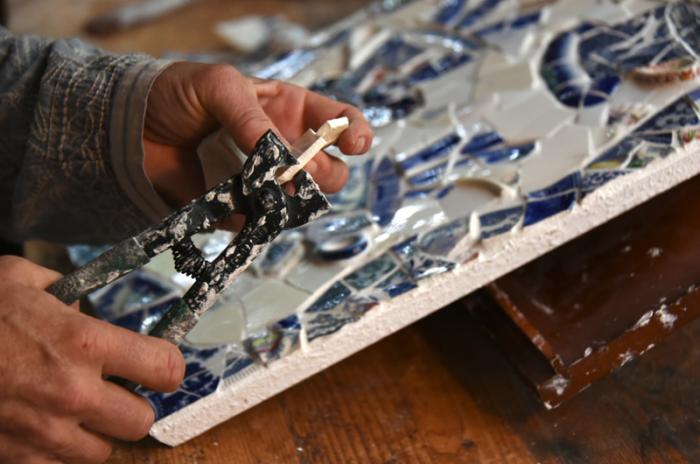 "I've worked with them for so long, I know exactly how they'll break," she said. "These are paintings with plates, so the plates are my palette."
And she never uses a hammer. "It's too noisy and wasteful," she said, preferring instead the specific control of tile nippers. In fact, everything about her mosaics comes down to control. The spaces between the shards is as important to the integrity of the piece as the shard itself.
"It creates a labyrinth between them, a passageway, even there I use a lot of control," she said. "Around the picture I leave a bigger space, but the background is just as important to me."
Words on the dishes, the cartouches on the backs, the texture of a feather edged plate and the pattern all decide the fate of a piece of china.
"As I'm working, I'm constantly inspired by the dishes that I find," Ms. Strachan said.
Blue and white English china makes for frothy reaching waves, a consistent theme in her work inspired by Hokusai. Ms. Strachan's work often features animals, be they on land or sea, and water themes. A current commission is a mermaid swirling in the waves, destined to join a narwhal in Aquinnah.
A photograph of one of her mosaics of a North Atlantic right whale recently
made the cover of The National Academies of Science Ocean Studies Report.
Looking at the mosaic still hanging in her home, Ms. Strachan said, "I dream a lot about whales."
She is drawn to cool colors, blues and greens, finding bright oranges and fiery reds difficult to look at for long periods of time. Born on the Vineyard, it's no surprise Ms. Strachan feels a deep connection to the beach. She grew up on the South Shore, looking for arrowheads, picking blueberries and crabbing. Occasionally, shells make their way into her mosaics.
She comes from a long line of artists and people who worked with their hands. Her great-great-great-great grandfather was the renowned Connecticut clock maker Seth Thomas. Her mother made all her clothes, her father did stained glasswork. One grandfather carved wooden birds and did glass art.
She remembers casting concrete mushrooms when she was a child. Her father thought it would be an excellent trick to plant the mushrooms in her grandparents' garden.
"We liked fun and a little bit of mischief . . . we would never go to stores and buy things," she said. "We made everything."
One of those early mushrooms now sits near the dirt path specked with chips of china that leads to her tree-house-like studio, which she built herself. Nearby, sits an eight-foot rabbit chair she hand-sculpted.
Along with a childhood marked by nature, Ms. Strachan also remembers being a careful child. She was a classically trained ballet dancer and played classical flute. She was drawn to arts that favored a light touch and grace to hide the amount strength required. Though she does not dance or play the flute as much as she did in her youth, the discipline to focus on a single task stayed with her.
"My work takes a lot of concentration, I have to be able to sit here for hours and hours and hours gluing little pieces together."
Her childhood ingrained within her a sense of wonder and a respect of nature. It also instilled an independence by necessity.
"I did run away when I was 16," she said. "I've had to change my life over a couple times. I've lost everything in my life a couple times."
The losses have helped Ms. Strachan understand she can restart anywhere. "Wherever I am I can go to the thrift shop, find some broken dishes and find a piece of wood," she said.
Ms. Strachan is self-taught. Her lessons began in a restaurant called Spoleto in Northampton. She was in grad school and her friend was opening a restaurant. She'd been inspired by a trip to Barcelona where she saw Antonio Gaudi's work and suggested covering the 50-foot bar in a mosaic.
From the very beginning, she gravitated toward fine china and slow, careful work.
"Everyone was trying to work as fast as they could . . . and I just sat down and made a face of a moon out of these dishes. I sat there for days and days and days making this moon with exact eyes and exact lips."
Though she went to school for science, Ms. Strachan has never been anything but an artist. In graduate school, while studying bio-chemistry, her professors began buying her jewelry and mosaics. "All the time I'm selling my art, selling my art, selling my art, and I thought, well I like the lifestyle of an artist and I don't really want to work inside in a
laboratory all day long, so I think I'll be an artist," she said.
She was offered a show at the Field Gallery, where she showed for many years through the 1990s. Now she mainly works through commission, often incorporating the client's own dishes into the piece.
Ms. Strachan has innate dish sense; she can walk into a shop and immediately find the exact dish she wants. She also always knows who is calling when the phone rings and can always find people's lost items.
For a mosaic, she begins with a complete vision in her head and then draws it in detail on a board. "I stick right to the drawing that's underneath, I really do," she said. "If I do a tongue of a snake or an eyelash on a bird I will find a plate that has that eyelash."
She uses tile nippers to nibble out pieces of plates and cups and turns them into the flowing hair of a mermaid, the regal curve of a right whale, the twinkling eyes of a randy cat. She usually starts with the eyes.
Matching the plate to the piece is mostly about color, she said, with texture added in. Some pieces, like a small mosaic of a coffee cup, utilize the Favrile technique, placing shards at angles to increase the texture of the piece.
In each case, a delicate piece of china is given strength in a mosaic.
"Mosaics survive everything, they've been around for centuries and centuries," Ms. Strachan said.
See Jenifer Strachan's work at mvmosaics.com.