Susanna Styron grew up spending her summers on the Vineyard, swimming, sailing, playing tennis and generally being carefree. In her teenage years, she returned to the Vineyard during the offseason for weekend parties.
In 1975, she discovered what winters on the Island were like, while working at Poole's Fish Market.
"I had a great fall," she remembered during a phone call with the Gazette. Then November came. Then December. She spent most her evenings playing Scrabble or cards or reading. Weekends were marked by breakfast at the Black Dog and drinking at the Ritz. There wasn't a lot to do. By January, she had had enough.
"I was kind of going out of my mind," she said. She moved to Boston and then decided to return to college. But the next winter, she returned to the Island with a camera borrowed from school, a small crew and an idea to shoot her first documentary, Suspended Sentence, for her thesis.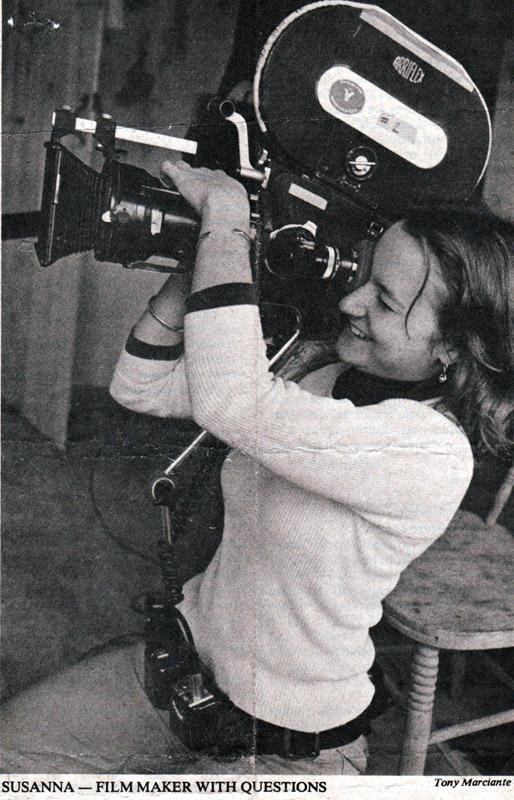 She chose the Island's winter landscape and the young people who lived there because it was a subject she felt close to.
"I knew it in my bones, so it felt right to be making a film about it, I could go deep and understand what I was looking at," she said.
Suspended Sentence will play on Wednesday, August 23, at the Chilmark Community Society as a part of the Martha's Vineyard Film Festival. It will be followed by House of Teeth, Ms. Styron's most recent film, a fictional story about a middle aged divorced woman out in search of her groove.
"The only unifying element besides the fact that I directed both and both are short films," she said. "One was my earliest film and the other is my latest film. They couldn't be more different."
When working on Suspended Sentence, she sought out young people who had moved to the Island searching for a way to live authentically and who wanted to create. The 25-minute black and white film features familiar Islanders such as Cheryl Stark, Hugh Taylor and Walter Robinson talking about their goals and their reasons for being on the Vineyard in the winter. It shows young people working, talking, drinking, rolling joints and staring blankly into the distance.
And it shows them standing in the welfare line.
"We realized, as the story evolved, obviously it came to be about not only what people were seeking but what people were finding, and part of that was it was really difficult to make a living," Ms. Styron said. "An unemployment line is a pretty good expression of how many people are out of work."
However, getting footage of the welfare line was not easy. They weren't allowed to film the line, and had to resort to covert tactics to get the footage. The sequence is shot at an odd angle as Charlie Burnham held the camera near his hip. Ms. Styron remembered it as a heart-pounding experience.
"We were running the camera, but nobody was looking through the view finder," said Ms. Styron. "It was surreptitious filming."
But anxiety-inducing moments are what make shooting documentaries so exciting, Ms. Styron said. Another moment of high adrenaline filmmaking came when they filmed a sequence about scalloping. On the day they were set to join the scallopers on the boat, the seas were very rough.
"We were afraid of losing the camera, it was a film camera, very expensive, we were very worried that it would end up at the bottom of the ocean," said Ms. Styron. "Charlie had the bright idea of lashing it to the mast, he might have lashed me to the mast too, I don't really remember."
But never for a moment did they consider not going out on the boat. That's the world of documentary filming, Ms. Styron said, grabbing whatever is in front of you.
"It would have taken more than rough seas to stop us, as long they were going out, we were going out," she said
And for some of the film's subjects, it took more than rough seas, lonely winters and disrupted paychecks to stop them from making the Island their home.
The summer after the film was made, Suspended Sentence played in an independent theatre space in Oak Bluffs. Of the reception, Ms. Styron recalled, "In general, people who were happy on the Vineyard year-round said to me 'I love the film, it shows how great it is here.' People who were unhappy living here would say 'I love the film, it shows how terrible it is here.' That's how I knew I'd made a successful documentary — it didn't tell people what to think, it made them think about their own experience."
Though it is 40 years old, Suspended Sentence can still make those who choose to make the Vineyard their home think about their experiences. In fact, after recently rewatching her first film, Ms. Styron said she was surprised by the continued relevance.
"It's harder than ever to find the kind of distance and quiet and peace that people were looking for in the film because of the internet, phone and connectedness. You could never duplicate that experience any more," she said. "But I think the desire to live a simpler, more peaceful life exists for a lot of people and people do find it still. They still find it on the Vineyard in the winter or living year-round . . . it gets bleak in January, February and March, but what it gives back is worth it to a lot of people."
Suspended Sentence and House of Teeth will be screened on Wednesday, August 23 at 5 p.m. at the Chilmark Community Center as part the Martha's Vineyard Film Festival. A discussion with Susanna Styron will follow.