Closing arguments were scheduled for Friday morning in Dukes County superior court in the case of a California man charged with rape. Adam M. Smith, 29, of Berkeley, Calif. is facing two counts of rape and one count of intimidating a witness. The case dates to early September 2015 when Mr. Smith was visiting the Vineyard for a bachelor party. A jury of nine men and four women was empaneled Tuesday morning. The Hon. Gary A. Nickerson is presiding.
In opening arguments Tuesday, prosecutor Michael Patterson, an assistant Cape and Islands district attorney, said the alleged victim, now 32, was on Martha's Vineyard with two friends when she met Mr. Smith and his friends at the Seafood Shanty on the night of Sept. 4.
It is the Gazette's policy not to identify alleged victims of sexual assault.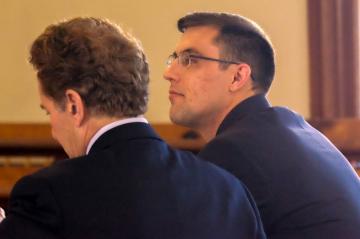 The woman and her friends went back to the Katama home that the men had rented for the weekend, Mr. Patterson said. The alleged victim and Mr. Smith eventually went to an upstairs room, he said, "and at some point things became not consensual . . . at some point the defendant became physically aggressive." Mr. Smith allegedly told the alleged victim not to tell anyone or he would kill her, the prosecutor said.
The women left and eventually called police, he said.
In his opening statement, defense attorney J. Drew Segadelli said some of the facts of the case would not be in dispute. Mr. Smith and his friends went to the Seafood Shanty and met the alleged victim and her friends, he told jurors, and the women were invited back to the Katama home.
Mr. Segadelli said the women were at the house for a short time, and said the defendant and alleged victim engaged "in what young people do." He said the woman had allegedly taken stimulants and her blood alcohol level was allegedly more than twice the legal limit. He said the women tried to call a cab and then later called police.
"Keep an open mind," he told the jurors, adding that the defendant has to be found guilty beyond a reasonable doubt.
The jury heard two days of testimony. Witnesses included Edgartown police Lieut. Christopher Dolby and police officer Ryan Ruley and a forensic scientist with the Massachusetts State Police Crime Lab. A man who attended the bachelor party and the alleged victim's friends also testified. The alleged victim and defendant also took the stand.