This was supposed to be the last week of the year for the Mobile Market, a modified florist's truck that visits Martha's Vineyard neighborhoods to sell fresh fruits, vegetables and herbs for lower prices than regular stores. But Island Grown Initiative, which operates the truck, is extending its schedule through Oct. 29.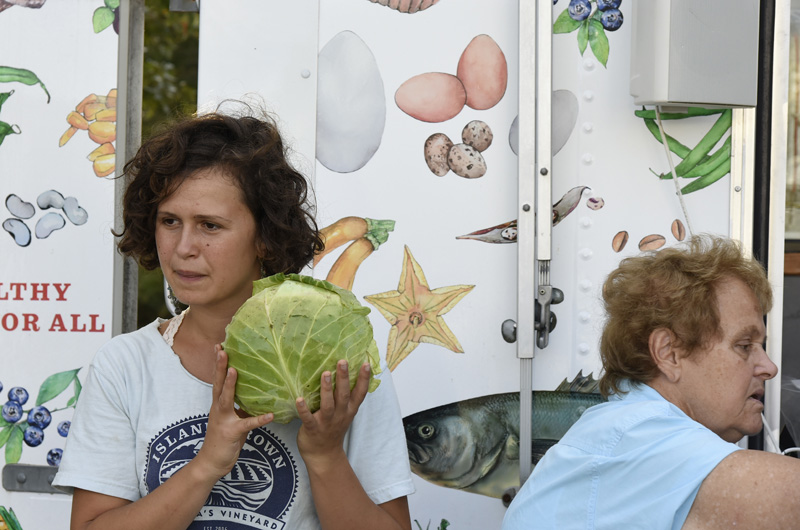 "We have so many beautiful crops," said Island Grown's Kat Soni, who has been staffing the truck since it began making its rounds in July. While corn is gone until next summer, lettuce and tomatoes are still plentiful and butternut squash are expected next week.
An abundance of late-season local produce, the result of a cool and rainy spring and early summer, is one reason the market will continue to roll this month. Also, Ms. Soni said, the original end date of Oct. 9 "really didn't give the Islanders a chance after the craziness of summer."
The grant-funded pilot program is still developing its audience, Ms. Soni said. But in its first three months, the market has earned some steady customers in neighborhoods around the Island.
Tuesday afternoon, the Mobile Market's first stop was Woodside Village, where Ms. Soni and Meg Athearn parked the truck under an oak tree and began the process of lowering the side panel, adjusting the legs that hold it up and stocking the produce in boxes for customers to browse.
Woodside resident Merrell Raymond said he was amazed at how elaborate the procedure was, compared to the catering truck he used to run.
"When I saw these ladies setting up, I said 'It's taking them an hour!'" he recalled of the market's Woodside debut three months ago.
"Since that time, they've improved regularly," Mr. Raymond added. No surprise: The truck makes six stops a week, two each on Tuesdays, Thursdays and Sundays. Ms. Soni and her comrades have had plenty of practice.
The market is musical as well as mobile, with a sound system playing songs by Nina Simone, Hank Williams and other 20th-century hit makers. "This cracks me up, you kids listening to my music," said customer Dottie Grant as she shopped to the tune of Bo Diddley.
Ms. Grant is a Tuesday regular at the Woodside market. "We socialize and say hello and check things out," she said.
Fresh produce from the mobile market is essentially free for customers with Supplemental Nutrition Assistance Program (SNAP) cards who take part in the new Healthy Incentives Program.
HIP participants receive instant credit of up to $40 a month for the fruits and vegetables they buy, with the sale amount immediately replenished on their cards. Even someone who has only a few dollars or even cents left on a card can continue purchasing until the $40 limit is reached. "We can keep running the card and running the card," Ms. Athearn said.
After 45 minutes with the Woodside customers, it was time for Ms. Soni and Ms. Athearn to pack up the truck and drive to the Oak Bluffs Public Library, where they got a warm welcome from customers Helene Rich and Joe Negyesi.
"I gotta say goodbye to the vegetable girls. They're the best," said Ms. Rich, who is preparing for a winter in New York after shopping weekly at the mobile market all summer.
"They play music, they're gorgeous, they're friendly and they try to be cheaper," she went on. "Everyone should come out and support this."
Ms. Rich bought a tomato and exchanged big hugs with Ms. Soni and Ms. Athearn.
"You have been a blessing in our life," she told them.
The Mobile Market sets up on Tuesdays at Woodside Village (4:15 to 5 p.m.) and the Oak Bluffs Public Library (5:45 to 6:30 p.m.), Thursdays at Hillside Village (4:30 to 5:15 p.m.) and the American Legion Hall (6:15 to 7 p.m.) and Sundays at Morgan Woods (3:45 to 4:30 p.m.) and the Wampanoag Tribe (5:45 to 6:30 p.m.). For more information, visit www.igimv.org.