For students at the Martha's Vineyard Regional High School, it was a distant era brought to life, in which young people just like them acted as the fulcrum of historic change.
The high school launched its Diversity Speakers Series last week, with historian Patricia Sullivan explaining the critical role college and high school students played in the Civil Rights movement in the 1950s and 1960s.
Decades removed from those struggles, the Vineyard students were shown film clips and heard remarks from Ms. Sullivan on Thursday and Friday about how college students and high school students took pride in acting for change, sometimes at great personal risk and consequence.
"They acted, and they did it in a way that was grounded in the sense of what this country's about . . . what democracy means and civic engagement," she told the Gazette in an interview. "And everyone benefited from it in the end."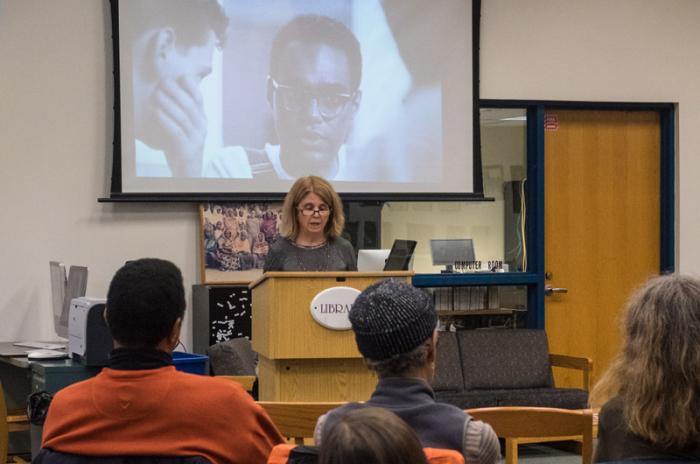 Ms. Sullivan teaches history at the University of South Carolina and has been a summer resident of the Island since 1987, when she came here to edit the letters of civil rights activist Virginia Foster Durr. She is currently on sabbatical researching a book about Robert F. Kennedy and his transformation during the civil rights movement.
The monthly speakers series intends to feature Island residents from a rich diversity of backgrounds and experiences, said principal Sara Dingledy. Vice principal Elliott Bennett is coordinating the series.
Ms. Sullivan spoke to three history classes and an additional general gathering of about 50 students.
"I was delighted to be part of the series, and really excited about the opportunity to meet with high school students," she said. "It's such a compelling history, to introduce them to it and find out how best to engage them."
Students were surprised to learn how in 1951 African American high school students in Prince Edward County, Va., walked out of their segregated school over its substandard conditions. Their case eventually became part of a legal challenge that resulted in the landmark Brown vs. Board of Education school desegregation ruling in 1954, Ms. Sullivan said.
The protest came at a cost, as some of the students' parents lost their jobs and at least one had to move away, said Ms. Sullivan, who asked the Vineyard students whether there's "something they would take risks [for], like these students did."
They also heard about the college students who became Freedom Riders in 1961, taking bus rides in the South to test a court ruling outlawing segregation in public transportation, and also about Freedom Summer in 1964, when a thousand people, mostly college students, traveled to Mississippi to help register African Americans and set up "freedom schools." At that time, only about five per cent of blacks living in the Mississippi delta were registered to vote, said Ms. Sullivan.
On Thursday night, she spoke to a group of community members in the high school library. Though the audience was small, the event stoked strong emotions and memories from the group. One had participated in Freedom Summer; another was a relative of civil rights activist Bob Moses.
One parent related how her college student daughter just this month encountered a restaurant in North Carolina that openly warned black diners would be segregated in a room for "colored" people.
At one point, Ms. Sullivan alluded to the importance of history by quoting a prominent civil rights leader: "If you don't know what's behind you, you don't know what's going on around you."