The Martha's Vineyard Agricultural Society has a new president, new trustees and new officers following its annual meeting last week, marking a significant changing of the guard for the venerable Island institution established in 1859.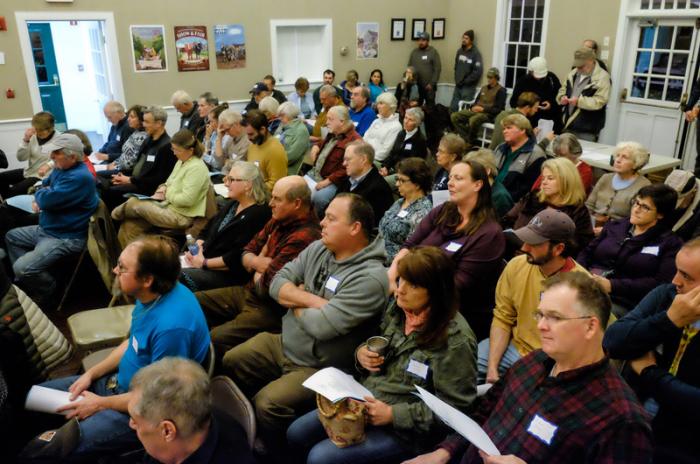 Brian Athearn, owner of Runamok Farm in West Tisbury, and MV Tech, a computer repair center in Tisbury, was elected president. He replaces longtime president Dale McLure, who has moved off the Island.
At the annual meeting held Nov. 15, Mr. Athearn said it marked a turning point for the organization just as big as two decades ago when the society moved to its current location on Panhandle Road.
We're going through a transition internally now," he said. "We're going in a new direction. I'm on the technological side, and I own a small farm. I feel like I can be a medium between the two."
The new president said he wants to move the society back to its agricultural roots, though he conceded the organization faces financial challenges.
"Most of what I would like to do is focus on bringing the agricultural into the society a little more than it has been," Mr. Athearn said. "If we want to fund these programs we're going to have to find some outside people to fund them, educational programs, soil programs, farming programs, husbandry programs. These are all things that are in our charter that we should be doing, that everybody's been too busy to do."
Jim Athearn (Brian's uncle) was re-elected as a vice president of the society on the recommendation of the nominating committee. Two other vice-presidents, Julie Scott and Bea Whiting, were also elected after nominations from the floor.
Two trustees, Jefferson Munroe and Rebecca Haag were elected on the recommendation of the nominating committee. Two new trustees, Bob Egerton and Garrison Vieira, were elected by nomination from the floor.
Eleanor Neubert was re-elected as secretary, and Bill Haynes was elected treasurer.
The society voters unanimously amended the organization bylaws to impose term limits on the 16-member board of trustees, effective Jan. 1, 2018.
In the future, trustees may serve no more than two consecutive four-year terms as a trustee. A trustee could run for re-election after a one-year hiatus.
Longtime trustee Jim Athearn said the bylaw change was a way to bring new leadership to the society.
"Every year, we kind of rolled along with the same old people," Mr. Athearn said. "This is 40 years for me. It seems like one of the ways to get more people on there is to get some of the old people off. That's what we're proposing here."
The new officers and trustees must deal immediately with formidable money problems. The Agricultural Society is behind on approximately $1.1 million in mortgage obligations from a land purchase and recent construction of a solar array.
Mr. McLure, the outgoing president, referred only indirectly to the society's financial situation.
"In the past year, we've had a lot of change," he said. "A lot has happened. We've been trying to jump to what we call the next level. We needed to have staff. We're going through change, change, change. It's been a tough, tough haul. It's growing pains."
Sally Rizzo, a part-time managing director hired as a consultant this year, noted that the finance committee has been reactivated after a period of dormancy. "We do have some challenges," Ms. Rizzo said.
Ms. Neubert gave her final fair report at the annual meeting, as she is stepping down as fair manager after 34 years.
She offered some words of advice to her successor.
"For whoever steps in, remember, keep in mind, agriculture first, education, fun, keep it local, and the most heard comment from fairgoers over all of these years is, the reason they come, off-Islanders and Islanders too, is they like the feel of an old fashioned fair that's not commercial."