The Martha's Vineyard Regional High School Minnesingers return to the Old Whaling Church for their Christmas in Edgartown concerts this weekend, with a string of special guests joining the elite choir on stage.
Island musicians Mark Lovewell, Merrily Fenner, Steve Tully, Willy Mason, Jemima James and the bell choir of the West Tisbury Congregational Church will perform with the Minnesingers at both shows, Friday at 8 p.m. and Saturday at 4 p.m. On Friday, Joanne Cassidy and Siren Mayhew will also appear.
"I wanted to make it a big Island event," said choir director Janis Wightman, who lined up the guest artists over the summer. Among their featured numbers with the choir, Mr. Tully will play saxophone on Leroy Anderson's Sleigh Ride and Mr. Mason and Ms. James will sing O Little Town of Bethlehem.
Along with familiar carols and popular tunes, Ms. Wightman said, the concert will include choral music from the 1500s and the 1700s and arrangements of songs by the modern vocal groups Pentatonix and Straight No Chaser.
In addition to the different languages required to perform choral music from Europe, the Minnesingers have learned the sign language lyrics for one of their arrangements and will sign while they sing it.
"We're trying to do this as a tradition," said Ms. Wightman. "It's a way of expanding the kids' horizons, getting them thinking about 'Wow, what would it be like if you couldn't hear and this is how you communicated?' It's another part of their education."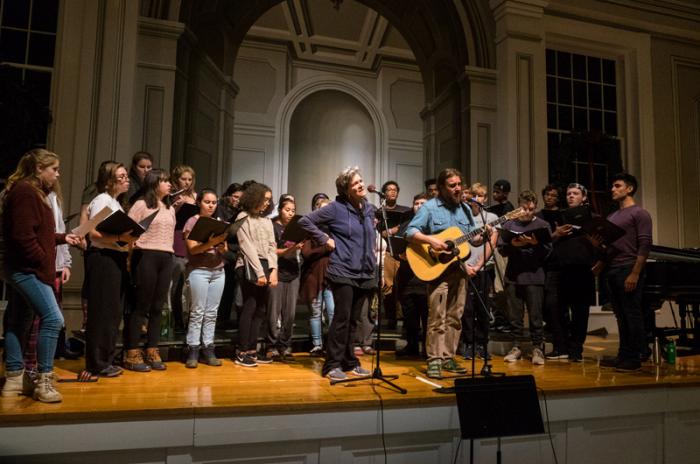 Signing the song also connects the young vocalists with earlier times on Martha's Vineyard, where hand-signed speech was widespread for generations. "On the Island, there is such a history of people who needed sign language," Ms. Wightman said.
A theme often emerges while programming the Christmas concert, Ms. Wightman said, and this year's has proven to be holiday images: the star of Bethlehem, menorah candles, a Christmas tree.
In a break from Minnesingers custom, Ms. Wightman said, this year's concert program will not include detailed song-by-song notes. Instead, choir singers will take turns giving brief introductions before each song to note the symbolism in the lyrics.
This weekend's concerts cap a semester's worth of work for the Minnesingers. They have been rehearsing daily for more than two hours at school, with practices nightly for the past four days and a series of performances at the Anchors, Windemere and Methodist Church.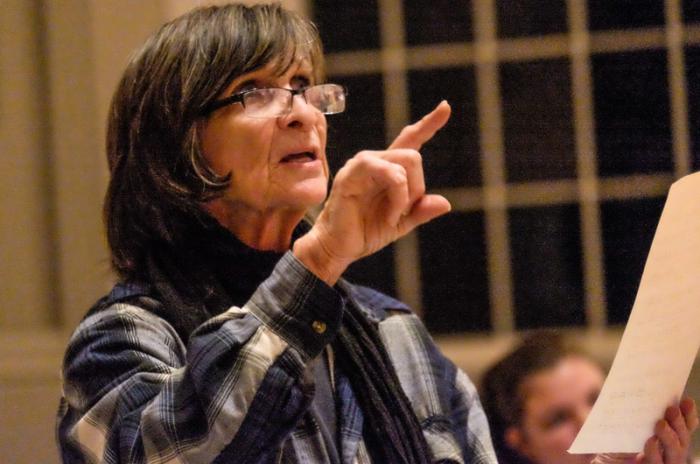 These will also be Ms. Wightman's last holiday concerts with the Minnesingers. After 10 years as the choir's director, following a decade as its ac companist, she is retiring after the spring concerts in May, when the group celebrates its 50th anniversary with returning alumnae/i.
"I was just privileged to have the opportunity to work with them," Ms. Wightman said. "Now I'm ready to pass the music on and let them go even farther."
Advance tickets for this weekend's concerts are available at ticketsmv.com, with proceeds to benefit the Martha's Vineyard Preservation Trust and the Minnesingers.