Two Island men were arraigned Thursday morning in Dukes County superior court on charges of distributing drugs on Martha's Vineyard.
Alexander W. Carlson of Edgartown was arraigned on a charge of possessing to distribute a class B drug (fentanyl), a subsequent offense. Mr. Carlson, 31, was arrested in October outside the Vineyard Haven Steamship Authority terminal by members of the Martha's Vineyard Drug Task Force. Police allegedly seized about 103 grams of a suspected fentanyl from him at the time.
Mr. Carlson pleaded not guilty before the Hon. Angel Kelly Brown, an associate justice of the superior court.
Bail was set at $25,000, the same amount set at the district court level. Mr. Carlson was also ordered to remain drug and alcohol free with screens.
Aaron R. Bezahler, 23, of Edgartown, was arraigned on charges of distributing a class A drug (heroin) and conspiracy to violate drug laws. He also pleaded not guilty. Bail of $1,000 was carried over from district court.
Mr. Bezahler was arrested after an investigation into a fatal overdose of a Vineyard Haven man last April in Vineyard Haven. According to police, the drug task force found evidence that allegedly showed that Mr. Bezahler helped the man purchase heroin shortly before his death.
Both cases have included unusual elements as they moved through the court system with a backdrop of increased concern about fentanyl, a powerful painkiller often substituted for or mixed with heroin and said to be about 50 times more potent than heroin. Police believe increased use of fentanyl is one leading cause of an uptick in fatal drug overdoses.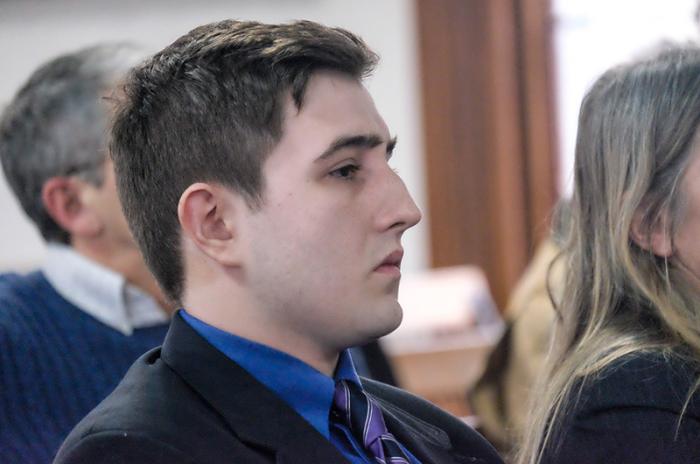 Mr. Carlson's bail was originally set at $100,000 by district clerk-magistrate Liza Williamson, who said at the time that the amount of fentanyl seized in his arrest could have amounted to 600 hits, which could result in death and a potentially viable manslaughter charge. Bail was later reduced to $25,000 by a district court judge.
In Mr. Bezahler's case, the family of the man who died in the fatal overdose after allegedly purchasing drugs from the defendant sought a manslaughter charge against him. In court last December the Cape and Islands district attorney declined to prosecute the complaint, effectively dropping the charges.
A third defendant scheduled for arraignment Thursday did not appear in court. Roan W. Elgart, 42, of West Tisbury, was scheduled to be arraigned on one count of possessing to distribute a class A drug (heroin), subsequent offense, and one count of possessing to distribute a class D drug (marijuana), subsequent offense. Mr. Elgart was arrested last August after police said they allegedly found 14.1 grams of heroin after executing a search warrant at his West Tisbury home.
Mr. Elgart's attorney said he did not show up for another court date earlier this month. The judge said a default arrest warrant would be issued.
All three defendants were indicted by a Dukes County grand jury in February.