Pretty much anyone on Martha's Vineyard who wants to put a line in the water knows Captain Porky's Bait & Tackle Shop in Edgartown.
"It's our go-to place," said Wendy Perry, who stopped by the store this week with her daughter, Remy. "We got to the Island last night, and our first stop was here."
Wendy and Remy didn't come for fishing equipment ­— the carriage on the top of their car was already stocked with it. They came for something else. "This store means everything to us," Wendy said. "We love seeing Porky and Carol."
Porky, whose real name is Everett Francis, has owned the tackle shop with his wife, Carol, since 1993. That's a quarter-century of lures, reels, rods, flies, and, most importantly, friends down on Dock street. But two weeks ago, the couple sold the tackle shop to Peter and Melissa Sliwkowski, owners of Larry's Tackle Shop in Edgartown.
"Porky's part of the Island fabric," Mr. Sliwkowski said. The couple want to honor that by keeping a tackle shop in the same location. They're going to call it Lil' Larry's, and hope to be open by the weekend of July 15. Larry's Tackle Shop began in Edgartown in 1947, so Mr. Sliwkowski sees the purchase of Porky's as an effort to come full circle with his own business. "Porky's an icon, and he's got a lot of history in that spot too," Mr. Sliwkowski said.
Icon is the word most people use to describe Porky, who was born on the Vineyard and has spent his whole life here. His uncle, Roy Campbell, whose fishing boat is now in Mystic Seaport, put Porky on a dingy when he was seven or eight years old with a hand-line and a hook.
"That's how I learned to fish," Porky said. "And I never forgot."
Although he has been a licensed electrician since 1964, Porky would spend his summers fishing, and try his best to get in some clamming, quahaugging and scalloping during the winter. He met Carol on the Island 48 years ago. She came for a July Fourth weekend and never left.
In 1993, Carol traveled to Florida with a girlfriend. When she came back, Porky picked her up at the airport and had some big news to share.
"I got in the car and he told me we're opening a tackle shop," Carol remembered. "I was like, whaaaaaaat? I shouldn't have been so surprised. Every time I went in the cellar there was more stuff there than in a whole store."
Since then, the legend of the shop, and the couple who owned it, has only grown. While Porky took Billy Joel out on fishing charters, caught sailfish so large that they scared the taxidermist, and fished a tidal island so often that it's now named after him, Carol became a presence in the shop, passing along Porky's secrets and endearing herself to the Edgartown community.
"She's always had a feel for what's biting," said longtime customer Daryl Williams. "And she's just so accommodating. And has a great spirit."
"That's what I'm going to miss most," Carol said. "It's the people. We've made the best friends through our business."
Carol described one customer who would come to the shop from England every summer. They became so close that she invited Porky and Carol across the pond, where her boyfriend worked as Princess Diana and Princess Anne's bodyguard. They got to stay at the Queen's summer castle, Balmoral, and watch the changing of the guards from inside Buckingham Palace. The Queen even granted Porky special permission to fish the River Dee in Scotland. On that day, however, nothing was biting.
"But I got a good buzz because they had a whole liquor cabinet there," he said.
According to Carol, Porky's had the same dry sense of humor since he was a young man. If asked where the fish are, he'd reply, "In the water." His favorite spot to fish, is, of course, wherever the fish are. And the trick to running a tackle shop?
"Being a good liar," he'd say.
Porky's demeanor made him great with children. Gina George brought her son Nick into the store when he was five years old. Ten years later, Nick still hasn't left.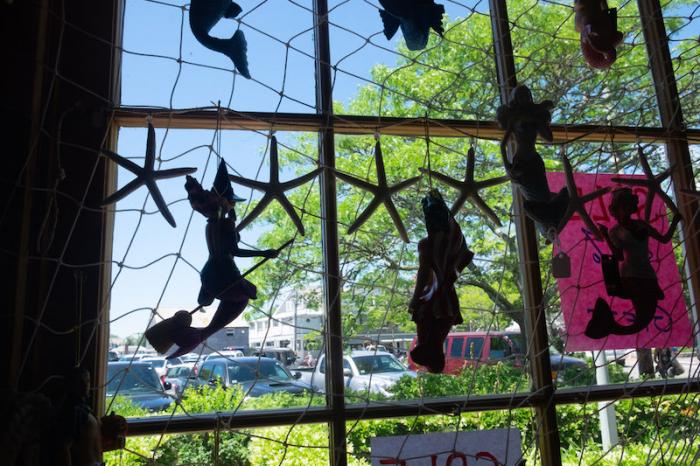 "This is where he got the bug," Ms. George said. "Knowing Carol and Porky, and his love of the water, that's why he's now a first-mate on a 130-foot charter boat."
Photos of Nick with his catches line the wall above the cash register. The first one shows Nick with a fish almost as big as he is.
"Oh, I love the kids," Porky said. "They were just happy to catch a fish, no matter what size it was. And they were good about it too. Because when the bass were small, and it was the first fish they caught, I'd say, you gotta release it, because it's gotta be so long, and they'd say, okay, we'll get a bigger one."
Ever since selling the shop, Carol and Porky are thinking the same way. "Now I have the summer off," Porky said, "I can mow the grass, fix the windows."
All joking aside, the pair do have big plans with their newfound free time. They want to travel, and Alaska is the first place on their list. Porky's angled all over the world, from Hawaii to the Mediterranean, but he's never been to Alaska because he's always worked full time in the summer.
Even with those adventures on the horizon, giving up the shop won't be easy.
"I haven't told a lot of my friends yet," Carol said. "But when they come in, we'll have to. I had two that really broke down and cried. These were guys. It's amazing the relationships you make on this Island."
When she told Wendy Perry this past weekend, the pair embraced.
"It's sad," Ms. Perry told her. "I mean, it's good for you. But it's sad for us."
Selling the shop doesn't mean that Porky and Carol won't be involved. Mr. Sliwkowski wants the couple's input, and he thinks the transition will be easy. All he has to do is build upon the business that Porky and Carol created.
"We'll keep the fingers in it," Porky promised.
And Carol may not have a choice. "They've already asked me to work for them," she said.