Last Tuesday evening, the Comedy Lounge opened at the Barn, Bowl and Bistro in Oak Bluffs. The show featured Dan Boulger from The Craig Ferguson Show and Dan Crohn from Last Comic Standing.
Both comics were visiting the Vineyard for the first time. When asked what he thought of the Island so far, Mr. Boulger replied: "Well, I've only seen a quarter mile of it, but I ate a great Reuben sandwich, so it seems pretty good."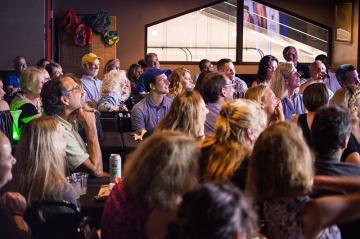 The joke made it into his routine.
The idea for comedy nights came about in a high school marketing class taught by Brian Jakusik, the coordinator and producer of the event, along with Gary Marino. Shows will continue throughout the summer, on Tuesday and Wednesday evenings.
When arriving at the lounge, located upstairs from the restaurant and bowling alley on the first floor, one feels transported to The Comedy Cellar in Manhattan, with the classic brick wall backdrop included. The space fits 94 but still feels intimate, and on Tuesday nearly every seat was filled.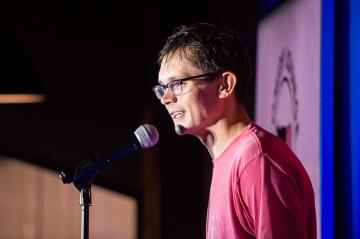 Boulger and Crohn started in comedy almost 15 years ago, they said, and have been working together almost as long after meeting at Dick's Beantown Comedy Vault in Boston's financial district and placing as finalists in The Boston Comedy Festival. In their sets, the comedians took on topics such as legal marijuana, uber, turning 40 and Donald Trump, and were met with roaring laughter from the crowd.
The mood was so energetic that Mr. Crohn exclaimed: "it feels like a Saturday night!"
The next show on July 10 features comedian Tom Cotter of America's Got Talent. Kevin Downey Jr. from America's Got Talent performs on July 17.
For tickets and more information, visit comedyloungemv.com.