Gov. Charlie Baker joined the Tisbury selectmen, contractors and Island citizens for the formal opening of the Lake Street landing in Vineyard Haven Saturday afternoon.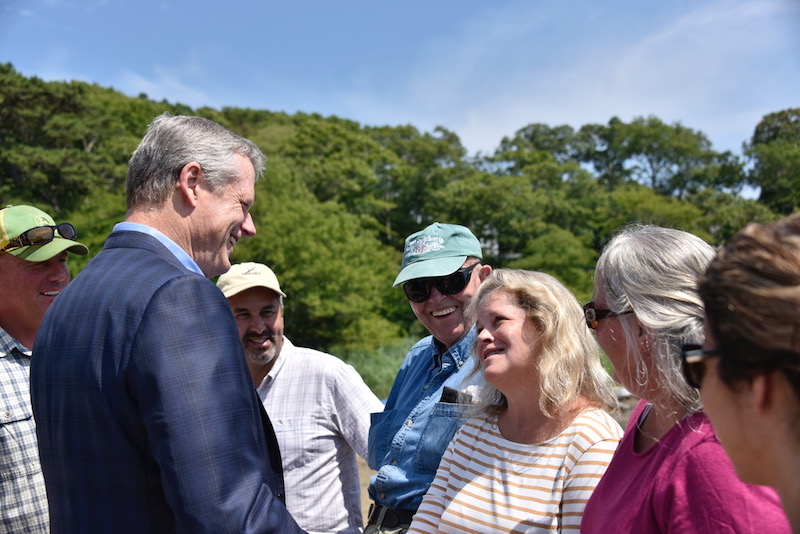 The landing, which was rebuilt this year with town funds and a major state grant, provides improved access and greater docking space on the eastern edge of Lake Tashmoo.
"This project has been discussed for at least a decade," said town administrator John Grande, who recounted the day he and harbor master John Crocker drove to Fall River in February and learned that the town's application for a state grant had landed them $780,000 to complete the project.
"We were the two happiest guys in the world driving back that day," Mr. Grande said.
Contractors at Offshore Engineering had to work through bitter winter conditions.
"A lot of days it was ten degrees outside and everything was frozen over," said Mitchell Chaves who worked on the project.
Still, the project was finished on time.
"That doesn't happen very often folks, and is a credit to the people who were in charge of this project," Mr. Grande told the crowd.
A picture-perfect summer day on Saturday made winter memories easy to forget.
Governor Baker, who is running for reelection in November, made his way through the crowd, shaking hands and sharing memories of his own time of the Vineyard. He and Connie Alexander embraced in a hug. Thirty years ago the two were in homeroom together
"We need to take a selfie and send it to some people," the governor enthused.
In opening remarks, Tisbury selectman Tristan Israel thanked the governor's office for the help and "for being so responsive to the needs of local government. I mean that sincerely, because us little guys, we get forgotten sometimes, and we really really appreciate the help."
Governor Baker returned the sentiment, focusing his remarks on the state's Community Compact Program. The program, which provides communities with the resources to pursue infrastructure initiatives, allowed Tisbury to team with the Massachusetts Seaport Council, which in turn provided the town with the money it needed to rebuild the public boat landing.
"People forget that we're a state of 351 communities, but over 300 of those communities have less than 20,000 people," the governor told the crowd. "So we are a commonwealth of small towns, and for many of them, their waterfront is their biggest, economic, recreational and environmental issue." He continued:
"Being here today and being able to celebrate this with all of you is very special because this is exactly the sort of thing we believe the Community Compact Program was designed for, and exactly what this administration is about."
As the governor and the Tisbury selectmen cut the ceremonial ribbon, a pickup truck pulled down Lake street with a boat in tow, ready to launch.