On Tuesday, five one-year-olds were shepherded through the doors of the Oak Bluffs police department.
Their crimes?
Disorderly conduct, theft of hearts and disturbing the peace in five formerly quiet Oak Bluffs households. The last one is of particular concern since the homes all belong to Oak Bluffs police officers.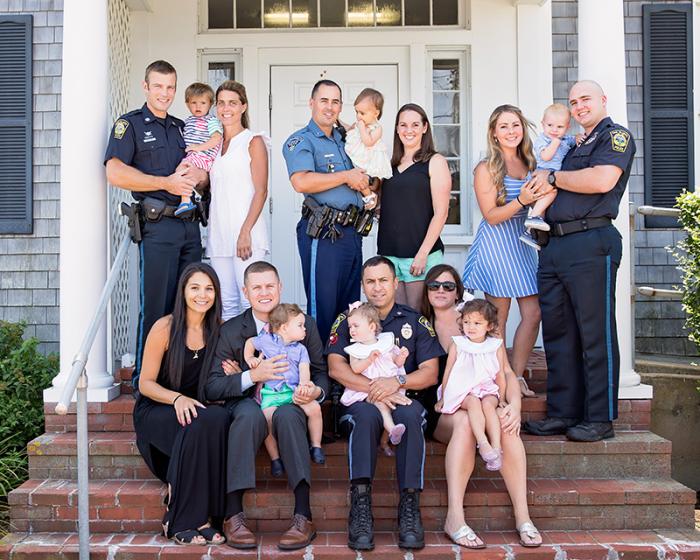 Last year, one month before the solar eclipse, the stars aligned so that officers in the Oak Bluffs department had a baby a month from March to May, and then finished with two in July. First came Det. Jeffrey LaBell and his wife Missie's daughter Lark. Next to arrive in the world was officer Seth Harlow and Bonnie Kingsbury's baby boy Gunner, followed by state trooper and former Oak Bluffs officer Dustin Shaw and his wife Morgan's baby Lowen. In July, William, born to officer James Hagerty and his wife Alessandra, and Julian, born to officer Tim Millerick and Rene Will, rounded out the quintet.
So what did the officers decide was punishment for one year of sleepless nights, countless diaper changes and endless cuddles? It was remaking the five-family photograph taken by the Gazette on the steps of the Oak Bluffs police department a year ago.
This year was different of course. Now that they are on the move, the last thing five one-year-olds wanted to do was sit still for a family picture.
Julian, the youngest of the five, turned one last Tuesday. And he is walking.
"He took his first steps on his birthday," said his mother Rene Will. "He just decided he was going to go for it, and did."
It's not often that people go running into police chief Erik Blake's arms when he beckons, but on this day Chief Blake was in plain clothes and baby Julian couldn't resist. A few steps in, the wide-eyed toddler fell to the floor, laughing as he rolled on his haunches.
"Down goes Frazier!" yelled Chief Blake. After getting crickets for a reaction, the chief looked around the room, reading his 18-inch tall audience. "That might've gone over some heads," he admitted.
At noon, all five families gathered outside for the photograph. Baby Lark wasn't having any of it, far more interested in her mother than the camera flicker. Disaster was averted, however, when Lark realized the next photo involved her going on Dad and Detective LaBell's shoulders. Tears quickly turned to smiles.
"This was a fun spring," said Alessandra Hagerty, remembering five birthday parties and other barbecues, cookouts and gatherings for the group. All the parents were excited that their kids would get the chance to grow up together.
"Now it's tradition, we have to take the photo every year," Ms. Kingsbury said.