Martha's Vineyard Tales: From Pirates on Lake Tashmoo to Baxter's Saloon by Chris Baer, Globe Pequot Press, 2018, 229 pages, $22.
Much-storied places tend to develop a kind of narrative shorthand over time, much to the convenience of their tourist trade and much to the annoyance of their long-term residents, who naturally dislike seeing their vibrant and multi-faceted home reduced to a couple of easy and not particularly accurate tags. Citizens of New Orleans hear endlessly about jazz and gumbo; for Salem, it's witches; Boston is forever the home of the bean and the cod (or, for a more recent demographic, Cheers and the New England Patriots).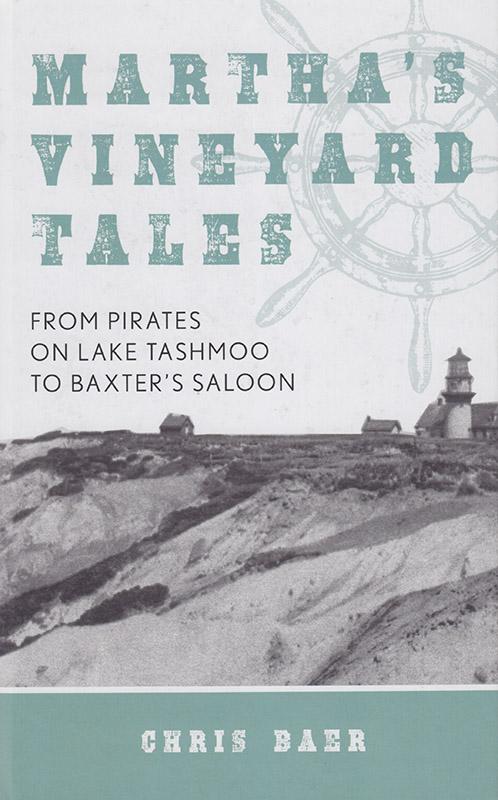 And, as Chris Baer notes at the beginning of his new book Martha's Vineyard Tales: From Pirates on Lake Tashmoo to Baxter's Saloon, in the case of Martha's Vineyard it might be whaleships and widow's walks.
This kind of shorthand can be comforting, but of course in every case it abridges an enormously richer and more varied wealth of folklore. In a series of short, catchy chapters Mr. Baer provides dozens of colorful stories designed to fill in some of the variety of bizarre and memorable narrative highlights of Martha's Vineyard's history, beginning in 1602 when Captain Bartholomew Gosnold came ashore and his party began to interact with the native Wampanoag inhabitants.
But came ashore where? Was it "Martha's" Vineyard, perhaps named after Gosnold's imperious financial backer (and mother in law) Martha Golding? Or was it actually "Martin's" Vineyard, named after Capt. John Martin, Gosnold's longtime voyaging partner? "Martin's" Vineyard was in use for centuries, but (in cartography as in life) the mother in law had the final victory.
The chronicle moves breezily onward, stopping in the 1880s, the 1890s, the turn of the century and the 1920s, with ample black-and-white photos bringing to life moments from the Vineyard's past that have almost entirely slipped beyond the reach of the present.
The massive cosmopolitan hotels that once stood in the center of Oak Bluffs back when it was called Cottage City, for instance, bespeak a very different tenor to Vineyard life in the 1890s than today, when roughly that same stretch of Circuit avenue is now home to far humbler concerns such as the Corner Store and Phillips Hardware. But there are Vineyard residents who can still recall some of Mr. Baer's later stories, like that of Tony DeCarlo, a metal-grinder known as the Scissors Man, who walked a route around various Vineyard towns in the mid-20th century, ringing a bell to let housewives know he was available sharpen their knives, fix their umbrellas and trim their hedges.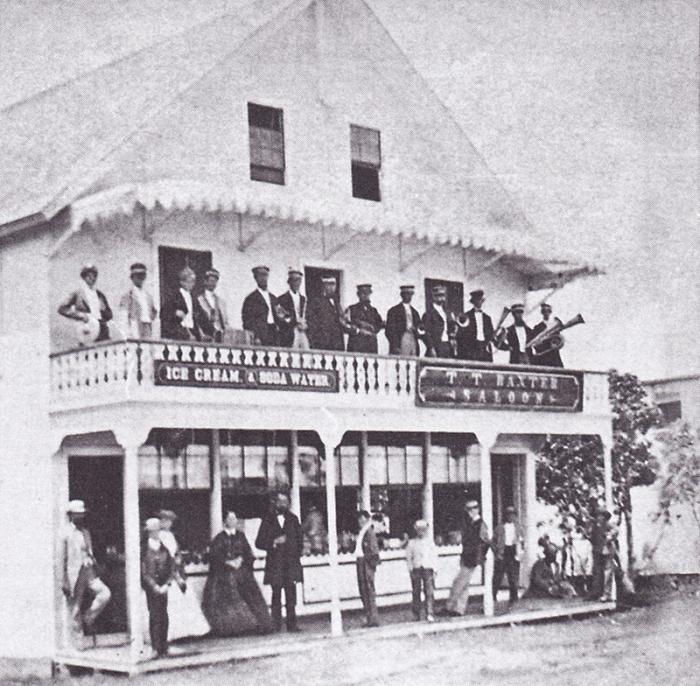 "Every summer the scissors man would stroll down our back street and sharpen all the scissors," recalled Judith Leonard Culver. "His bell was a sure sign of summer."
Naturally, a good many Vineyard tales verge on the odd. In the early 1920s, for example, the mascot of the Barnacle Club in Vineyard Haven was an alligator named Bozzy (he arrived from the Florida Keys on a tug named the Boswell), who sunned himself contentedly for years in the club's wide windows but who only had any affection for his custodian George (Goody) Fisher and regarded everybody else with barely-restrained dislike.
"You are almost prepared to stroke Bozzy's knobby back and say 'nice Bozzy, nice Bozzy,'" reported the Vineyard Gazette in 1922, adding circumspectly: "But you don't."
And in at least a couple of instances, the odd tips over into the bizarre, as in the case of the once-notorious Chilmark ape, a mysterious hairy sometimes-bipedal creature who raided chicken coops and frightened residents from one end of the Island to the other shortly after the turn of the century. First seen in August 1915 by former whaleman Welcome Tilton, it became a figure of Island-wide fascination until sightings soon tapered off.
"Unless the reader has further information, the ape was never seen again," Mr. Baer writes. "But keep an eye on your henhouse."
The effect of a book like Martha's Vineyard Tales on casual visitors to Martha's Vineyard will be one of broadening and brightening. It will make them think about the quaint streets and picturesque boardwalks as only the latest incarnations of places deep in history and quirk and character. It will also deepen their appreciation far beyond whaleships and widow's walks.
The book is also a boon to Vineyard residents and longtime visitors, who will feel a sense of the new and the unexpected in their beloved old home.