With his barefoot toes clutching onto the steering wheel in the Coast Guard's coxswain chair, five-year-old birthday boy Willie Bologna made Thursday afternoon's Meet the Fleet event in Menemsha Harbor seem like a misspelling. For him, Meet the Feet would have been an equally appropriate title.
"We were having a birthday party at the beach and decided to come on over," said Thomas Quattlebaum, father to one of Willie's friends. "The kids really love getting to run all over the boats."
Meet the Fleet started four years ago as a way to raise awareness for the Martha's Vineyard Fishermen's Preservation Trust, a nonprofit dedicated to expanding fishing access for local anglers threatened by unaffordable permits and quota regulations that favor large mainland fisheries. The organization uses a permit bank to lease independent fishermen quota permits they otherwise wouldn't be able to afford. At the event on Thursday, Islanders had the chance to meet many of those independent fishermen and tour the boats that serve as their livelihood. They also got the chance to acquaint themselves with historic vessels from the Eastern seaboard.
The Roann a beautiful, 1946 wooden dragger, sailed up from Mystic Seaport for the occasion. As one of the last surviving examples of eastern-rigging and relaunched 10 years ago, the boat has a special place in history and in the hearts of the five sailors who made the seven-hour trip north.
"It's just a sweet boat," said Peter Hewes, a former engineer who volunteered to spend a night aboard the ship, sleeping snugly in one of its five-foot berths. "We restored the boat so people can enjoy it at events like this. The children, just the joy of coming on a boat like this, you can see it in their eyes," he said.
Seven-year-old Morgan Sattler couldn't contain his excitement when he looked down a shaft at the Roann's tight-spaced galley and living quarters.
"There's beds down there!" Morgan yelled. His father, Greg, mentioned how Morgan has always loved going below-deck. The two promptly descended the ladder, per the Roann's rules: "big person first."
Also on display was the Coast Guard's motor lifeboat CG36500, a 72-year-old boat central to the rescue made famous in the film The Finest Hour. Richard Ryder captained the ship up from Rock Harbor in Orleans.
"It's probably easier to just take the ferry," he said, "but this way it's fun. I get to drive the thing."
Some boats didn't have to make a seven-hour trip to get to Menemsha.
"Yeah, we're docked here," said Denny Jason, captain of The Little Lady, a boat that's been in his family for three generations and is celebrating its 90th anniversary this year. It's the oldest, one-man wooden dragger still operating in New England. Mr. Jason spoke with pride about the deep fishing roots his family, and many others, have planted in Menemsha over the years. An "in memoriam" poster hung on the dock to honor fishing captains Luke Gurney, Flip Harrington, Hershel West and Greg Mayhew, who died recently.
On Thursday, Menemsha's bevy of young fishermen carried on their legacies. Matt Mayhew shucked Menemsha Creek oysters with Beau Begin. Wes Brighton offered his boat, the Martha Elizabeth, to the official Meet the Fleet band, Goodnight Louise, while he showed off a rare blue lobster in between songs. And as dancers carved up the dock, Joey Huang and Otto Osmers carved up flounder, filleting the fish with a precision and focus matched only by winner of the net-mending contest, Karsten Larsen.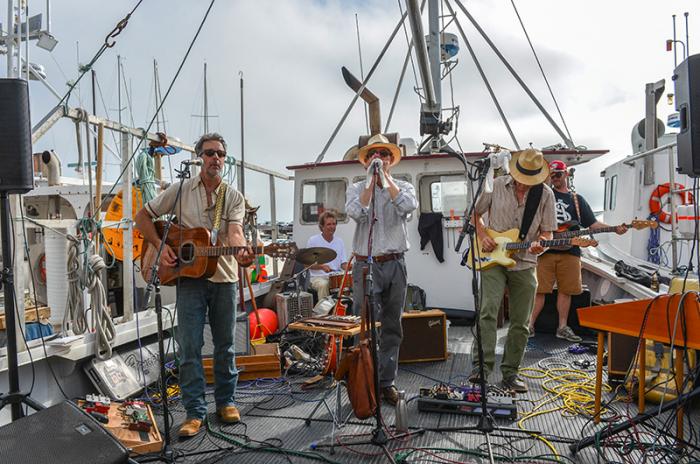 The emphasis on youth excited Fishermen's Preservation Trust president John Keene. "Since our beginning as a permit bank, we've spread out," he said. Beyond just raising capital and finding new avenues for fundraising, Mr. Keene also said that the trust has started a mentorship program with the regional high school. Their first mentee was none other than flounder-filleter Otto Osmers.
The trust has also aided experienced Menemsha fisherman. Sam Hopkins and his 40-foot vessel, The Endurance, were recently leased a $1 million scalloping permit.
"This unique partnership between conservation organizations and commercial fisheries is doable and workable," Mr. Hopkins said. "This concept is a way in which small community fishing can be restored."
Last week, Mr. Hopkins became the first person to land sea scallops in Menemsha (rather than scalloping mecca New Bedford) in close to seven years. On Thursday, Larsen's Fish Market offered the scallops as a new special, fresh off Mr. Hopkins' Endurance.
"Menemsha will never be like it was," he said, "but we can try to save what's left."