The Edgartown Yacht Club will host the Shields class national championships beginning Sept. 5, a competitive regatta among one of the most active one-design classes in American sailing.
The Shields is a classic Sparkman & Stephens design, 30 feet in length with a 6.5-foot beam and elegant lines. The boat takes a crew of three to five sailors. About 250 of the boats have been built. A total of 20 boats are entered in the national championship regatta, with several entries from Vineyard sailors, and other competitors coming from as far away as California.
In one-design racing, all the boats, including rigging and sails, are the same, so in theory the race is won by the best sailing skill and tactics.
Last year's national championship, scheduled for Mystic, Conn., had to be canceled when the remnants of Hurricane Jose made conditions too severe for racing. The year before that, the championship regatta was held in Monterey, Calif., where co-skippers John Burnham and Robert Baer took top honors.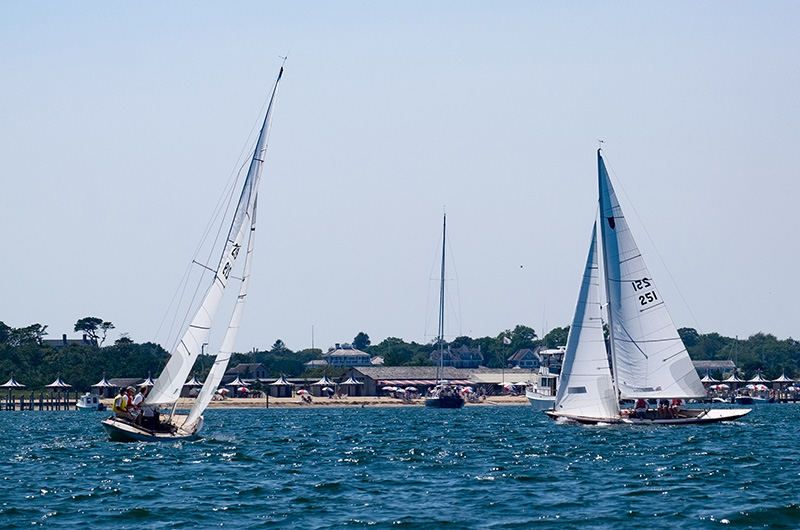 Mr. Burnham and Mr. Baer, who are based in Newport, R.I., will defend their title in the Edgartown regatta aboard Grace.
"It's always daunting," Mr. Burnham said. "It's very hard to win this nationals regatta. It's exceptionally hard to win it again. It's not often that people win it twice in a row. Our goal is always to be in the hunt on the last day. If we sail well enough that we're within several points of the lead, then I feel like we've done our job."
Mr. Burnham expects a competitive regatta. Weather conditions on Nantucket Sound will be key.
"It has the potential to be quite windy," Mr. Burnham said. "This time of year you either have summer weather patterns, southerly, southwest breezes, but you begin to have fronts come through so you would be sailing in a northerly, and in that race course area the waves can get pretty big, pretty exciting."
The Edgartown Yacht Club is home to one of about a dozen active Shields fleets around the country, and last hosted the national championships in 2004.
John Wilson helped organize the event for the home club, and sails in the Edgartown fleet. He expects some stiff competition on the water.
"It's a pretty competitive class," Mr. Wilson said. "This year you'll see four or five boats that are clearly in contention to win it. Then there will be another group of five to eight boats that are all competing for a top 10. The upper echelon of the fleet is really quite competitive."
Mr. Wilson named three local teams that will try their best to upset the favorites coming to Edgartown from around the country. He expects Steve Mettler and John Kline aboard Deja Vu to be competitive, along with Edgartown Yacht Club commodore Paul Mitchell in Amusing, and Stephen Potter skippering Undertaker II.
"We've learned at the top level of the Edgartown fleet you have to sail as mistake free as possible to stay on top of the fleet," Mr. Wilson said. "If we put someone in the top 10, that would be a good nationals for Edgartown. If we put someone in the top five, that would be a great nationals for Edgartown."
Racing gets underway on Wednesday, Sept. 5, with a practice race, followed by the scoring series of races on Thursday, Friday and Saturday. Courses will be set in Edgartown's outer harbor and off Cow Bay.
It will take teamwork, skill and patience to handle the boats, especially if the wind comes up.
"You really have to be in tune with a lot of little nuances of the boat," Mr. Wilson said. "The speed differences are tenths of knots. You've got to be sensitive to trimming the rig, to constantly adjusting your sail trim, you've got to be really, really sensitive to everything the boat is telling you to make it go."