If home is where the heart is, maybe that's why Noble, a 20-something horse now at Misty Meadows Equine Learning Center, always seems to find his way home. Maybe it's because he has such a big heart.
"He's my best friend, and like an emotional support animal wrapped into one," said Maggie Bernard, an eighth grader at the West Tisbury School who helps take care of Noble. "He just has so much love, it's nice to be around him."
Noble has been on quite an adventure the past few months. His whole life has been a bit on the adventurous side.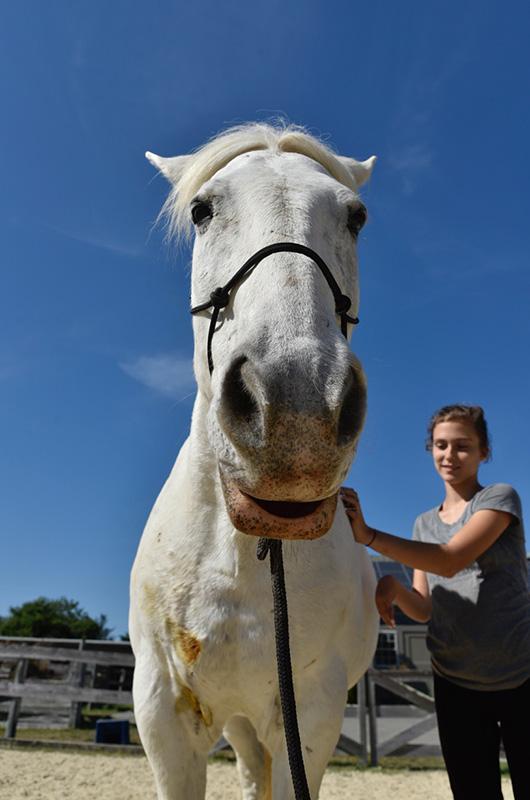 He's a big guy, with enormous feet which offer clues to the draft horses in his ancestry line. He started out on the Island as a riding horse, but was then moved to California. Some time later, his owner donated him to the Rising Tide Therapeutic Riding Center in West Tisbury, and shipped him back to Martha's Vineyard. He has happily helped teach dozens of special needs kids and adults how to ride over the past decade. He settled in as a cornerstone of the therapeutic riding program.
"He was very beloved right away. He's a very friendly horse, very easy going, his nature is calm," said Rebecca Miller, who oversees equine assisted learning programs at Misty Meadows, and worked with Noble when he was at Rising Tide. "He was great with the kids. You can tell in his eyes, his softness in his eyes. He would put his head down so that they could connect with them. He's a large horse, he's careful about moving his feet, excited to show up at the gate to work."
Last winter, when Rising Tide merged with Misty Meadows, Noble came to Misty Meadows, but with the understanding that the staff there would work to find him a retirement home, because nagging injuries prevented him from working in the way he was used to.
A home was located in West Tisbury, where Noble had plenty of oats and water, and some other horses for companionship.
Noble was having none of it.
One night this spring, he broke out of his paddock, and headed home. West Tisbury police chief Matt Mincone found him walking down Red Pony Road in the middle of the night, very near his previous barn at the former Rising Tide facility.
It was a seven mile jaunt, with plenty of adventure. He was almost home.
"He was sore and tired and stressed, had been skunked," said Sarah McKay, executive director of Misty Meadows. "He was in pretty rough shape. He'd been pretty beat up at that point."
Veterinarians stepped in to help get him healthy again, and Noble's friends agreed that he might be best returning to Misty Meadows. An animal communicator came and had a little conversation with the horse. In all the ways that horses communicate with humans, Noble let it be known he was not ready to be put out to pasture.
"We have been working with him to evaluate his physical issues to realize that maybe he can still do a little bit of work, that he's not 100 per cent retired," said Ms. McKay. "He made it clear that he wanted to be here and still wanted to do some work."
Though he is never disagreeable with the humans he works with, Noble still pulls a few antics at Misty Meadows. He is one strong willed horse.
"He is a little bit of a Houdini," Ms. Miller said. "I think he's happy here and content here. He does know how to get through the fence and go to other paddocks that might have greener grass, but he never gets out, he just goes internally to another paddock. We leave him at night and we come back and he's in a different paddock."
Maggie Bernard started riding Noble in the Rising Tide program when she was three years old.
"By the time I was seven, I realized how much I liked him," Ms. Bernard said.
It turns out the latest adventure was not the first time Noble was designated for retirement. While at Rising Tide, he was shipped a short distance down the road to Red Pony Farm. No surprise, he broke out of his paddock and trotted back to Rising Tide, where he was put back into service helping special needs kids.
Ms. Bernard said she is sad that she can no longer ride Noble, but as a volunteer at Misty Meadows, she can still spend plenty of time with him.
"I work with all the horses, but he's definitely one of my favorites," said Ms. Bernard. "I go out and hang out with him, I bathe him."
And he's still letting his humans know, in the way that horses communicate, that he wants what he wants.
"He's not very pushy, he's just so big," said Ms. Bernard. "He does have a mind of his own. If he wants something, he'll try his best to get it, but that doesn't mean he'll push you over in order to get it. He just wants to make it clear to you he wants this, or he wants that. He wouldn't do anything to harm anybody in order to get anything."
So Noble is home, healthy, and happy again. He is able to support small children on his back, so he helps out with pony rides. The rest of the time he helps kids learn about grooming and participates in unmounted activities.
"He just has that special personality, spirit about him," said Ms. McKay. "You can tell by looking at his eyes how sweet and kind and gentle he is. He connects with almost every person he interacts with. We hope he'll be like our mascot. He's our poster horse."